Samsung I7500 Versus HTC Magic Photoset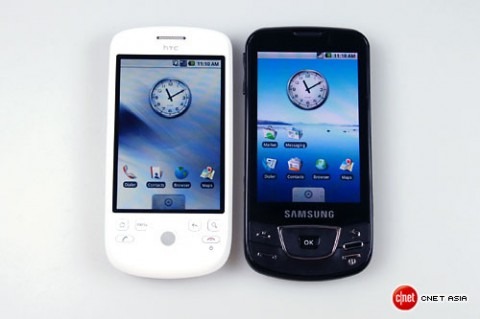 HTC likely thought there was little that could shadow their Magic launch during the first half of the year, but they didn't count on the Samsung I7500.  Packing a similarly-slimline QWERTY-free chassis and raising the stakes with an AMOLED touchscreen and higher resolution camera, the I7500 has already swayed quite a few people away from the Magic over at Android Community.  Now, thanks to CNET Asia, we've the first sighting of both smartphones up close with each other.
Full Samsung I7500 vs. HTC Magic gallery after the cut
As the images show, both handsets are roughly the same size, with the biggest difference being in controls.  HTC have a trackball and dedicated search button, while Samsung use a more traditional D-pad and drop the search key; instead, they make up for things with a proper 3.5mm headphone jack, while the Magic requires an adapter.
Around the back, the I7500 comfortably bests the Magic with its 5-megapixel autofocus camera and "power LED flash", versus the HTC's flashless 3.2-megapixel snapper.  Our own hands-on experience with the Magic does confirm that it's a sturdy, well-made smartphone, though; we'll have to wait to play with the Samsung to see whether the I7500 can boast the same.
[via Android Community]