Samsung HMX-T10 Full HD camcorder packs touchscreen & OIS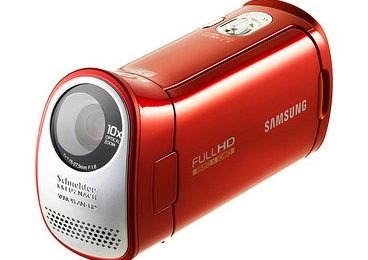 Samsung's latest Full HD camcorder has been revealed, the Samsung HMX-T10, with a 2.7-inch LCD touchscreen, 20-degree slanted lens for easier shot framing, and a Back-Side Illuminated (BSI) sensor promising twice the sensitivity of a regular CMOS.  Meanwhile there's also optical image stabilization and 4.7-megapixel (interpolated) shots, plus a 10x zoom.
Storage is via SD/SDHC memory card, and while Samsung expect most people to shoot in the Smart Auto mode, they do bundle a copy of intelli-studio 2.0 for later editing.
The whole thing measures 54 x 56.5 x 115.5mm and will be available in white, black and red.  The Samsung HMX-T10 will arrive later this month, priced at $299.
Press Release:
Samsung's New Full HD Camcorder Reinvents the Way Users Record Memorable Moments

Samsung HMX-T10 features a 20-degree slanted lens for unprecedented user comfort

IFA – BERLIN, Germany – September 2, 2010 – Samsung Electronics Co., Ltd., a global leader in digital media and digital convergence technologies, today unveiled its groundbreaking HMX-T10 camcorder. The full HD HMX-T10 features an innovative and pioneering 20-degree Slanted Lens that ensures that the user can truly enjoy their recording experience without any discomfort to their arm or wrist, a common occurrence in standard camcorders currently on the market.

The HMX-T10 is part of Samsung's next-generation line up of compact digital camcorders that make it easier than ever for consumers to shoot and capture in high-quality, full HD video. Small enough to carry anywhere and everywhere, the HMX-T10 provides unmatched portability and simplicity for capturing and editing video content on the move, without compromising on quality.

The HMX-T10 has a stylish finish and slim design to make it a camcorder to be proud of, while incorporating features for maximum fun and usability, such as a bright 2.7-inch touch screen LCD and the ability to capture still images and video footage at the same time. And, due to its compact nature, the HMX-T10 can be carried with ease in any environment to capture those all-important movie moments – from a friend's birthday party to that memorable family holiday at the beach.

"The HMX-T10 offers not only a stylish, compact design and fantastic recording quality at an affordable price, but also demonstrates the thoughtfulness and innovation Samsung brings to making movie and image capturing a truly enjoyable experience for everyone," said Mr. SangJin Park, President of Samsung Digital Imaging Business, Samsung Electronics. "The HMX-T10's convenient features, such as the 20-degree Slanted Lens, perfectly encapsulate the innovative and easy-to-use nature of our camcorder range, as well as our aim to remain at the cutting edge of innovation and design."

Quality Recording Capabilities

Despite the compact design of the HMX-T10 camcorder, it offers innovative, cutting-edge shooting capabilities to guarantee the highest quality photos and videos. The camcorder boasts full HD technology for all video footage to ensure crystal clear recordings and 4.7 megapixel still images, plus Optical Image Stabilization so that whatever is captured remains blur-free. Consumers never have to hesitate when it comes to creating quality movies with this groundbreaking point-and-shoot Samsung camcorder.

To enhance the consumer's experience and achieve professional recordings, the HMX-T10 incorporates an advanced BSI (Back Side Illuminated) CMOS sensor which provides twice the sensitivity of conventional CMOS sensors. This innovative feature dramatically reduces image distortion and delivers clear video and images, even in low light conditions.

Innovative and Easy to Use Design and Features

The HMX-T10 camcorder comes equipped with an innovative 20-degree Slanted Lens, making it easy to handle and ensure that quality images are captured and recorded through a convenient experience for the user. Further enhancements to the overall recording experience can be found through the camcorder's Smart Auto functionality, to make shooting all the more straightforward, plus its 2.7-inch Touch Screen LCD, meaning consumers can enjoy a clear and detailed view of the footage, and edit their videos instantly. The HMX-T10 also comes with intelli-studio 2.0 software, allowing for seamless managing and editing of movies and images.

Price $299.00

Sensor 5.1M BSI CMOS (Effective : 2.07M)

Lens 10x

LCD 2.7-inch 230K Touch

F.No F1.8

Video Resolution 1920x1080 60i

Photo Resolution 4.7 Megapixels

Image Stabilisation OIS

Size 54X56.5X115.5MM

Storage SD/SDHC Slot

Special Features

BSI CMOS

Compact Design

Smart Auto

20-degree Slanted Lens

Full HD Technology

Smart OIS