Samsung GT-i8700 Breaks Cover, Sports Windows Phone 7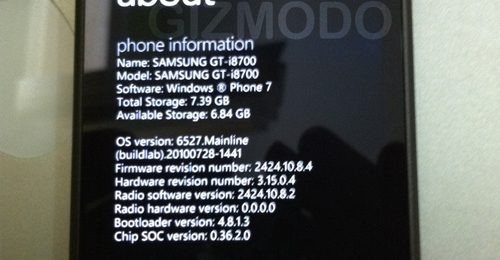 With rumors pitting the launch of Windows Phone 7, the latest (and hopefully greatest) mobile Operating System from Microsoft, on October 11th, it's no surprise that we're beginning to see even more handsets make their presence known. It was a Samsung-manufactured developer device that we got to play with not too long ago, but this new model, which is currently sporting a very non-market friendly title (at least here in the States), puts that "shiny" version to shame.
There aren't a lot of details to be had, unfortunately. The images, of the front and back of the device, were sent in to Gizmodo, but nothing more was provided. We do get to see that 8GB of internal memory is inside the device, courtesy of the information screen that's showcased in the image. The Samsung GT-i8700 also has a camera on the back (surprise, surprise), but there isn't one on the front. It's coupled with an LED flash, but the megapixel count isn't known at this time.
Truth be told, this has to be one of the most attractive Windows Phone 7 devices we've seen yet, and we're hoping that more devices like this one break cover soon. If that official launch date is true, and considering that's just barely a month away, the leaks should keep on coming, if not pick up speed.
[via Gizmodo]