Samsung GO 3G netbook hits AT&T November 22nd [Updated with pricing]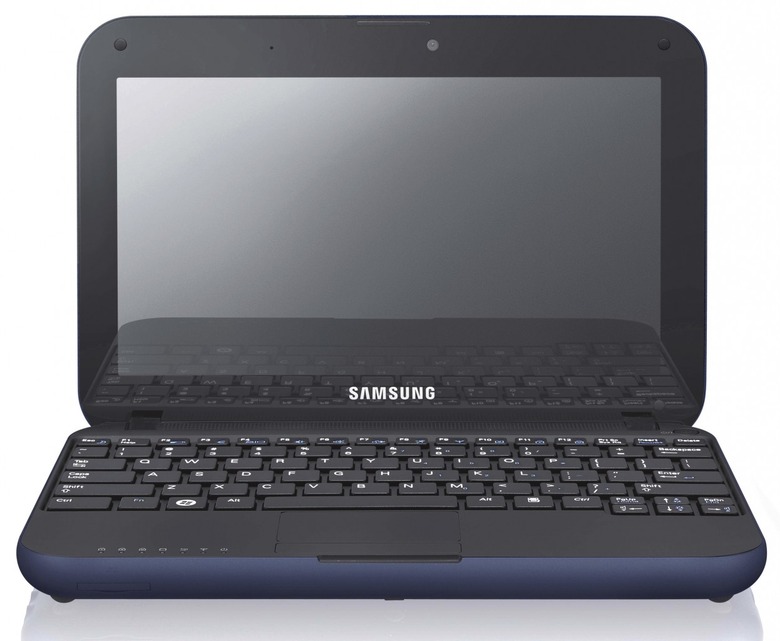 Remember the Samsung GO N310 which rocked up in the US back in July packing integrated 3G?  Well, Samsung have taken their finest microfiber buffing cloth to the Atom-based netbook, and relaunched it with Windows 7 and AT&T 3G as the plain Samsung GO.Update: AT&T have announced that the Samsung GO will retail for $199.99 (after rebates) and presuming a new, two-year data contract of $35 or more per month.
As far as we can tell – Samsung's press release being light on specs – this is basically the same N310 as before.  That model used Intel's 1.6GHz Atom N270 processor paired with 1GB of RAM and a 160GB hard-drive, along with a 10.1-inch display and rubberized casing.  Since continental drift is faster than netbook spec evolution, there's no reason to assume this "new" GO is anything different.
Still, Samsung have a short history of pushing out reasonably priced carrier-subsidized netbooks, so while pricing for the AT&T model is unclear at present – we're guessing a two-year $60-per-month contract – it should hopefully undercut the similarly-specified but horrendously expensive Nokia Booklet 3G (though only deliver around 4hrs of battery compared to twice that from the Nokia).  Expect it on AT&T shelves and online from November 22nd.
Press Release:
Samsung Announces the Upcoming Availabilty of the Samsung Go with AT&T [scheduled]
November 16, 2009

Samsung today announced the upcoming availability of the Samsung Go™, a compact and lightweight netbook with instant access to broadband speeds powered by the nation's fastest 3G network and the Microsoft Windows 7 Starter Edition operating system.

The Samsung Go, weighing just 2.8 lbs., is a portable powerhouse that can easily be stored in a briefcase or travel bag. The Go's midnight blue color and slim, soft texture design with rounded edges makes a statement and stands out from the crowd. The pebble-style keyboard makes typing comfortable with larger than average spacing. The brilliant LED-backlit, borderless glass display is scratch resistant and provides users with photo-like image quality, greater viewing angles and better text legibility, reducing eye strain and boosting productivity.

Equipped with a standard 4-cell 4000Ah battery, users can stay connected for up to 4 hours on a single battery charge and the built-in Intel Atom processor delivers the power and performance needed for full Internet capabilities anytime, anywhere.

The Go will be available beginning Nov. 22 through AT&T retail locations or online at www.att.com/netbooks.