Samsung Glass design filing tips growing wearable ambitions

A potential design for Samsung's rumored Google Glass rival has been revealed in a Korean filing, a sports- and media-centric wearable complete with a monocular eyepiece. Samsung's "sports glasses" would apparently have fixed lenses, according to the design filing spotted by the WSJ, rather than the interchangeable visors of Google's Glass Explorer Edition, as well as more traditional earpieces for music playback.
As for the eyepiece, which Samsung's filing shows positioned over the left eye, rather than the right as Google opted for with Glass, that could show notifications such as incoming call alerts in the wearer's eyeline. The headset would also offer hands-free calling in addition to stereo music playback, with presumably higher quality than the bone conduction system on Glass.
It's unclear if the eyepiece includes a camera, as on Google's wearable and counterparts from Recon Instruments. There's what could be a hole for a camera lens, though it could also be an ambient light sensor to adjust brightness of the eyepiece according to indoor or outdoor conditions.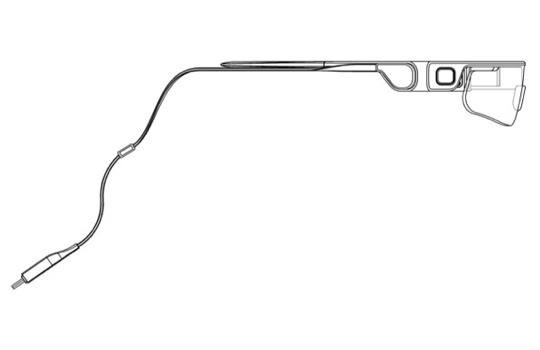 One thing Samsung appears to have approached differently to Google and other wearable headset manufacturers is power. Whereas Glass and others have an inbuilt battery, but generally suffer from relatively short runtimes due to the limits of weight and comfort, Samsung has seemingly taken a more straightforward route and fitted its headset with a cabled connection.
A microUSB cable trails out of the back of the glasses arms and would presumably be fed down the back of the user's shirt and to their smartphone. One alternative, of course, could be a remote processing/battery device, effectively splitting the "brain" of the wearable from the output portion; that's a strategy we've seen from manufacturers like Vuzix, though more on wearable media displays than Glass alternatives.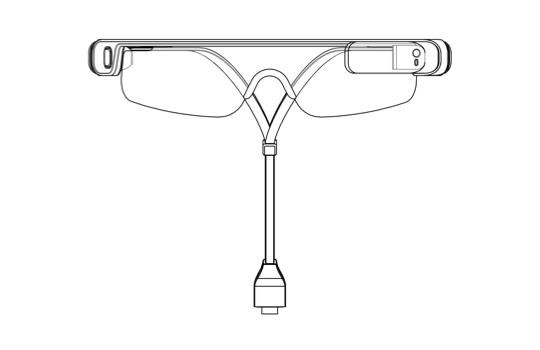 Samsung's interest in wearables has been clear over the past months. The company launched the Galaxy Gear smartwatch back in October, describing the wrist-worn extension to a smartphone as the first of a smartwatch family. Subsequent rumors indicated that watches weren't the only avenue for body-worn tech that Samsung was considering, however, with chatter of a "Gear Glass" that would more directly challenge Google's product when it arrived in consumer form come 2014.
However, one possibility is that Samsung and Google could in fact collaborate on a production version of Glass, with a partnership akin to the Nexus program already established for phones and tablets. In such an arrangement, Samsung might produce the wearable under Google's Glass branding, with the Korean company bringing to bear its component prowess to supply elements like transparent OLED displays for the eyepiece, frugal Exynos processors as in the Galaxy Gear, and CMOS sensors for the camera.
This new design filing doesn't appear to be that collaboration, instead a more focused product designed for sports users who want convenient music and notifications while exercising, and for whom even glancing at a wrist-worn wearable would be too much of a distraction. There's of course no guarantee that a trademark would lead to a production product, either. Still, Samsung has been upbeat on wearables, even if it is cautious on when they might broach the mass-market, so we're expecting to see more experiments in design like this over the coming months.