Samsung Gear VR drops Dec for devs; Beyond 360 3D camera revealed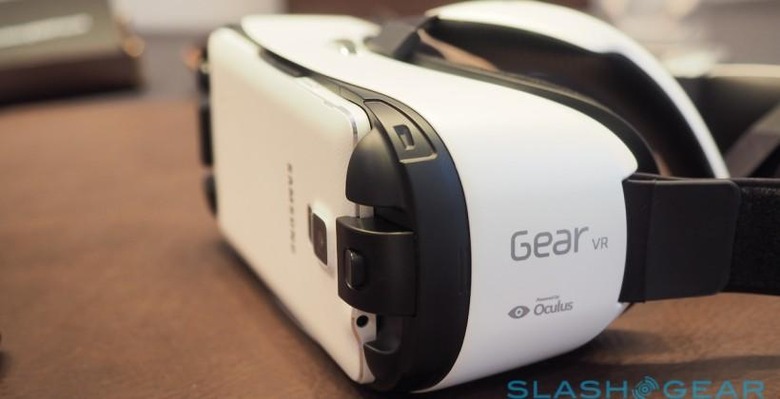 We may receive a commission on purchases made from links.
Samsung has announced that the Gear VR Innovator Edition virtual reality headset powered by Oculus will hit the US in early December, as well as showing off a new 360-degree camera dubbed Project Beyond for recording VR content. The Samsung Gear VR, announced back in September alongside – not to mention powered by – the Galaxy Note 4, turns the phablet into a wearable display, splitting the screen into two so as to deliver 3D content to the wearer. There's good news for developers hoping to get onboard, too, with Oculus' mobile toolkit to create compatible VR content now released.
The Note 4 slots into the bay at the front of the Gear VR, and lends its display as well as its processing power and speakers to the headset.
When plugged in the first time, Samsung says, it will automatically download the suite of Oculus software. That includes Oculus Home, with a special Samsung section for helping find content, plus the Oculus Store for buying VR media.
Oculus Cinema is the movie player that actually shows 3D content, and finally there's Oculus 360 Videos and Photos, which shows off panoramic content produced on other devices.
One such device is the new Samsung "Project Beyond", revealed at the company's developer event today as a homegrown way to capture VR media. Sucking down 25 gigabytes of data a second, it can apparently automatically stitch together 3D scenes from the sixteen cameras studded around its periphery.

Each camera records at Full HD, and has an ultra-wide-angle lens. There's also a top camera, and a mount on the bottom. Samsung isn't just pitching the Beyond as a recording device, however, but also as a live-streaming one: with its own integrated connectivity, it'll be able to squirt 3D video to remote Gear VR wearers.
As for developers, they now get access to the Oculus Mobile SDK. Already signed up is Marvel, with an Avenger's Age of Ultron deal that puts Tony Stark's Lab on the Gear VR, a 360-degree 3D show from Cirque du Soleil, and interactive DreamWorks characters.
Harmonix Music VR turns a music library into a soundscape with interactive tracks, while Temple Run VR puts the popular game onto the headset. WemoLab theBluVR does something similar for marine exploration, and there's a game from DENA called Protocol Zero, which treats the headset as a night vision, X-ray vision, and thermal vision device.
Finally, Vevo is putting 100,000 HD videos – including original content, music videos, and concerts – up for grabs.
What Samsung hasn't said is how much either the Gear VR Innovator Edition or, indeed, the Project Beyond camera will cost.
SOURCE Gear VR
MORE Oculus
BEYOND IMAGE The Next Web