At Google I/O 2014 Android Wear came out with a bang, appearing with three smart watches ready for release later this summer. Starting today both the LG G Watch and the Samsung Gear Live – newly announced today – will both be made available for pre-order.
LG G Watch
The LG G Watch will be released with a 1.2GHz Qualcomm Snapdragagon 400 processor inside of a body with a 1.65-inch IPS LCD up front with 280 x 280 pixels across its face. Inside you'll have 4GB storage space, 512MB RAM, and a 400mAh battery.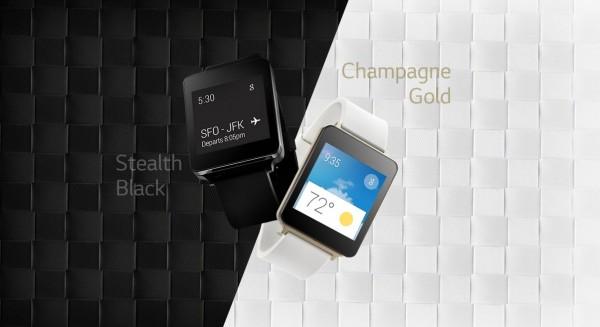 The watch's body is 37.9 x 46.5 x 9.95mm and weighs in at 63g. Connectivity includes Bluetooth 4.0 and you'll be working with a Gyroscope, Accelerometer, and Compass inside. This device is also IP67 dust and water resistant.
You'll be able to get the LG G Watch in White Gold or Black Titan later this year, with pre-orders starting today through Google Play. UPDATE: LG G Watch will be $229.99 USD and will be shipping starting on July 7th, 2014. It will be first available in Australia, Canada, France, Germany, India, Ireland, Italy, Japan, South Korea, Spain, United Kingdom, United States
Samsung Gear Live
This smartwatch will roll out with a 1.2GHz Qualcomm Snapdragon 400 processor of unknown origin inside of a body with a 1.63-inch Super AMOLED display with 320 x 320 pixels across its face. You'll be working with a Heart Rate Monitor, Bluetooth 4.0, and a number of sensors: Accelerometer, Gyroscope, and Compass.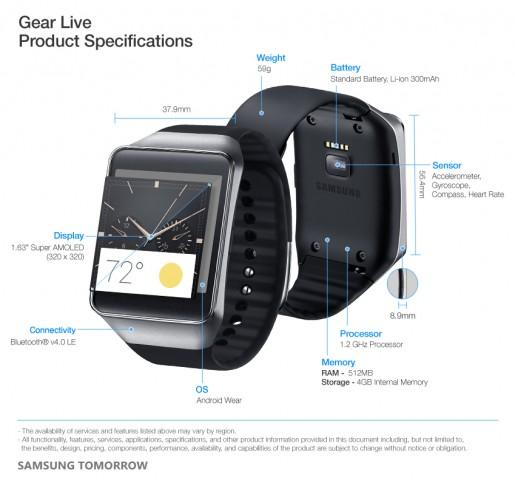 Inside you'll find 4GB of storage space, 512MB of RAM, and a 300mAh battery. This device is 37.9 x 56.4x 8.9 mm large and weighs in at 59g. You'll find changeable straps available in Black and Wine Red, and the whole unit is IP67 dust and water repellant.
The Samsung Gear Live will be made available through Best Buy, AT&T, and Google Play for $199.99 USD. UPDATE: The Gear Live will be first available in Canada, France, Germany, Ireland, Italy, Spain, United Kingdom, United States according to Google
Moto 360
Where is Motorola's smartwatch, you may be asking? At this time it does not appear that the watch has been finalized for pricing or release. All Google or Motorola will say at this point is that the Moto 360 will be available "later this year."