Samsung Galaxy Z Flip Thom Browne edition leaked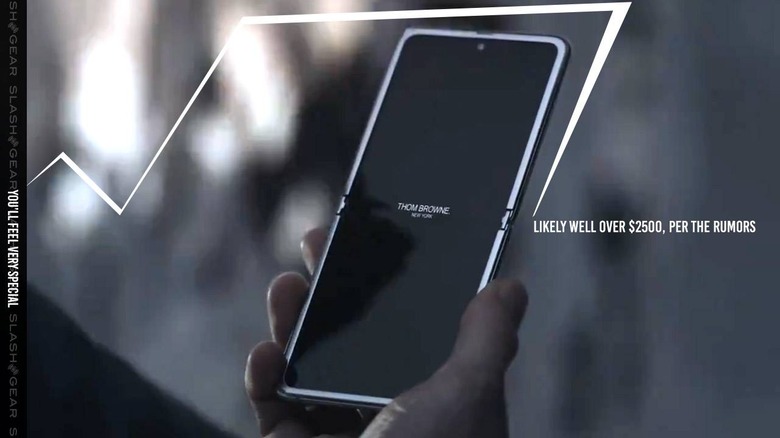 Today we're taking a peek at a leaked version of the upcoming flip phone (with foldable display) Samsung Galaxy Z Flip. This device's special edition leaked this week is the Samsung Galaxy Z Flip Thom Browne edition – complete with slight redesign by the original Galaxy Z Flip – also not entirely public in full detail at this time. Thom Browne is a fashion designer who created – but does not own outright – the fashion brand Thom Browne.
In August of the year 2018, Thom Browne agreed to a purchase of 85% of his fashion brand to Italian luxury fashion house Ermenegildo Zegna. This purchase of the majority of the company did not move the chief executive officer Rodrigo Bazan, and Thom Browne himself retains ownership of 15% of the brand, and he remains the brand's Chief Creative Officer to this day.
The video we're seeing here was leaked alongside a Galaxy Z Flip Thom Browne Edition image or two – showing the device and accessories, as well. The Galaxy Z Flip Thom Browne Edition will be delivered with the same technological features as the standard Z Flip, but it'll have some hardware and software features that'll be exclusive to this package.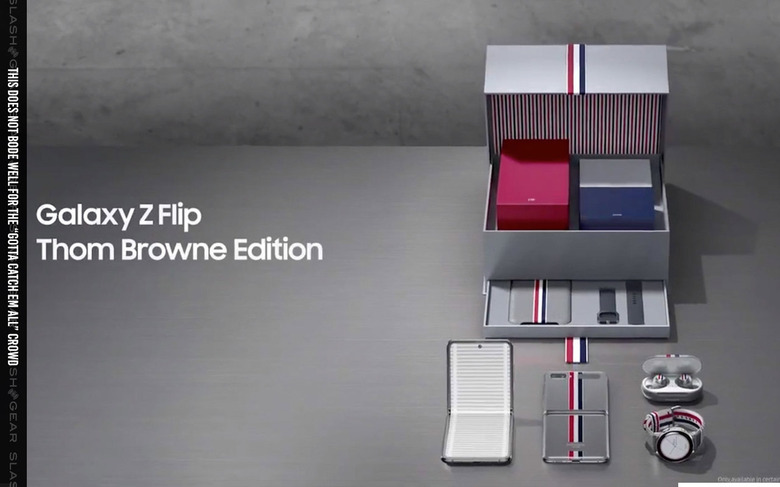 You'll also see what appears to be the Galaxy Watch Active 2 with a Thom Brown special edition strap, and some brand new Samsung Galaxy Buds+ with Thom Browne accentuations. It's unlikely this package will cost less than $2000, to be extra, extra conservative with an estimate.
The video you see above came from WalkingCat aka @h0x0d on Twitter. This Garfield character likes to leak Windows stuff.
The Samsung Galaxy Z Flip will quite likely roll with UTG instead of the CPI used for Galaxy Fold. Below you'll see some UTG (Ultra Thin Glass) action in full effect. This isn't the exact same UTG used by the Galaxy Z Flip, but it shows how the UTG tech looks when folded – neat!
Samsung Thom Browne New York appeared on January 24, 2020 in the ThomBrowneNY Instagram, with barely a note beyond "... i'm not ready yet ...
#thombrowne #samsunggalaxy #samsungthombrowne." SamsungMobileHK left a very similar message – with the same text. As did ThomBrowneJP, and SamsungMobileUK – so... it looks like this one might not be for everyone.