Samsung Galaxy Z Flip sold out: Here's when it'll be back in stock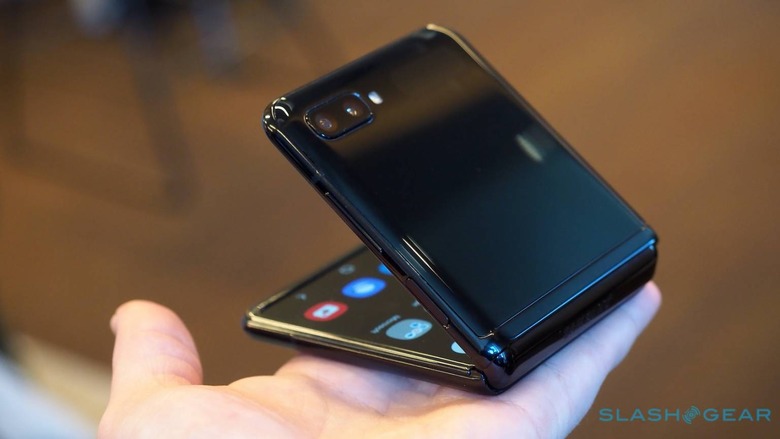 The newly unveiled Galaxy Z Flip smartphone is already sold out, according to Samsung. The device joins the Motorola Razr in offering consumers a clamshell-style smartphone with a flexible display and horizontal hinge. Despite some consumer concern over the long-term durability of these devices, Samsung reports that its clamshell foldable sold out and won't be back in stock until later this month.READ: Samsung Galaxy Z Flip hands-on: Second time's the charm
The Galaxy Z Flip was unveiled during Samsung's Unpacked event earlier this month. The phone features a 6.7-inch Infinity Flex AMOLED display, a small 1.1-inch display on the cover, a 10-megapixel selfie camera, 12-megapixel ultra-wide camera, and a 12-megapixel wide-angle camera. The cameras collectively offer optical image stabilization, HDR10+ recording, Tracking AF, 8x digital zoom, and more.
In addition to the standard Mirror Purple, Mirror Gold, and Mirror Black color options, Samsung also launched a Thom Browne Edition of the phone that features a unique striped design. According to Samsung, the Galaxy Z Flip is sold out online; the Thom Brown Edition was sold out on the Samsung.com website this past weekend, as well. At this point, Samsung says there are only 'limited' stock available in some retail stores.
According to Samsung, you won't have to wait long to order a Galaxy Z Flip phone if you want one — additional inventory will be made available through online destinations on February 21, the same day as when the Galaxy S20 preorders will go live, assuming you want a phone that doesn't fold in half.
If you were hoping to pick up a Galaxy Z Flip phone before next week, Samsung says you may be able to find one in a physical retail store, but that many of these destinations are reporting sold-out inventory at this time.