Samsung Galaxy XCover Pro has flat display, extra battery potential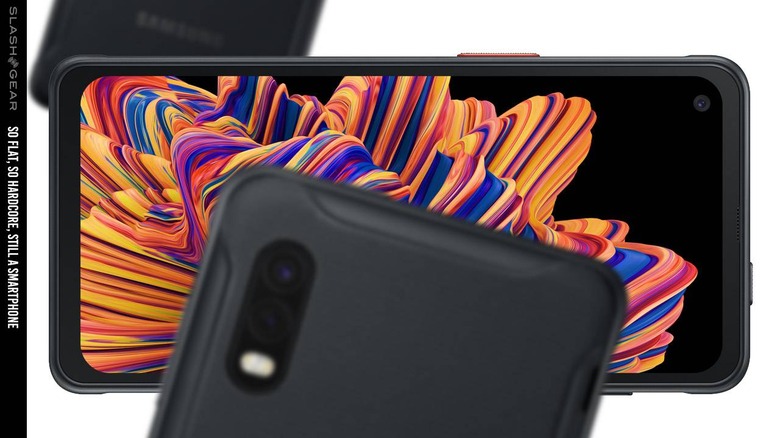 Samsung revealed a new Samsung Galaxy XCover Pro smartphone for the 2020 generation. This is the 5th-generation "XCover" smartphone in the Galaxy line, one whose predecessor was first launched all the way back in 2017. This is a phone made for the sort of people who don't often replace their smartphone because they've got a phone that lasts for a long, long time. The XCover Pro works with a 6.3-inch FLAT LCD display and a removable battery.
The XCover line of Samsung phones was made to be rough and tough, rugged and ready to handle the elements. It's made with protective elements and a display that allows use with wet hands and/or gloved fingers.
The display is a TFT LCD panel – which means it won't likely be nearly so bright and colorful as the SUPER AMOLED displays on the more expensive Samsung phones like Galaxy S10 or Galaxy Note. The panel is FHD+ resolution (1080 x 2400) and is flat – unlike the curved-edge panels of the Galaxy Note and Galaxy S series. This means it's not as fancy-looking, but ends up being significantly more resistant to damage.
The display panel on the Galaxy XCover Pro is a branded "Infinity Display" from Samsung. This means, in this case, that it covers the vast majority of the front of the phone and has a punch-hole space for its front-facing cameras.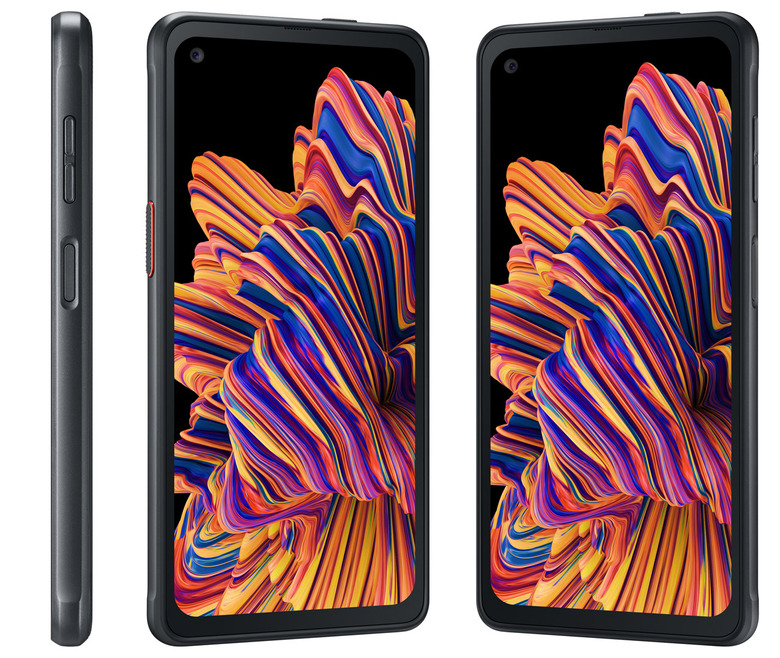 Not a lot was revealed at launch for the cameras on this smartphone. We know there's a 13-megapixel camera up front, and a pair of cameras at the back. The back features a 25-megapixel camera and a 8-megapixel camera, and you'll be able to use autofocus of some sort or another.
The chipset in this smartphone is the Samsung Exynos 9611. This 10 nm processor hardware was also utilized in such devices as the Samsung M30s, the Galaxy A50s, and the Galaxy A51. In this 9611 are 8 cores, with Cortex-A73 and Cortex-A53 CPU, Mali-G72 GPU, designed by Samsung and ARM. This processor was first announced and launched in September of 2019.
This XCover Pro device has 4GB RAM, 64GB internal storage, and 15W fast charging abilities for its battery. The battery inside of this phone is 4050mAh and removable. This means you will – potentially – be able to buy a backup battery (or several) and stay active without needing to charge the phone with an outlet for extended periods of time.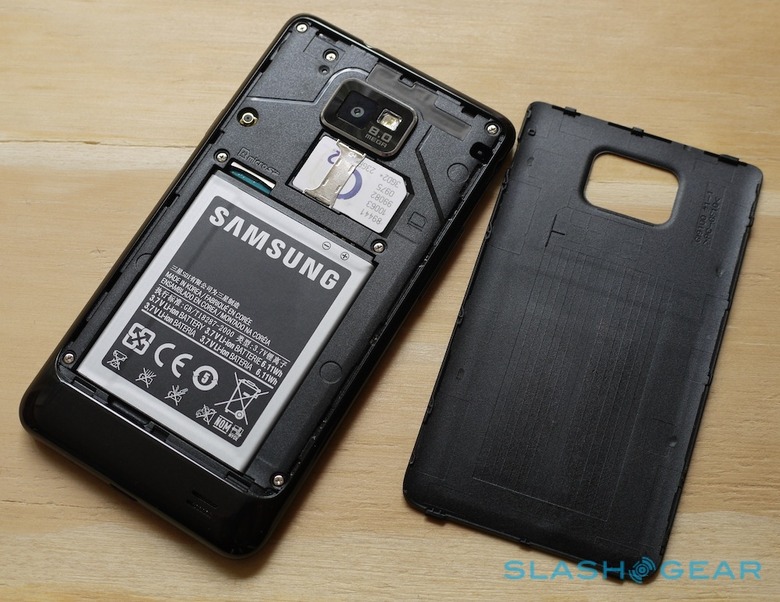 ABOVE: This is a photo of the removable battery-laden Samsung Galaxy SII, from all the way back in the year 2011. Seems like forever ago and no time at all, all at the same time.
Like elder XCover phones, this device is rugged in more ways than one. It is IP68 rated, which means it's both water and dust resistant, and resistant to submersion in freshwater "up to a maximum depth of 1.5m underwater for up to thirty minutes." That's straight from Samsung's page on the matter, where they also show how a wide variety of their highest-end smartphones are IP68-rated. This phone is also MIL-STD-810 certified for ruggedness and durability.
The Samsung Galaxy XCover Pro will be released in February of this year, 2020. It'll be coming to Europe first – and POSSIBLY the USA later this Spring – we'll be confirming that soon. Samsung suggested that this phone will cost around 499 Euro – that's right around $550 converted directly – but it would not be a shock to find this phone cost anywhere from $500 to $600 USD if it arrives on our shores.