Samsung Galaxy Watch unboxing: My first impressions for you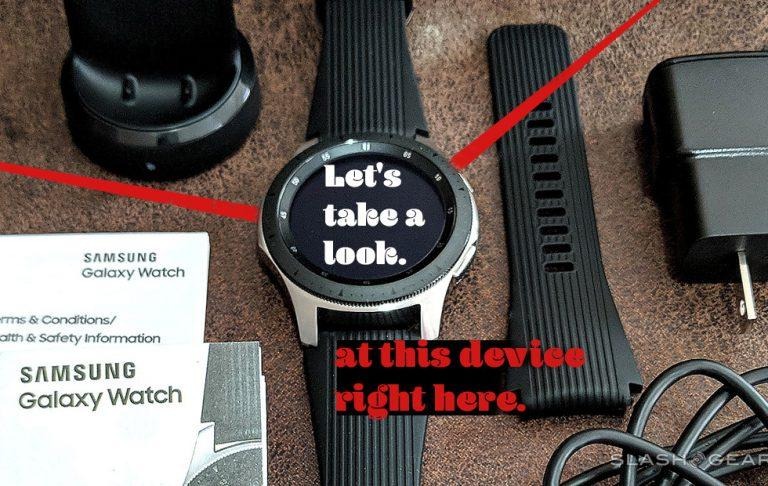 I've got the bigger version of the Samsung Galaxy Watch right here, in black, and I'm going to tell you about it. I got the device in the mail today from Samsung. Over the next few days (and beyond) I'll be giving this device the once-over, looking at all the intricate bits and pieces, detailing everything I find out and everything I find interesting. To begin, there's the device's nature, very shiny and chrome.
The version of the device I've got here for SlashGear comes in a simple box which also contains several important other bits of hardware. In the box is the watch, one extra watch strap (just the side with the size holes), and a charger. The charger comes in three parts – the wireless charging stand, the wall plug, and the micro-USB cord to run between the two.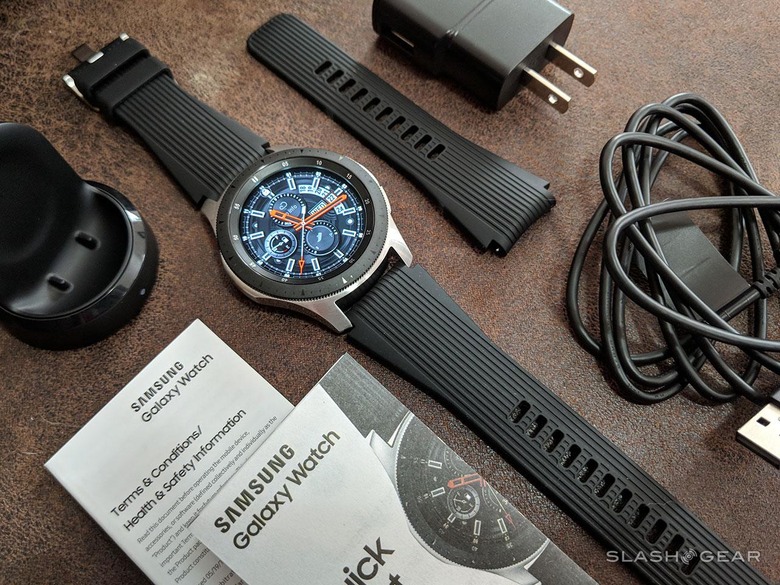 The watch comes protected by a bunch of very satisfying-to-remove bits of plastic. These sealing plastic bits are the same as you might find on larger pieces of electronics, kept in place here to retain the several pristine surfaces of the watch. The watch, being chrome as it is, provides a very satisfying box-opening and first-startup experience.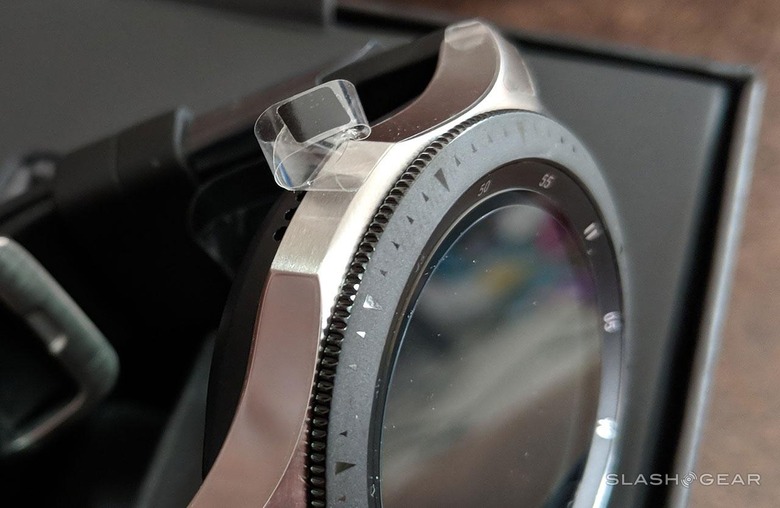 This watch has two big physical buttons, a touchscreen, and a dial around the edges of the display. This dial and these buttons are of an almost surprisingly high quality. It's not that I didn't think Samsung capable of this sort of device, but that I'm used to lesser smartwatches from brands that've made said devices only to follow along with the rest of the smart device market.
Samsung Galaxy Watch startup – with a spinning set of stars: pic.twitter.com/X2wSYafHYm

— SlashGear (@slashgear) August 22, 2018
The buttons click in with a "click-thump" sort of sound and feel. Both buttons have a textured black surface for a head, providing a tactile feel with each press. The dial rolls through a vast number of *kadunks* around the edge of the display.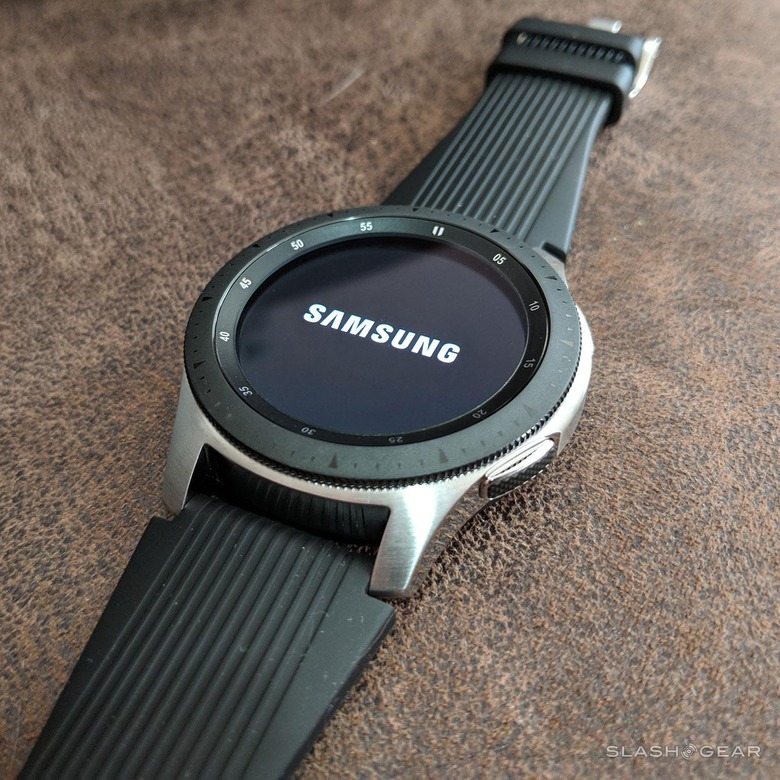 This watch is everything Samsung's promised, so far. I'm going through a variety of tests over the next few days (and on into weeks) with this smartwatch to see that everything Samsung's said the watch can do can be done.
If you're in the market for a smartwatch and want any sort of specific questions answered, feel free to pose any number of queries. Here, on Twitter, on Facebook, or elsewhere – I'll see, and I'll do my best to get you what you need!
Until then, for more information about the Samsung Galaxy Watch, head back to our original info post. That's the Samsung Galaxy Watch Release Date, Features, and Pricing feature article from earlier this month, back at the launch.
EDIT: I've just set up Samsung Pay in less than 10 minutes. Most of that time was waiting on hold with my bank to get my card activated with mobile payments. It's all a rather quick process. NOTE here that we're no longer working with MST, it's NFC only. Samsung told us this does not mean they're abandoning MST for payments on all devices, just that they're using NFC only on the Galaxy Watch, for the time being.