It's a song that has been sung before — a popular person, hired by a company to promote its products, inadvertently uses a competitor's device in a public way. Such was the case with Alicia Keys earlier this year, for example, when she tweeted from an iPhone while promoting BlackBerry. Bound to afflict anyone who dabbles in the industry long enough, Samsung has now suffered the same faux pas with its latest #Galaxy11 campaign.
Samsung's Galaxy 11 campaign is a viral effort to draw attention to its various products using terms like "WinnerTakeEarth" and a fantasy team that battles against, oddly enough, invading aliens. To help promote the campaign is soccer player Franz Beckenbauer, who is dubbed the fantasy team's manager and should, by all logical accounts, be using a Galaxy device.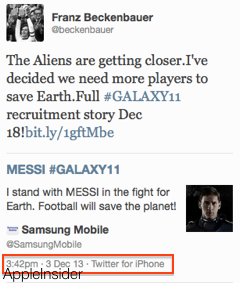 That wasn't the case today on Twitter, however, when he sent out a tweet under the #Galaxy11 hashtag that, unfortunately for him, contained metadata showing he used an iPhone. That metadata has since been removed, but the tweet lives on in various screenshots around the Web, and Samsung likely collectively groans. Unlike in the BlackBerry situation, this one hasn't been blamed on hackers.
Others have fallen prey to the same ordeal, with Apple again receiving unsolicited air time via Oprah, when she endorsed Microsoft's then-newly released Surface tablet using, of all things, an iPad. As such, the odds are high we'll be seeing this oopsy crop up again in the future.
SOURCE: Apple Insider