Blackberry's celebrity director Alicia Keys tweets with iPhone, blames it on hacker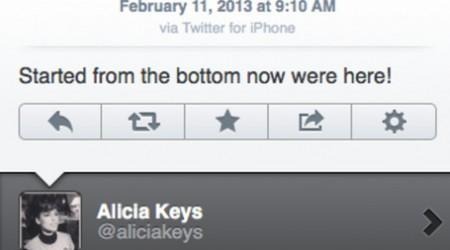 Blackberry is one of several to sign on a celebrity to help push its platform, having recently announced that Alicia Keys is its new Global Creative Director with the launch of Blackberry 10. All was well for a couple weeks until tweets surfaced under Keys' Twitter account from an iPhone, her previous handset of choice. According to the singer, she was hacked.According to the New York Times, more than one tweet was present on her Twitter account from the iPhone, as well as images recently taken with Instagram, which you won't find on any Blackberry handset. All of the activity has since been deleted, but it nonetheless makes her response to the issue seem less plausible than it would have if only one iPhone-sent tweet was present – that she was hacked.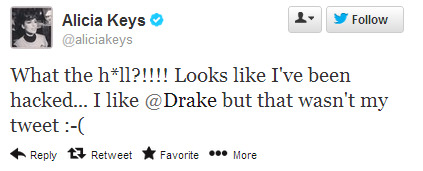 As you can see in the screenshot above, Keys says that she did not send out the "Started from the bottom now were [sic] here" tweet, instead blaming it on being "hacked." Her spokesperson has a different angle to the story, however, insinuating that Keys' posted those tweets before officially "breaking up" with her iPhone.
Said Keys' spokesman Rhett Usry: "The Internet is buzzing with speculation as to the exact time Alicia Keys 'broke up' with her previous smart phone. After a transitional period, she's officially an exclusive BlackBerry 10 user today." Which is it? We'll never know, but the moral of the story is either to keep your Twitter password secret, or be careful when using a handset other than the one you're supposed to exclusively represent.
[via The Verge]