Samsung Galaxy Tab S3 hands-on: Premium Android with S Pen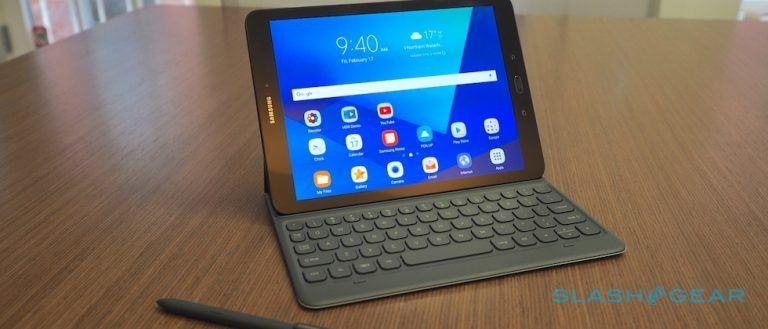 Does anybody care as much about Android tablets these days as Samsung does? With the tablet segment in the doldrums and little but the iPad making any money, you'd be forgiven for questioning the existence of the new Samsung Galaxy Tab S3, making its debut today at Mobile World Congress 2017. According to Samsung, though, this particular pen-enabled Android slate is just what the market ordered.
Buyers, Samsung cites the research for, still want premium experiences and 2-in-1 convertibles, and so that's just what the Galaxy Tab S3 delivers. Its raison d'être is "immersive entertainment" but that's really just the marketing message. The Tab S3 might push movies to the fore, but there's a lot more to it than just another way to stream Netflix.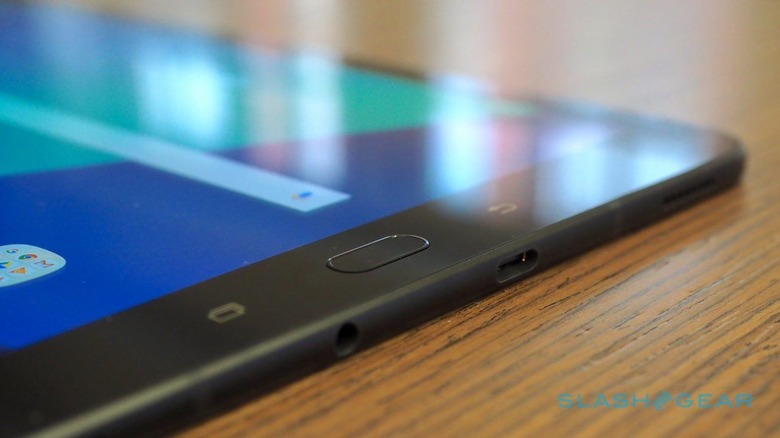 For a start, it feels a lot better than most of the Android tablets out there. Samsung has crafted a sandwich of metal and aluminum, borrowing the design language of the Galaxy S7 phone and enlarging it. Toughened glass flanks a sturdy metal frame, and the 237.3 x 169 x 6 mm result is tactile and reassuringly expensive, albeit with a voracious appetite for fingerprints.
On the front, there's a 9.7-inch, 2048 x 1536 Super AMOLED display. Now, nobody can deny that Samsung knows its stuff when it comes to OLED, and sure enough the Tab S3 has a superb screen. Samsung has boosted the naturally high contrast ratio and punchy colors with mDNIe (mobile Digital Natural Image engine) and HEVC 265 support, making this the first tablet with an HDR display.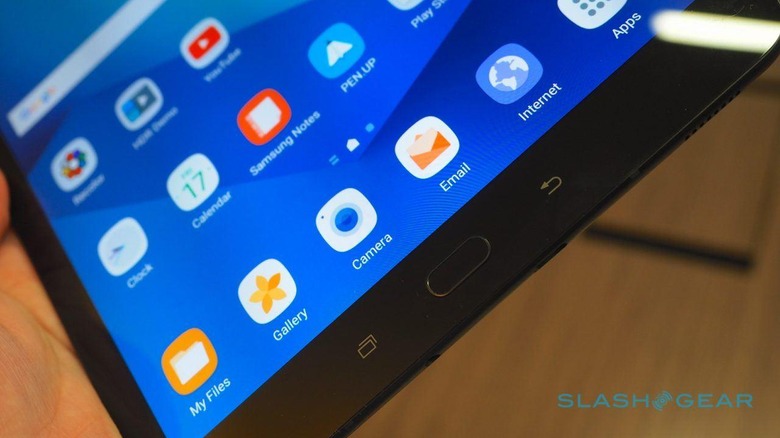 Obviously you'll need content that's in HDR to actually get the benefit of it. Samsung showed me some sample footage to underscore just how impressive High Dynamic Range video can be on the Tab S3, but we'll have to wait closer to launch to find out which content partners the company is working with. Given both Netflix and Amazon Prime Video offer HDR video, there are a few options out there it could choose from.
As for the audio, Samsung gave the Tab S3 four speakers, all tuned by AKG and with 0.64W of amplification. Thanks to orientation sensors, whichever are the two bottom speakers as you hold the tablet, they project the sounds closest to you. Those at the top take care of the sounds furthest away. That way, you get the best sound-stage whether you're watching a movie in landscape orientation, or holding a video call in portrait orientation.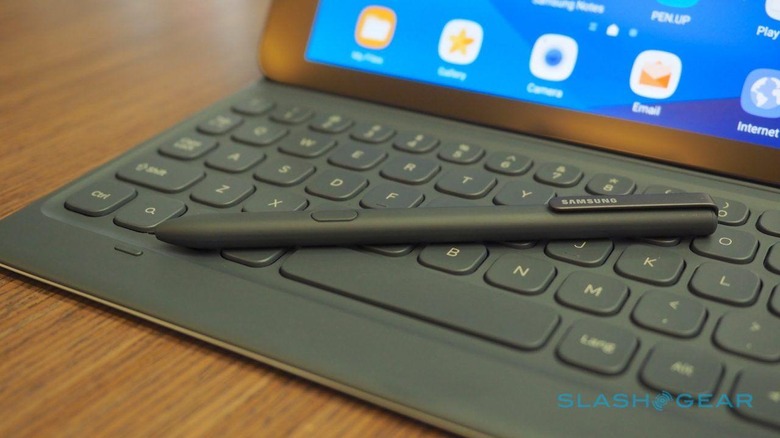 The display works with a newly-enhanced S Pen, which now supports 4,096 levels of pressure sensitivity. It's still battery-free, but has a narrower tip: 0.7mm, and rubber-coated for a more pen-on-paper feel as you write and sketch. The barrel is now non-cylindrical, to stop it from rolling away across the table, and there's a clip, too; unfortunately, you don't get a silo on the Tab S3 itself to slot the pen away.
Still, all the Note features people got to (briefly) enjoy on the Note 7 are onboard. There's screen-off memo, Air Command, PDF annotation, and the ability to create animated GIFs from videos captured on the slate. Samsung Flow, which allows you to control the messaging, calls, and notifications from a nearby paired Galaxy phone, is also supported, as is Samsung's Game Launcher.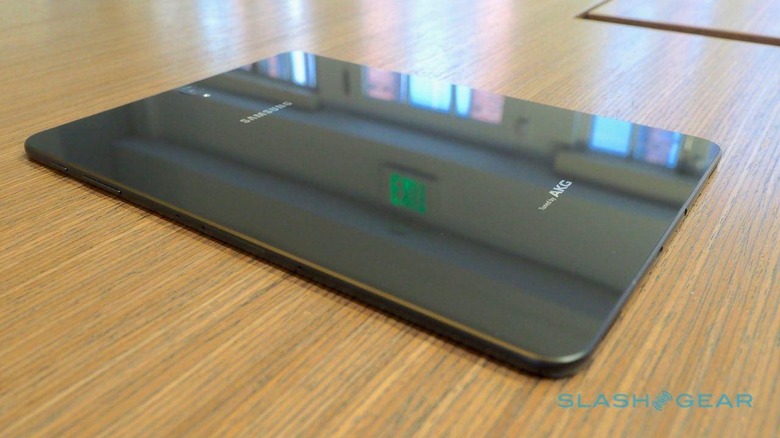 It's all running on Qualcomm's Snapdragon 820, which promises twice the graphics performance in games but with lower power consumption. There's 4GB of RAM and 32GB of storage; Samsung includes a microSD card slot, for up to 256GB cards. The 6,000 mAh battery recharges via USB Type-C, and supports fast charging.
On the back, there's a 13-megapixel camera, while a 5-megapixel camera is on the front. There's also a fingerprint sensor, WiFi a/b/g/n/ac, and Bluetooth 4.2. Samsung will offer a WiFi + LTE version, too, though carrier support is yet to be confirmed.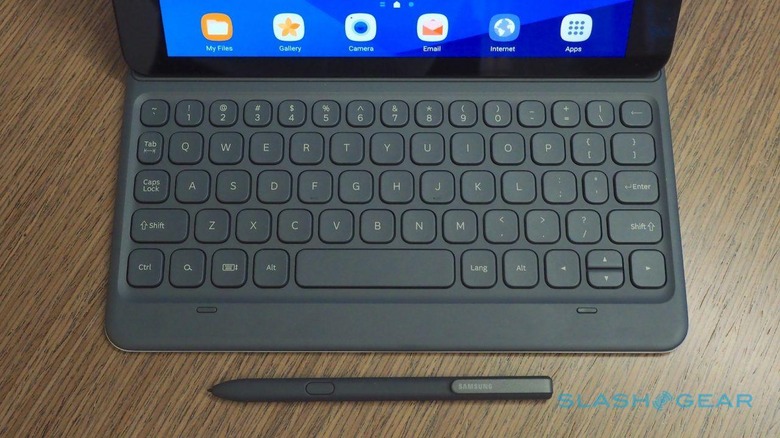 NOW READ: Samsung Galaxy Book tablet hands-on
Though the S Pen will be included in the box, Samsung will also offer an optional keyboard. Battery-free, and attaching magnetically, it has backlit keys with 1.5mm travel, and is actually surprisingly easy to type on. Android Nougat makes big leaps in usability for productivity apps and such, and the keyboard goes a long way to turning the Galaxy Tab S3 into a notebook replacement. Those who don't need it, though, can opt instead for the slimmer "book covers" which will be available in black, white, or green.
All in all, if you're in the market for a tablet and you're not swayed by iOS, the Galaxy Tab S3 is definitely worth a look. Samsung will confirm pricing and release date closer to launch.