Samsung Galaxy Book hands-on: S Pen and Win 10 to scare iPad Pro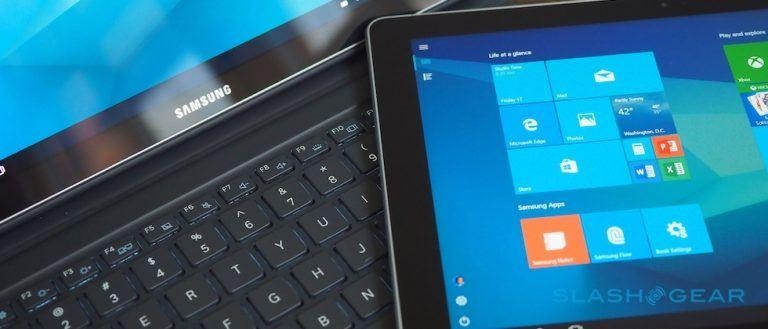 2-in-1 tablets are selling like wildfire, and the new Samsung Galaxy Book range is the company's attempt to get in on the Windows 10 action. Offered in two sizes – the 10-inch Galaxy Book 10, and the 12-inch Galaxy Book 12 – both tablets, freshly revealed at Mobile World Congress 2017 today, feature high-end construction with lashings of real metal and glass. With a new S Pen, detachable keyboard, and optional integrated LTE, meanwhile, should Apple and Microsoft be worried?
The differences go much deeper than just two inches of screen size, mind. Samsung tells me it envisions the Galaxy Book 10 as being far more of an entry-level machine: it's the thicker of the two, at 8.9mm, in part because its 10.6-inch 1920 x 1080 display uses a TFT LCD panel. It also has a 2.6 GHz dual-core Core m3 Kaby Lake processor and 4GB of RAM as standard, along with just 64GB of internal storage.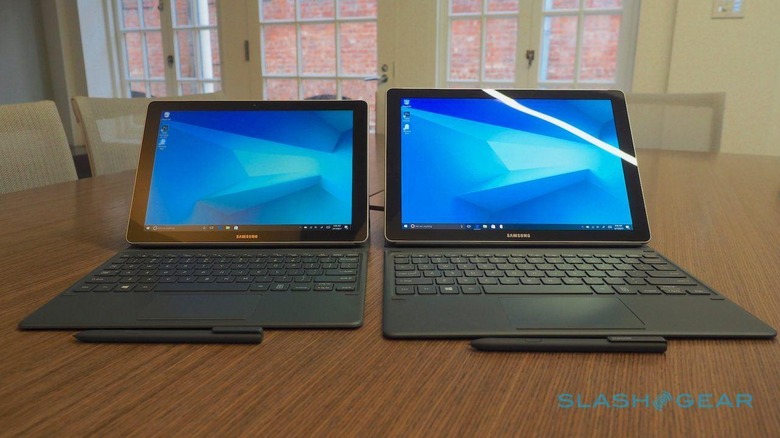 In contrast, the Galaxy Book 12 is slimmer, at 7.4mm thick, in no small part because it gets a Super AMOLED panel. That runs at a crisp 2160 x 1440 resolution, and you see the difference in graphics quality. The Galaxy Book 10 is perfectly fine, but its bigger sibling has punchier colors, inkier blacks, and generally looks more appealing, including from more oblique angles, not to mention a second USB Type-C port.
Behind the Super AMOLED there's a beefier processor, too, a 3.1 GHz dual-core Core i5. It's paired with either 4GB of RAM and 128GB of flash storage, or 8GB of RAM and 256GB of storage. Both versions of the Galaxy Book will have integrated LTE Cat 6 as an option, too; alternatively, you'll be able to make do with the WiFi a/b/g/n/ac (MIMO) and Bluetooth 4.1 both share.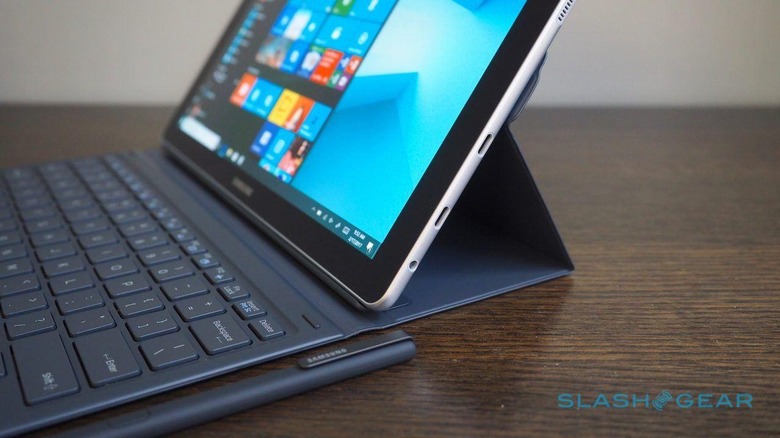 You definitely notice the extra thickness of the smaller Galaxy Book, and that's only compounded when you add the detachable keyboard. Samsung will be bundling it as standard in the box, and it's a decent 'board overall. Hard plastic keys have a good 1.5mm stroke; the Galaxy Book 10 version has 17.4mm pitch keys, while the Galaxy Book 12 scales that up to 19.05mm. Both support three levels of backlighting, get all their power from the tablet, and have a trackpad.
If you'd rather, though, Samsung includes the latest iteration of its S Pen stylus, too. That now recognizes 4,096 levels of pressure, and has a narrower 0.7mm tip for more precise use; it's been given a rubberized coating, to feel more like a pen on paper. While it doesn't fit into a silo in either Galaxy Book, the S Pen is now non-cylindrical so it won't roll across the table; there's a clip for your pocket or bag.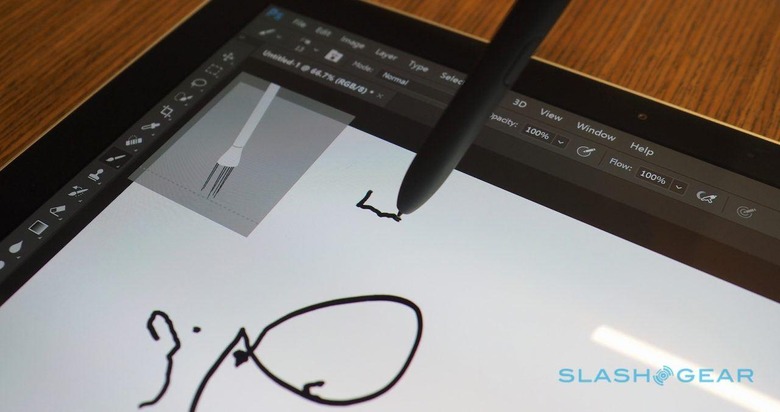 As before, Samsung uses Wacom's technology so the S Pen is battery-free. Unusually, though, the Galaxy Book recognizes pen tilt: Samsung has cooked up special support for that, initially only in Adobe Photoshop, where Wacom used to save it all for its own Intuos graphics tablets and the like. Samsung tells me it's open to working with other software companies to broaden tilt support, though right now there's no plans for an open API.
Even if you're not an artist, there are plenty of ways to use the S Pen. Microsoft's OneNote supports it for digital note-taking, for instance, or you could annotate PDFs or other documents. There's also Samsung Flow, which allows you to connect an Android-based Galaxy phone – like the upcoming Samsung Galaxy S8 – and manage messages from your Galaxy Book, automatically tether for internet access, and see when someone is calling (though not, it's worth noting, answer the call – Samsung claims users weren't a fan of holding calls through their notebook or tablet).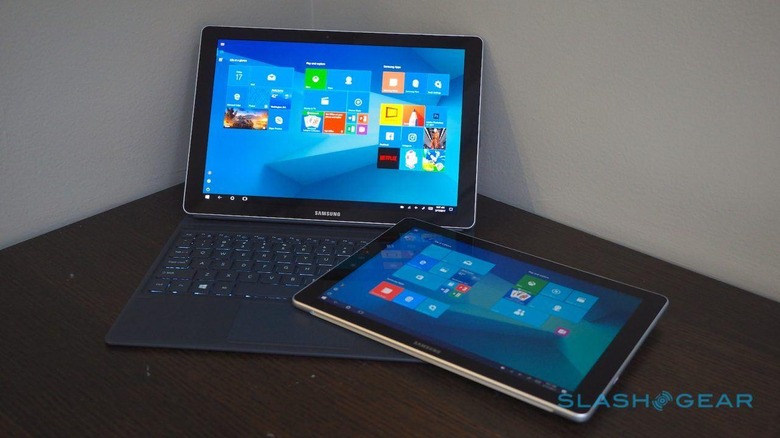 Standard across both is a 13-megapixel camera on the rear (the Galaxy Book 12 gets an LED flash, too) and a 5-megapixel front camera. A microSD slot handles cards up to 256GB in size, and there's a fingerprint reader too. The Galaxy Book 10 measures in at 261.2 x 179.1 x 8.9 mm and 645 grams, while the Galaxy Book 12 is 291.3 x 199.8 x 7.4 mm and 754 grams.
What's the Galaxy Book competing against? Samsung would, unsurprisingly, prefer you to think of it as being in a category of its own: it's a "truly distinguished device," the company told me. Of course, that's not how tablet or 2-in-1 buyers actually think.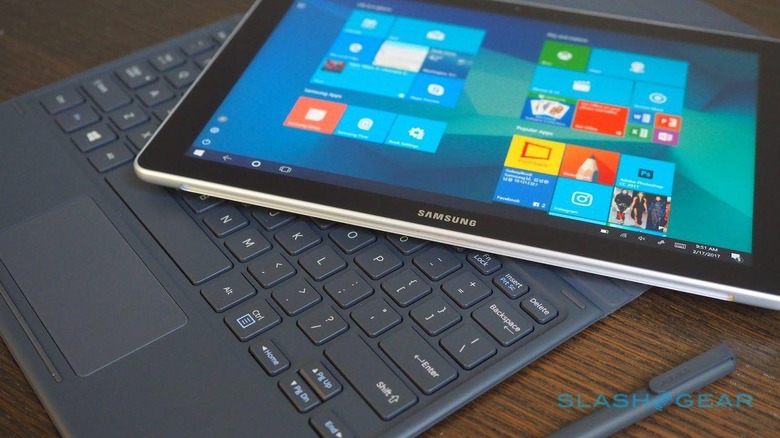 In reality, the two Samsung tablets fall somewhere in the space between an iPad Pro and a Surface Pro 4. Like Apple's slates, they're fanless; like Microsoft's, they run a full, desktop OS. That means more software and multitasking flexibility than the iPad Pro, but less processing power from the low-voltage chips compared to the Surface Pro 4.
NOW READ: Samsung Galaxy Tab S3 hands-on
Battery life should be more akin to the iPad Pro, meanwhile. The Galaxy Book 10 has a 30.4W battery, which Samsung says should last for around 10 hours; the Galaxy Book 12 gets a laser 39.04W battery, which should last for 10.5 hours. Both support fast charging when used with a compatible USB Type-C charger.
If you're a Windows 10 fan there's plenty to like about Samsung's new 2-in-1s, the Galaxy Book 12 particularly. What success will likely hinge upon is price, and for now that – and release date – is something Samsung is keeping close to its collective chest.