Samsung Galaxy Tab S2 Picture Leaked, Tipped For June Unveiling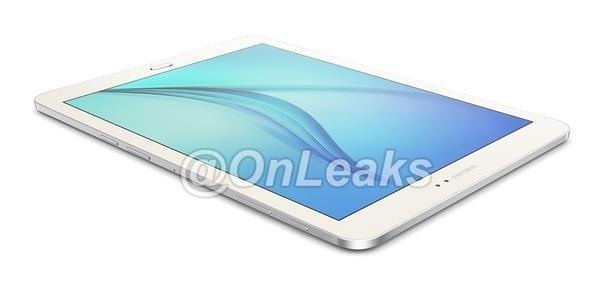 Samsung's flagship tablet is about to get a new model, hopefully to be unveiled this June. Leaked details about Samsung's upcoming Galaxy Tab S2 have appeared on the internet, creating an image of what we can expect from the new high-end tablet. It looks as though the tablet has been redesigned to directly compete with Apple's latest iPads. The latest leak to hit the web is a possible promo photo of the new device. It looks sleek and best of all, thin. With a rumored thickness of only 5.4mm, it would be thinner than the iPad Air 2's 6.1mm.
The incoming flagship tablet from Samsung is rumored to be coming in 8-inch and 9.7-inch versions, each size tablet will come with a choice of either Wi-Fi or Wi-Fi + LTE capabilities, creating a total of four different versions of the Galaxy Tab S2. The S2 will have a 4:3 aspect ratio, which is a move away from earlier Galaxy Tabs' 16:9 aspect ratios.
Inside the S2's metal case, will be a Super AMOLED display with 2048 x 1536 resolution. The device is rumored to feature 32GB of built-in memory with expandable storage via a microSD card slot. Inside, the tablet will have 3GB of RAM and use a 64-bit Exynos processor. The device will use Android 5.0.2 Lollipop. The tablet's main camera will be 8MP while the front-facing camera will be 2.1MP.
The current Galaxy Tab S is a winner among Android tablet users for its slim and lightweight design. The S2 looks to be even lighter and thinner, which could give a needed push to take some market-share away from the iPad. Although the incoming S2 will have the same sizes and aspect ratio as the mid-range Galaxy Tab A, the S2 sets the bar higher by offering, more RAM, higher resolution, and a faster processing chip. Samsung is marketing the Galaxy Tab A as a family device with multiple user settings and a Kids Mode, while the S2 looks to be a higher-end device that you won't want to share.
Source: Twitter