Samsung Galaxy Tab P1000 Tablet Leaks: Super AMOLED, Voice Calls & New Controls [Video]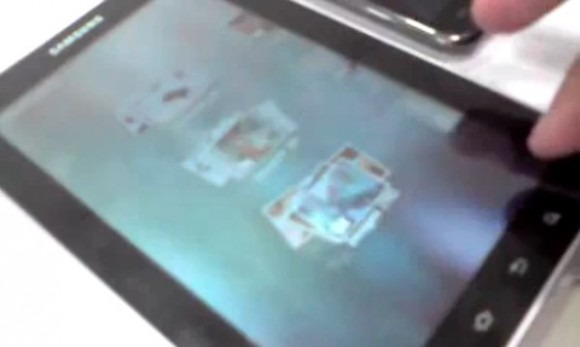 Samsung's Galaxy Tab Android tablet has shown up on video, though it's not entirely clear whether this is the same model as the company's South African arm flaunted on Twitter recently.  Spotted in a video shot by gianclaro, this particular version is labeled the Galaxy Tab P1000; it has different controls to the tablet we've seen pictured before, dropping the hardware D-pad and replacing it with a row of touch-sensitive keys.
Video demo after the cut
There's still the same 7-inch Super AMOLED display, however, together with some version of Samsung's TouchWiz UI and even a huge dialler screen which suggests the Galaxy Tab will function as a phone for voice calls in addition to using its cellular connection for data purposes.  Ports are unconfirmed, bar what looks like a proprietary docking connector running along the bottom of the tablet.
Last we heard, the Samsung Galaxy Tab will run Android 2.2 on an A8 processor running at 1.2GHz, 16GB of internal memory and a microSD slot.  It'll also apparently launch by the end of 2010.
[via OLED-Info]