Samsung Galaxy Tab gets Gorilla Glass protection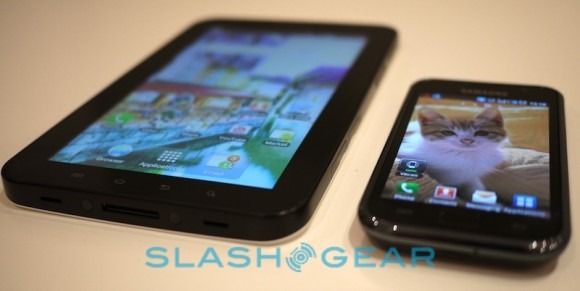 Whether or not you feel comfortable putting the Samsung Galaxy Tab into your pocket, we now at least know that it should stand a pretty good chance of not shattering while it's in there.  Corning has confirmed that their toughened Gorilla Glass will be protecting the Galaxy Tab's 7-inch touchscreen.
We've obviously seen Gorilla Glass used before on mobile devices, and in fact Samsung's own Galaxy S smartphone has a 4-inch sheet of the stuff protecting its Super AMOLED panel.  The substance is actually a specially treated thin layer of alkali-aluminosilicate, and as well as being more resilient to breaking it's scratch-resistent too.
[via DigiTimes]
Press Release:
Corning Supplies Gorilla® Glass for Samsung's New GALAXY Tab Smart Media Device

State-of-the-art Glass Technology Completes the Best of Display Products

CORNING, N.Y., October 04, 2010 – Corning Incorporated (NYSE: GLW) announced today that Corning® Gorilla® glass has been designed into the Samsung Electronics GALAXY Tab, a newly released smart media device.

The Samsung GALAXY Tab was announced on Sept. 2 at the Internationale Funkausstellung Berlin (IFA), consumer electronics show held in Berlin, Germany. The Galaxy Tab features a seven-inch portable screen, video calling, full-web browsing functions, and is powered by Android 2.2. The durable, thin display and sleek design of the GALAXY Tab is enabled in part by using Corning Gorilla glass as a cover glass. Continuing a tradition of more than 150 years of innovation in materials science and technology, Corning Gorilla glass is an environmentally friendly alkali-aluminosilicate thin-sheet glass designed specifically to function as a cover glass for high-end display devices such as notebook PCs, televisions, and mobile phones.

B.J. Kang, senior manager of Product Planning of Samsung Electronics said, "The GALAXY Tab maximizes the joy of e-reading, web browsing, watching videos and movies, and listening to music while on the move. It has innovative functions and advanced characteristics in display, and Corning's Gorilla glass has enabled GALAXY Tab to combine best-in-class technologies in mobility and toughness."

"We are pleased that consumers recognize the benefits of Corning's Gorilla glass in their IT products," said Haeng Hee Lee, president of Corning Korea Company Ltd. "Consumers are enjoying IT display products with more durability through the application of Corning's Gorilla glass. We strive to deliver new technologies that help our customers gain a competitive edge in the global market place."

Corning Gorilla glass is currently designed into more than 225 mobile devices, and is an appealing solution for the emerging smart media device environment due to its scratch and damage resistance. Studies show that the portable computer market is projected to reach annual unit sales of more than 354 million by 2014. Emerging form factors such as slates, mobile internet devices and other smart media devices are projected to grow at a compound annual growth rate of 40 percent over the same period and newer form factors will comprise up to 30 percent of the market's overall volume. Most importantly, studies estimate that more than 90 percent of newer form factors will utilize a touch interface.