This morning Samsung sprang a surprise on the world – the same world that expected Samsung's announcements for IFA 2014 to be over. No way, says Samsung, bringing on another device that won't be overshadowed by the likes of the Galaxy Note 4 and Galaxy VR. Not if a splash of "Active" has anything to say about it.
With the Samsung Galaxy Tab Active you'll be running with an 8-inch 1280 x 800 pixel TFT LCD display up front. Inside is a quad-core Exynos processor clocked at 1.2Ghz running with 1.5GB of RAM.
The back of this tablet works with the most basic of cameras – 3.1-megapixels with autofocus and an LED flash. The front has a 1.2-megapixel camera for underwater selfies.
Of course this device boasts the same IP67 certification for dust and water resistance that its Active cousins do. It also has a lovely Protective Cover you can add that'll offer 1.2-meter drop protection.
This same Protective Cover brings on the "C Pen". This is different from the S Pen you've seen in the Galaxy Note – this one doesn't quite do as much as that powerful beast, but it will work with the basics.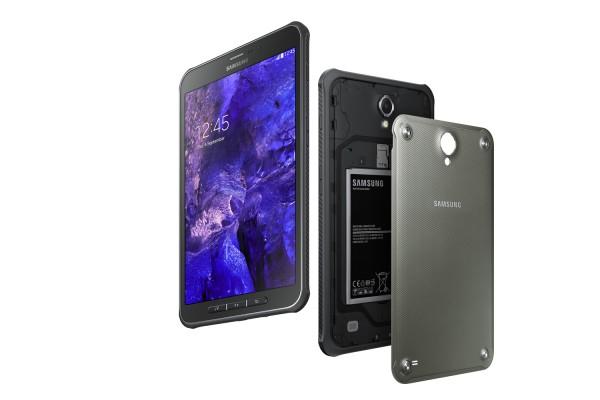 Inside you'll find 16GB of storage as well as a microSD card slot for 64GB more. This device is 126.2 x 213.1 x 9.75mm and weighs in at 393 grams.
You'll find the Galaxy Tab Active coming in Titanium Green in two editions: LTE or Wi-Fi only. Pricing has not yet been finalized, but we'll expect this device to appear in the USA before the end of the year.