Samsung Galaxy Note 4 hands-on: Quad HD and metal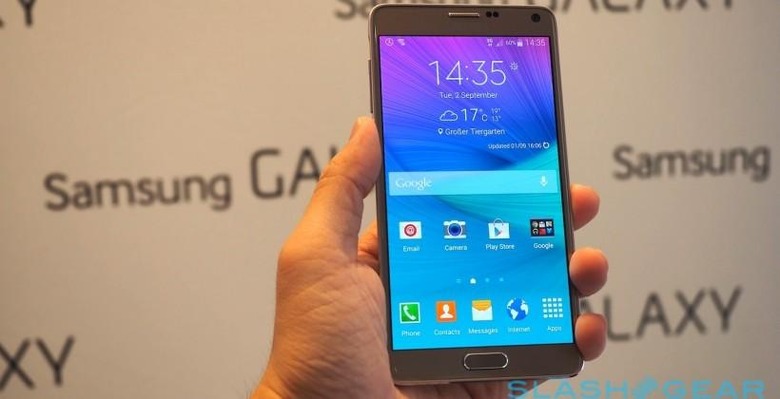 The stylus has redeemed itself, and it has Samsung to thank for that. The South Korean company has been hammering away at its S Pen technology since 2011, and the Samsung Galaxy Note 4 is the latest result of that work. Hardly a surprise in Berlin this week – its three generations of forebears each arrived at pre-IFA show – the Note 4 nonetheless has plenty to prove. Read on for my first impressions.
Where the last Note felt like a blown-up Galaxy S4, the Note 4 has learned from both the Galaxy S5 and the newer Galaxy Alpha. The latter has lent some of its metal design, a welcome addition to a phone range long criticized for its plastic construction.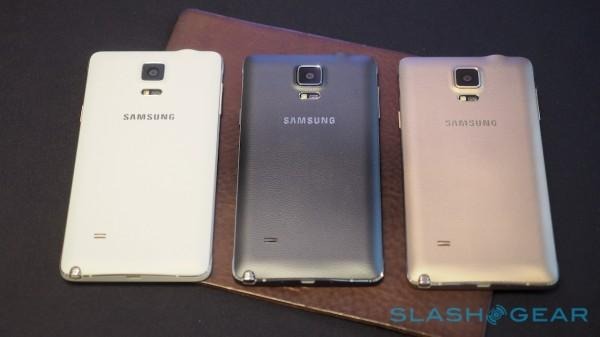 So you get a textured plastic back as before, but the edges are metal, while the glass over the 5.7-inch Super AMOLED display curves gently where it meets the sides. It's enough to make the Note 4 feel significantly more premium in the hand, and though the bevelled sides may prompt comparisons with Apple's iPhone, it's a sleek look I can't exactly fault the phablet for adopting.
The screen itself may be no bigger than the outgoing phone, but it packs significantly more pixels, with Quad HD 2560 x 1440 resolution. It's a bright, vivid panel, just as we've come to expect from Super AMOLED, and the viewing angles are broad. Text and images look fantastic courtesy of the high pixel density.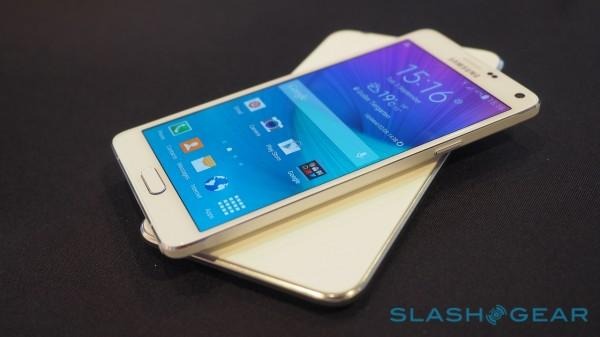 On the back, there's a 16-megapixel camera with optical image stabilization, though the bigger changes have arguably made on the front. Samsung has equipped the Note 4 with a 3.7-megapixel front-facing camera and an f/1.9 aperture lens, for 60-percent more light sensitivity than the typical f/2.4 lens, and the heart rate sensor beneath the main camera can act as a shutter release for selfies.
Meanwhile, though the front lens captures 90-degrees by default, it can optionally snap a 120-degree panorama for group shots. A third microphone has been added for better noise suppression and directional voice recording, with the possibility to isolate different voices during playback.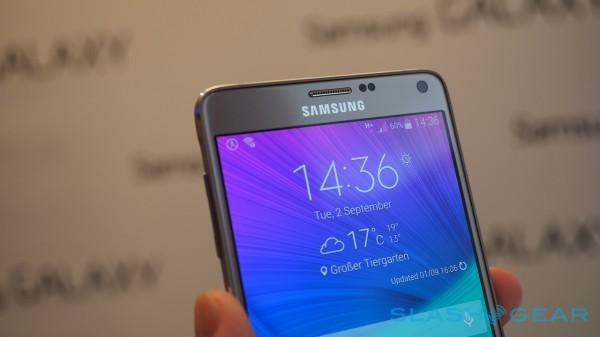 The Note series has always been about the S Pen, though, and both hardware and software have improved in this fourth generation. Pressure sensitivity has been doubled, and the Note 4 can track not only pressure but nib tilt and speed.
As a result, there are two new virtual pen types supported, a fountain pen and a calligraphy pen, the strokes of which vary according to how fast or slow you write, the angle of your hand, and how hard you're pressing. It's surprisingly effective at replicating a true ink experience.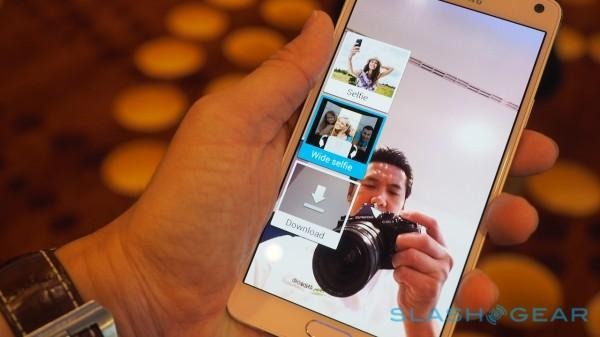 A new PC mouse-style select option has been added, allowing you to click the barrel button and then highlight an area to select, while Smart Select can now gather up multiple chunks of text and images into different temporary folders. Each of those folder can then be shared via email or other methods.
S Note gets a quick-access widget, with shortcuts for handwriting, typing, recording a voice memo, or – new to the Note 4 – a Snap Note. With that, you can take a photo of an analog notebook and have it imported: S Note automatically straightens it, adjusts the lighting, and then identifies what is text and what is image in the frame.
Following that you can delete parts of the original note, though unlike, say, Evernote there's no facility for searching handwritten text.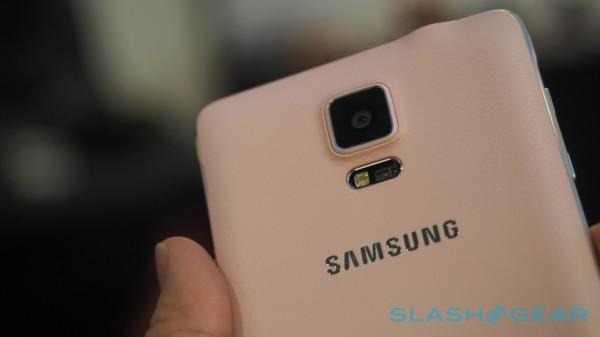 Old Samsung favorites like the split-screen view have been carried over, but made easier to access, with a dedicated option in the app multitask menu. From there you're also able to switch to floating and resizable windows.
As before, there'll be two processor options at launch, with availability depending on region. Samsung will offer a Snapdragon 805 2.7GHz quadcore with Cat.6 LTE, as well as an Exynos 5433 1.9GHz Octacore with Cat.4 LTE; both will have a removable battery, microSD card slot, and optional Qi wireless charging with a replacement back cover.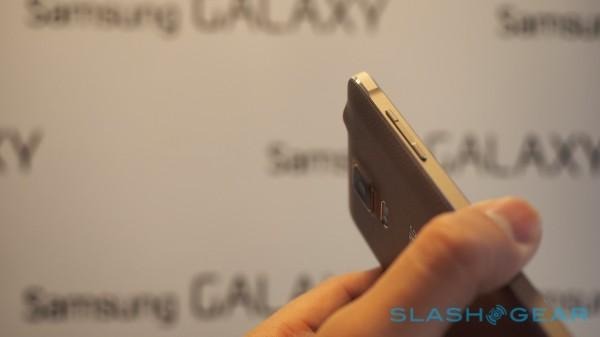 As with the GS5, there's an Ultra Power Saving mode for stretching out the last few percentage of power left, but it's joined by Fast Charging. Samsung's research, so the company says, shows that most people only charge their phones for thirty minutes at a time, and so Fast Charge is designed to take the Note 4 to 50-percent in that time. Give it a little longer, meanwhile, and the Note 4 should fully charge in 30-percent less time than its predecessor.
The 3220 mAh battery should last 7-percent longer than on the Note 3, Samsung says.
What it won't have, unlike the Note 3, is USB 3.0 support. Samsung has in fact switched back to USB 2.0 for the Note 4, telling me that people simply weren't familiar enough with the faster variant to make it worthwhile including. It's also not waterproof, unlike some of Samsung's recent handsets.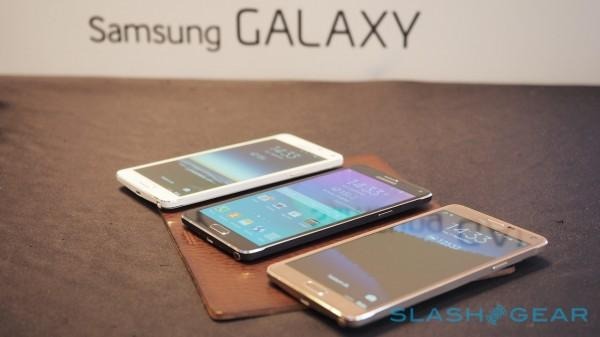 All in all, it's a solid refinement of an already popular smartphone. While the Note 4's new styling and higher-resolution display should satisfy those with a need for instant gratification, it's the enhanced sensitivity of the S Pen which should make a more significant difference over time.
Samsung will offer the Galaxy Note 4 in Frosted White, Charcoal Black, Bronze Gold, and Blossom Pink. Pricing and availability will vary by region.