Samsung Galaxy Tab 8.9 LTE hands-on & speedtested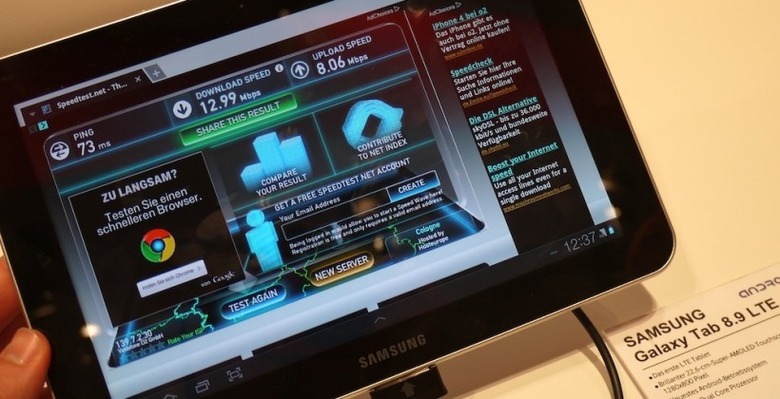 Vodafone Germany has quietly brought along a Samsung Galaxy Tab 8.9 packing LTE and an upgraded processor to IFA 2011 this week, adding 4G connectivity to the 8.9-inch Honeycomb slate. Rather than the 1GHz chip originally found in the Galaxy Tab 8.9, this German model has an unspecified 1.5GHz CPU according to the spec sheet, along with a Super AMOLED display.
It's unclear if those are mistakes on Vodafone's part or an upgrade that Samsung has made for the European 4G model, but what we do know is that the 4G connectivity is fast. We ran Speedtest and got a 12.99 Mbps downlink and 8.06 Mbps uplink; obviously speeds are network-dependent, but it certainly leaves us eager for a broader launch of the 4G model.
Otherwise it's the same Galaxy Tab 8.9 we saw earlier in the year, now the mid-range model slotting in-between the Tab 10.1 and the freshly announced Galaxy Tab 7.7. It's certainly a little more portable than the 10.1, but with the 7.7 offering the same resolution display in an even more one-hand-friendly form-factor, Samsung's tightly-packed line-up may end up leaving some consumers confused.