Samsung Galaxy Tab 8.9-Inch To Debut At CTIA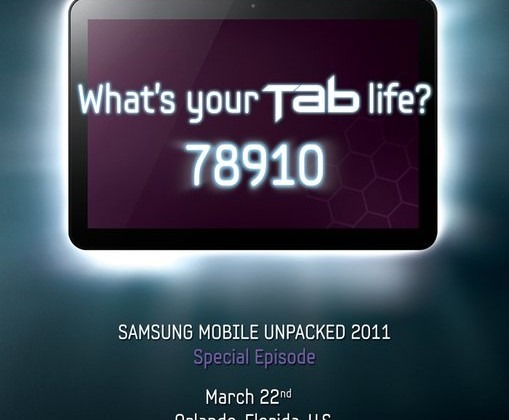 Samsung has sent out an invitation for an event at CTIA in Orlando on March 22nd. The company already has a 7-inch Galaxy tablet and just announced their 10.1-inch tablet recently at MWC, so the 78910 number displayed prominently could stand for an 8.9-inch tablet coming our way. This lines up with the recent rumors of an 8.9-inch tablet from Samsung.
The image also hints that the new tablet might be running Android Honeycomb by the honeycomb design pattern on the tablet pictured. Since the "special episode" is happening at CTIA and the Samsung Mobile badge is boldly displayed at the bottom right, you can most likely expect a 3G or 4G capable version of the tablet as well.
It seems like more and more tablets are popping up in the market everyday. Samsung will now have three tablets in its arsenal, but we'll have to see if they're strong enough to duke it out in the expanding tablet market. With Apple's iPad 2 announcement coming in two days and the recent launch of the much anticipated Motorola Xoom, it will be interesting to see who comes out on top.
[via Fone Area]