Samsung Galaxy Tab 2 10.1 Student Edition arrives on heels of Tab 3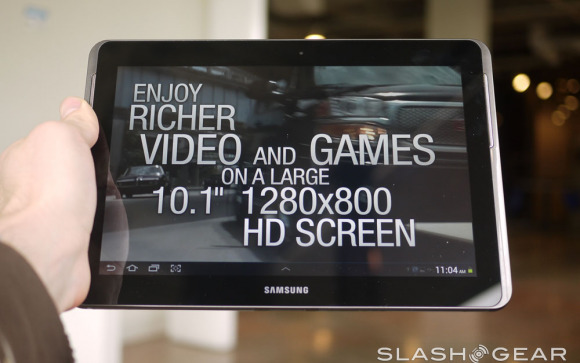 Though the full Samsung Galaxy Tab 3 line has only just arrived, Samsung is pushing the Galaxy Tab 2 Student Edition, complete with keyboard and dock accessories to boot. This combo works with Samsung's aim for this season's collection of students from sea to sea, pushing this "Student Edition" to the United States through brick-and-mortar stores like Office Max and Best Buy.
This machine is being delivered with several firsts here in the USA – starting with a white casing. Though we've seen this color on the Samsung Galaxy Note 10.1 in the USA before, here we're seeing it on the Galaxy Tab 10.1 as only seen internationally in the past.
You'll find this Student Edition working with the Samsung Desktop Dock and Bluetooth Keyboard both, both of them included in a package that's ringing in at $349.99 USD. That's a rather hearty bit of value when you consider the price of the tablet on its own – anywhere between $349.99 and $399.99 depending on where you shop. The dock and the keyboard then come essentially free where together they'd cost more than $60 USD – again, depending on where you shop.
Have a peek at our reviews of both the Samsung Galaxy Tab 2 10.1 as well as the newer Samsung Galaxy Tab 3 10.1 to see the differences between the two. Spoiler: they're very, very similar, and if you don't plan on connecting one Samsung tablet to another, the Galaxy Tab 2's speakers (front-facing as they are) trump the newer system. Displays notwithstanding, of course.