Samsung Galaxy Tab 10.1 Hits UK Today; Tab 8.9 On August 12?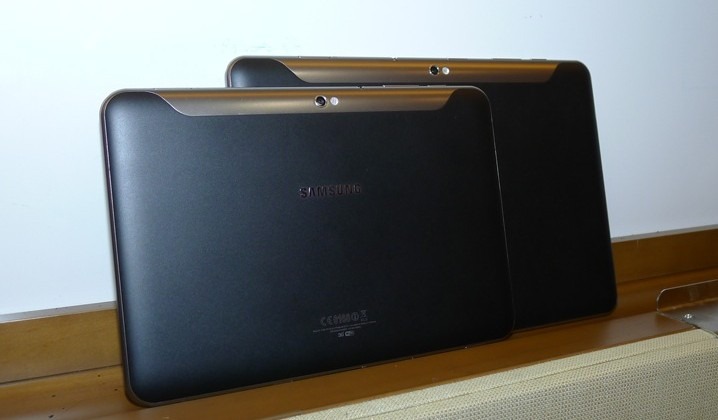 Samsung's Galaxy Tab 10.1 has officially arrived in the UK, with the WiFi-only version of the slate on sale today, while the 3G-enabled variant is due to hit carrier shelves on August 23. Meanwhile, the Galaxy Tab 8.9 has found itself a (tentative) release date, in the UK at least, with online retailers suggesting the 3G version of the slate is expected from August 12.
The 10.1-inch tablet's UK release comes just a day before Samsung has scheduled a TouchWiz update, with an OTA firmware push expected on Friday that will bring a new, custom UI, extra multimedia abilities and more to the slate. The WiFi-only Tab is £399 for the 16GB WiFi version, £479 for the 32GB and £559 for the 64GB, all available in black or white. Meanwhile, the WiFi + 3G model is £499, £579 or £659 for the three capacity variants respectively, all SIM-free.
As for the smaller model, the 8.9-inch Honeycomb tablet is being listed for pre-order at several online stores – Expansys has it for £584.99 - but recently an Amazon marketplace seller suggested it would drop on August 12. That date seems changeable, however; Engadget spotted the same seller listing the Tab 8.9 for release on August 11 just a few hours ago.
Samsung's tablets have been mired in patent-related controversy recently, with Apple arguing that the Korean company has "slavishly" copied its design and UI. The two companies inked an agreement earlier this week which prevents Samsung from selling the US-spec Galaxy Tab 10.1 in Australia, though it also claims that was never the intention and that the Aussie-spec tablet differs in ways that avoid Apple's IP. The exact nature of those differences – and a release date – has not been revealed, however.