Samsung Galaxy Stellar slated for September 6 launch at Verizon

We've already heard a little bit about the mysterious Samsung Galaxy Stellar 4G LTE, but today the floodgates have been opened. Engadget has been in contact with sources that claim the new budget handset will launch at Verizon on September 6. Strangely, neither Verizon nor Samsung have said anything about the device yet, but Engadget's source was able to provide documentation that dishes plenty of details on the phone's specs.
As you might expect, we're not working with too much in the Stellar. We've got unnamed 1.2GHz dual-core processor under the hood, the phone is running Android 4.0 Ice Cream Sandwich out of the box, and everything will play out on a 4-inch 800x480 WVGA screen. The whole unit weighs 4.73 ounces, comes equipped with a 1.3-megapixel front-facing camera and a 3.2-megapixel rear-facing camera, and offers 4GB of internal storage.
So, it isn't great, but this phone is obviously meant for those who are entering the world of smartphones for the first time. The proof? The Samsung Galaxy Stellar comes complete with a "starter mode." This isn't the first time we've seen an Android phone offer such a mode, as the Pantech MARAUDER also features a stater mode for new users to take advantage of. We don't know too much about the Stellar's starter mode, but a leaked listing describes it as a "new, simple way to interact Access apps and control device settings with ease."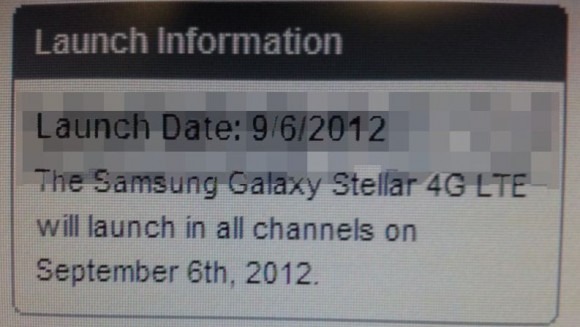 The Samsung Galaxy Stellar is rumored to cost $100 if you put your John Hancock on a two-year contract, and if this latest rumor proves true, its launch is less than a week away. If that's the case, then someone at Verizon or Samsung should be talking soon. Then again, since the Stellar doesn't really have much to write home about, it may just get a silent launch. We shall see, but in the meantime, have a look at our timeline to see what's going on with Verizon and Samsung these days.