Pantech MARAUDER heads to Verizon with 4G LTE on the cheap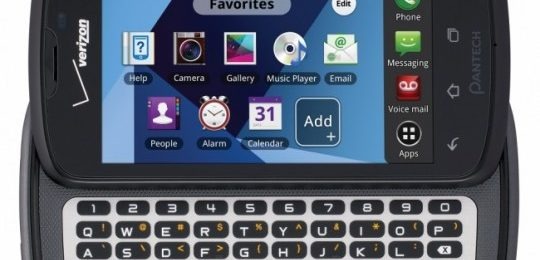 Making that jump from an old-fashioned feature phone to a smartphone can be pretty intimidating for a lot of consumers, and Verizon and Pantech are looking to do something about that with the new MARAUDER. Not only is the MARAUDER inexpensive, but it also comes with a number of features that will help newbies ease into the world of smartphones. Of course, those who don't need an introduction on using a smartphone will also be covered, and even better is the fact that the MARAUDER won't break the bank.
Verizon and Pantech's announcement mostly talks about the MARAUDER's Starter and Standard modes. By switching the phone to Starter mode, users will be getting a more "intuitive" setup that includes four home screens, preset widgets, and a quick-dialer that allows for making calls directly from the home screen. In other words, it's meant to give new users an introduction to smartphones that won't overwhelm. Standard mode unlocks the full Android experience for users who already know what they're doing, unleashing the full set of seven customizable home screens. Users will be able to switch between both modes freely without losing any saved settings, so if you jump into Standard mode a bit too early, you'll be able to return to Starter mode with everything still in place.
On the technical side of things, the MARAUDER comes with a slide-out QWERTY keyboard, a 4-inch screen, a dual-core processor clocked at 1.2GHz, 1GB of RAM, Bluetooth 3.0 and mobile hotspot capabilities, a 5-megapixel camera, a microSD slot, and is 4G LTE ready. It also comes equipped with Android 2.3 Gingerbread, which is getting on in days. The specs will leave something to be desired for smartphone aficionados, but the MARAUDER wasn't exactly made with them in mind anyway. Overall, this sounds like it'll be a decent phone for getting your feet wet, but we wouldn't be surprised to hear that consumers are moving on from the MARAUDER after they've had their first taste of the "smartphone experience."
The MARAUDER will be available at Verizon starting August 2 (that's this Thursday), and will cost $49.99 after a $50 mail-in rebate. Even with the mail-in rebate, you'll still need to sign a two-year contract to get the MARAUDER for that price, so keep that in mind. Finally, Verizon also says that those who purchase the MARAUDER will be required to sign up for its Share Everything plan.
[via Android Community]