Samsung Galaxy Stellar launching at Verizon for $99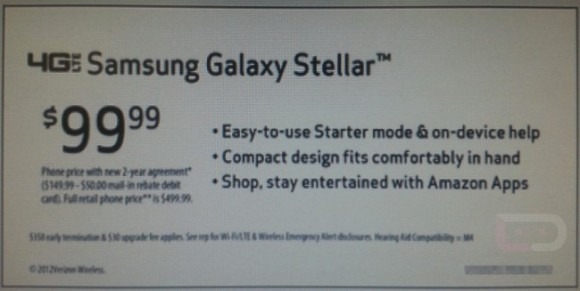 It would appear that a new Samsung smartphone will be getting a Verizon release, but sadly, details are still mysteriously slim. The Samsung Galaxy Stellar is its name, and it comes sporting a $99 price tag, which suggests that this is a low-end piece of equipment. Of course, we can't confirm that, because Samsung hasn't talked specs yet, and for that matter, the company hasn't even announced the phone yet.
The Verizon ad, which was spotted by Droid Life, says that the phone will be $99 after a $50 mail-in rebate and a two-year commitment. It also comes with something called "Starter Mode" which signals that this will be a phone aimed at users who are upgrading from feature phones for the first time. If this is similar to starter modes we've seen on other phones, then users won't be getting hit with the full Android experience all at once. Instead, starter mode will help them ease into the world of smartphones, learning the basics of the Android OS before unlocking all of the operating system's features.
It will no doubt be a handy tool for newcomers to have, but another curious thing is that the Verizon listing says it comes pre-loaded with the Amazon App Store. This may or may not be at the expense of the Google Play Store, which is an odd, odd move for an Android manufacturer. Perhaps Samsung thought that the Amazon App Store would provide a better experience for new users? It's impossible to guess Samsung's motivation behind pushing the Amazon App Store, so for now we'll have to remain baffled.
So there you have it – Samsung is apparently planning to launch a smartphone aimed at new users through Verizon. Other than the bullet points listed in the Verizon ad, we know next to nothing about the Galaxy Stellar, but maybe that will all change soon. We're not going to expect a marketing frenzy for a low-end smartphone, but an announcement would be nice, Sammy.