Samsung Galaxy Stellar Review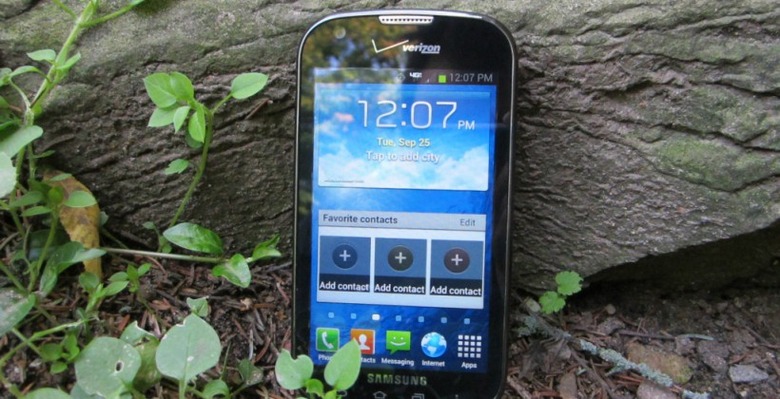 Samsung may be best known for its effort in the high-end market, but it didn't get the title of largest smartphone manufacturer just by pumping out the biggest and best all the time. In addition to top-of-the-line, Samsung also hits the budget scene hard, with its latest budget-priced offering being the Galaxy Stellar. Now available at Verizon, the Galaxy Stellar brings Android to the masses on the cheap, but is it the worth your time, and more importantly, is it worth signing a two-year contract for?
Hardware
The Samsung Galaxy Stellar offers a 4-inch WVGA touch screen running at 800 x 480 resolution. This means that you won't see HD listed in a rundown of its features, but to be honest, you can't really expect HD with a phone that you can get for free. The lack of HD will be a turn off for some, but the screen is still colorful and bright, so those who can live without HD will probably be satisfied with the Stellar's screen. At 4-inches, it's a bit smaller than we're used to seeing with other smartphones, but it still gets the job done. To my surprise, typing on the Stellar's screen was actually easier than expected, but mistakes will eventually creep in, especially if you're used to typing on a bigger screen.
On the inside, we have a Snapdragon S4 dual-core processor clocked at 1.2Ghz running the show. Obviously, that isn't the best processor around, but it still does what it's intended to do, and it keeps things running along smoothly. Despite a lack of processing power when held up to other smartphones, the Stellar moves along pretty fast – switching between home screens is quick and fluid, and apps open up almost immediately as well. Even though this is a budget handset, Samsung did manage to put a relatively decent processor under the hood, making cuts elsewhere (more on that later), so that's definitely appreciated.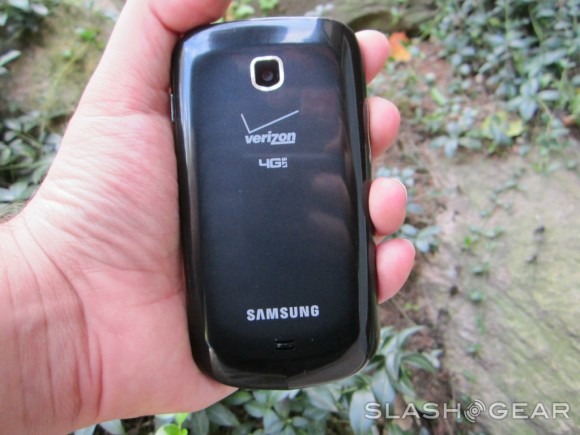 As far as memory goes, we have 4GB of internal storage, but like most smartphones these days, that can be expanded by with the use of micro SD cards. It would have been nice to see Samsung include 8GB of internal storage, especially considering the pre-loaded apps bring available storage space down to just 1.73GB. Make no mistake, if you're the type of person who downloads a bunch of apps, you'll definitely need to pick up a micro SD card to boost storage space. There's also 1GB of RAM working in tandem with the CPU, doing its part to keep things chugging along at a satisfactory pace. That's the same amount of RAM that Samsung included in its flagship, the Galaxy S III, in some regions, so there really aren't any complaints there.
On the outside, we don't have too much going on. The power button is located on the upper right side of the device, while the volume buttons and micro SD slot have taken up residence on the left side. A mini USB port for charging and data transfer is found on the bottom, and just below the screen, we have the previous, home, recent apps, and menu buttons. The whole unit weighs in at 4.7 ounces, and I have to say that it does feel nice in the hand. The smaller, 4-inch screen lends to a better fit, and even though that tinier screen does have some drawbacks, it means that the Stellar doesn't feel as bulky as phones with a 4.8 or 4.3-inch screen.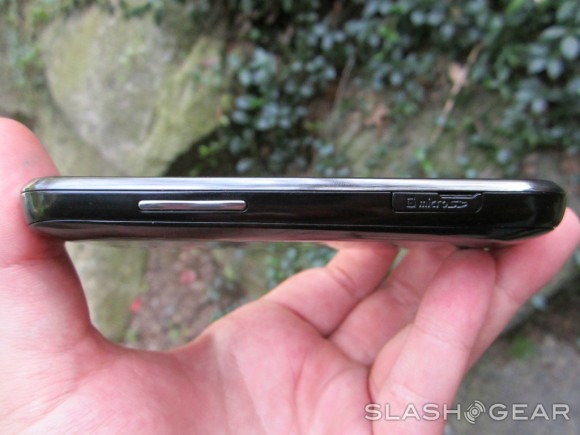 It doesn't feel all that sturdy, but it does have a little bit of weight to it, so it can withstand some bumps. If you're clumsy or lead a rough and tumble life, however, you'll probably want to skip the Galaxy Stellar in favor of something more resilient. The Stellar isn't going to turn any heads, meaning it isn't exactly "sexy," but that's not to say it looks terrible either. Like everything else about this phone, it sports an average look, and it certainly doesn't look like it's an expensive handset. In short, buying this phone with the expectation that it will elicit questions like "oooh, what kind of phone is that?" from your friends will only lead to disappointment (trust me, no one is going to be asking about your phone).
This bad boy comes running Android 4.0 Ice Cream Sandwich out of the box, and though it would have been nice to see it running Jelly Bean now that we're more than two months out from release, that was a bit too much to ask, I'm afraid. There isn't anything wrong with Ice Cream Sandwich, however, and it's important to keep in mind that this phone isn't aimed at those who want the latest and greatest as soon as possible. Ice Cream Sandwich will be more than enough for those who will actually buy and use this phone, so Samsung can't be faulted for not including Jelly Bean.
Software
So, we know by now that the Samsung Galaxy Stellar is a decent, albeit relatively boring smartphone. There is one feature that makes this phone stick out in a sea of other mid-range handsets though: starter mode. We've seen starter mode on a couple of other handsets – the Pantech MARAUDER immediately comes to mind – and it's here in full force with the Stellar as well. For the uninitiated, starter mode allows new users to ease into their new smartphone by offering a simplified set up.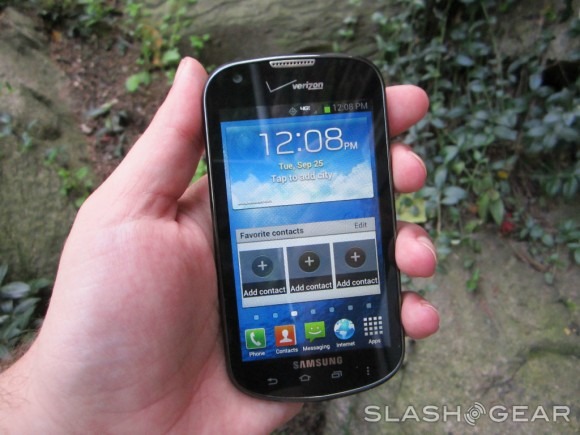 I know some of you are probably chuckling at the thought of someone needing a beginner's course to Android, but making the jump from a feature phone to a smartphone for the first time can be pretty intimidating for those who aren't tech savvy. You have to remember that smartphones offer a lot of additional functionality over the feature phones of the past, so it's easy to understand why someone may need to be slowly introduced to everything that Android has to offer.
Starter mode on the Galaxy Stellar is pretty straightforward: instead of offering a bunch of blank home screens just waiting to be filled with shortcuts, starter mode fills the Stellar's five default home screens (you can bring the number of home screens up to seven, for the record) with a selection of preset widgets. On the main screen, a widget for your favorite contacts appears right below the time and date. A quick dialer can be found on one of the other home screens, allowing users to just swipe over and begin dialing. Out of all of the preset widgets, this one seems to be the least useful – after all, the default location for the dialer is at the bottom of the main screen, meaning that you only have to touch instead of swipe to begin dialing away. I know I just made the case for those who are intimidated by making the switch to a smartphone for the first time, but bringing up the dialer is the easiest thing you can do on nearly all smartphones (aside from turning it on, I suppose).
One of the screens in starter mode displays your "favorite settings," which really just allows you to change things like your ringtone, wallpaper, font size, volume, and brightness quickly. Here you can also check your data and battery usage, and you can go straight to the settings screen from here as well. There's a home screen dedicated to your favorite apps (which you can add to and change), with apps like the Play Store, camera, clock, email, and search in there from the get-go. The final home screen is dedicated to the Amazon apps that come installed on the Stellar. It should be noted that you can still add apps to your home screens while using starter mode, but with the dialer, favorite apps, and favorite settings all taking an up an entire screen each, there isn't much extra real estate to work with.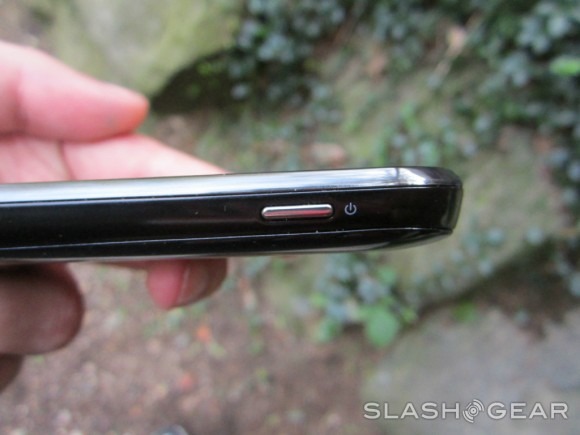 Besides the preset widgets, there doesn't appear to be much difference between starter mode and Standard Mode. In other words, starter mode has all of the functionality of standard mode, but comes with preset widgets to make navigation easier from the start. You're free to move these widgets around or remove them entirely, and since all of these widgets are available in the widget interface anyway, the only notable difference between the two modes is that starter mode arranges them on the home screens for you. Therefore, there is no reason at all for someone who is already familiar with Android to use starter mode, unless they wanted those widgets on their home screens and wanted to save a little bit of time getting them all in place.
You can also change between starter mode and standard mode at will in the settings, meaning that you can always go back if you try out standard mode and decide you aren't ready for it yet. That being said, keep in mind that aside from the preset widgets, both modes are practically the same, so most of those who begin their Android journey in starter mode will likely be graduating to standard mode in no time at all.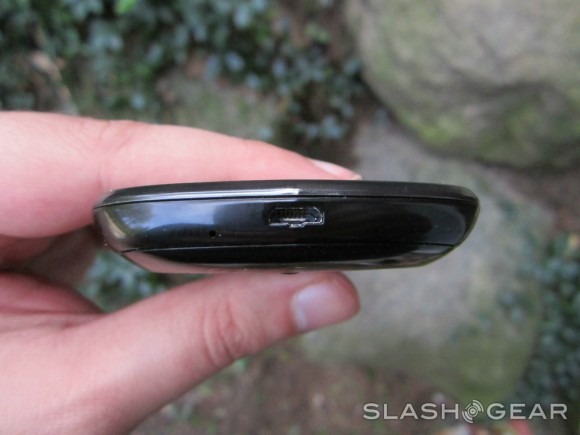 Interestingly, the Galaxy Stellar comes with a set of Amazon apps pre-installed. Samsung and Verizon actually made a point of mentioning this in advertising for the Stellar, which was a bit confusing at first. After all, you'd think an Android phone would be advertising the suite of Google apps which come standard, but not this time around. In any case, Amazon Kindle, Shop, Music, and Audible apps are right there alongside Google Plus, Google Maps, and the Google Play Store, so no worries there. What it all boils down to is that with the Stellar, you'll have a number of shopping options at your disposal – good for people with cash to burn and space to fill, bad for the app addicted who probably shouldn't be spending so much money on software for their phone.
Battery
If there's one rock star of this show, it's the battery. The Stellar comes equipped with a beefy 2,100mAh battery, and since there isn't an HD screen and the processor isn't necessarily power hungry, the battery lasts longer than most smartphone users are probably used to. Verizon's 4G LTE does its part in draining the battery, but users who aren't constantly using their phone should definitely be able to get a few days out of a full charge. Turning down the screen brightness to about 50% will increase battery life while still providing an easy-to-read screen, but even with the screen brightness turned up to about 80%, I was able to play games and surf for about three hours straight and only bring the battery from 100% down to about 77%. Leaving the phone on all night (with WiFi on as well) drained the battery by another 25%, so you've got some significant battery life to work with.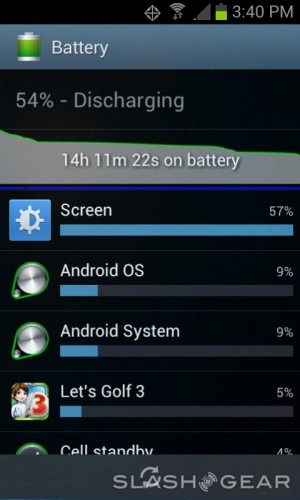 Verizon and Samsung say that you can get 17 hours of talk time out of the battery with 4G LTE enabled, but naturally that will fluctuate depending on other variables such as screen brightness and apps that are running in the background. Still, those who wouldn't let go of their phone even if it were a matter of life and death (you know who you are) should have no problem going an entire day on a full charge.
Camera
While the battery is definitely something to get excited about, the camera most certainly is not. You've got a measly 3.2-megapixels in the camera's main shooter, and as you can imagine, those 3.2-megapixels don't deliver very pretty pictures. Images do threaten to look decent on the Stellar's 4-inch screen, but one you get those images on a larger screen, you can see just how unimpressive they are. While it's easy to recommend the Stellar to certain types of users, I can't recommend it to anyone who is planning to use it to take a lot of pictures. If you need a phone that can snap a decent picture, you may as well start looking at other options now. Don't just take my word for it though, as the sample shots taken with the Stellar's camera say more than I ever could (be sure click the thumbnails at the end of the post to see the full size images).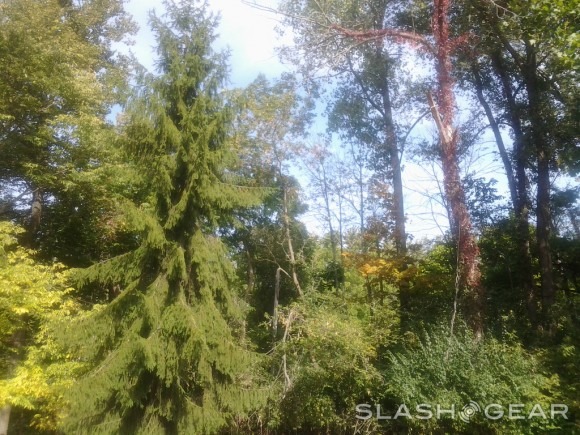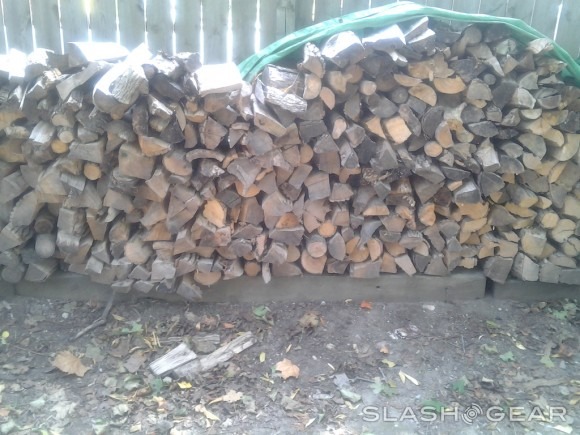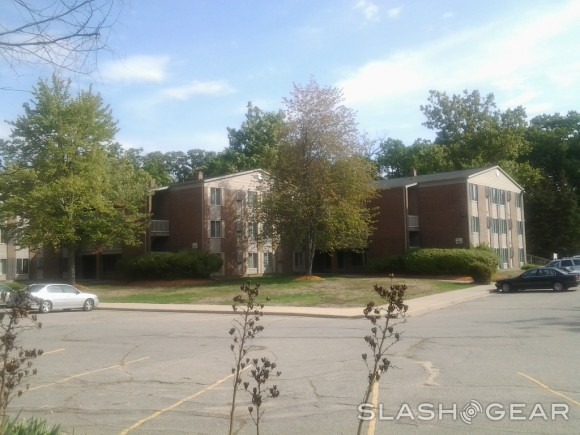 Benchmarks
As expected, the Stellar isn't exactly burning up the benchmarks. Results in both AnTuTu and Quadrant aren't anything to write home about, with the Stellar coming in above devices like the Samsung Galaxy Tab, Nexus S, and Galaxy Nexus in Quadrant. Two of those devices are from 2010, so that should give you a pretty good idea of the caliber of the Stellar's hardware. In AnTuTu we get similarly underwhelming results, with the Stellar managing to beat out the likes of the HTC EVO 3D, the original Galaxy S, and the Sony Ericsson X10i. In short, this is a true-to-form budget handset.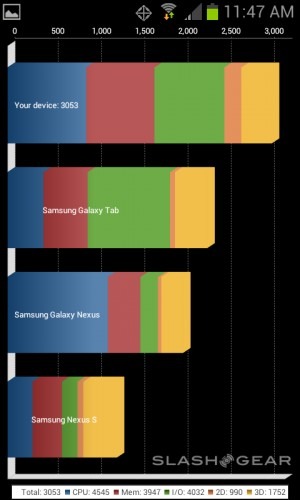 That isn't necessarily a bad thing, though. We knew going into this that the Stellar wasn't going to be posting excellent benchmark results, and despite the fact that its internals can be classified as outdated these days, the Stellar still manages to be a quick smartphone. Response times are low, and swiping through home screens is surprisingly smooth. It shouldn't have much problem running most of the apps available on the Google Play Store, so as long as you're not a technophile who needs a phone with sterling innards, you probably won't have much of a problem with the Stellar.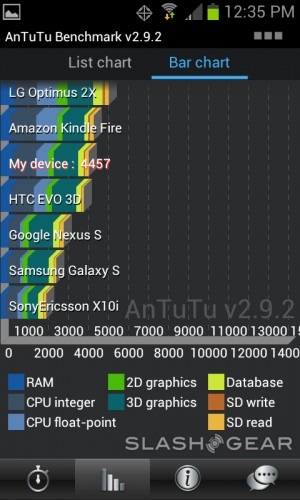 Wrap-Up
The Samsung Galaxy Stellar is something of an enigma in the smartphone space. You can get the phone for free from Verizon by signing a two year commitment and taking advantage of a $50 mail-in rebate, and "free" is a term we typically associate with bottom-of-the-barrel phones. Even the normal $50 price tag with the contract signing indicates that the Stellar isn't going to be that great, but the Stellar does manage to defy these notions in a few ways.
Yes, it's true that the Stellar can't really be considered "the best" in any way. If you're a person who is always on the lookout for the best and you've made it this far in the review, I'm sorry to say that you've just wasted your time. This phone clearly isn't for those who want to brag about their phone's specs, nor is for those who want to pull a sexy smartphone out of their pocket and make the lowly masses jealous in doing so. If you're looking for a budget-priced smartphone that still has some decent hardware though, the Galaxy Stellar is a good choice.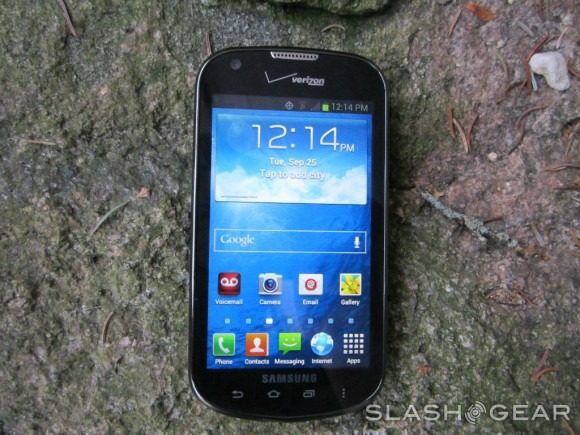 Alternatively, if you're someone who is hesitant to jump into the realm of smartphones because you're worried that they may to be too complex, you really can't go wrong with the Stellar. It's a phone that will hold your hand as you adjust from using a feature phone to a smartphone, and before long, you'll be ready to take on the full "Android experience."
For everyone else, the Galaxy Stellar will more than likely be a pass. Those who have cash to burn on a high-end phone or have been knee deep in the smartphone scene for a while now should definitely look elsewhere – to paraphrase a wise old man, this is not the droid you're looking for. But that's okay, because Samsung isn't targeting you with the Stellar. Instead, it's targeting those who want a wallet-friendly phone or those who need a device that will make for a good first smartphone. In that respect, the Samsung Galaxy Stellar succeeds with flying colors.