Samsung Galaxy Spica gets official in Russia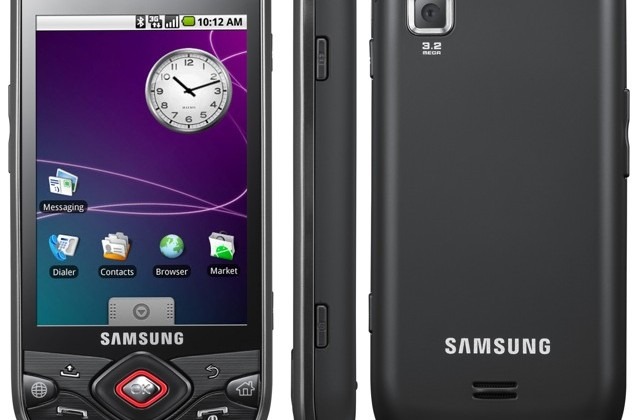 Samsung Russia have officially announced the Galaxy Spica, the company's second Android smartphone and the moderately-diminuative follow-up to the Galaxy I7500.  The Samsung Spica has a 3.2-inch display, 800MHz processor and 128MB of memory, according to the press release, together with quadband GSM and dualband 900/2100 UMTS/HSPA.
There's also A-GPS, a digital compass, 1,500mAh battery and a microSD card slot.  Full specifications are unknown, but from early previews we're expecting WiFi, Bluetooth, a 3.2-megapixel camera and 1GB of onboard storage for media and files.
You'll obviously get all the usual Google apps that Android users are familiar with, too, together with access to the Android Market.  No word on US or European availability as yet, but the Samsung Galaxy Spica will arrive in Russia come November 2009, priced at 14,000 roubles ($484).
Press Release:
Samsung Introduces Galaxy Spica
Moscow, October 20, 2009-Samsung

Electronics, a leading global manufacturer of mobile

phones presents a new smartphone Galaxy

Spica, running innovation

operating system Google Android. This is the second model

Android-based smartphone in the line of Samsung.

The main difference between the new apparatus to high

speed and convenience of the network, as well as easy

synchronization with network services and services. Besides,

Amdriod originally designed for devices with touch -

screenshots, so the management intuitive and convenient

especially in combination with 3,2 "display.

Appearance Galaxy Spica retained all heirlooms

features tachfonov Samsung, but at first glance it is clear that

he is different. The front panel has two bright red accent -

under the navigation button and in the dynamics. Red

color blends perfectly with the glossy black cabinet and

unambiguously shows the differences between this apparatus. The back

panel logotype Android, which aims to dispel

all doubts about the innovation and

manufacturability smartphone.

Uninterrupted and smooth operation newest OS

provides impressive hardware Galaxy Spica.

The new smartphone equipped with a 800MHz processor and 128MB

memory. Loading data, transfer them between

devices, listening to music, watching videos, all these

functions work on the incredible for a mobile platform

speeds. Galaxy Spica updates all the data services

Google-mail, calendar, documents, etc., in real

time, allowing you to always keep our finger on the pulse.

Galaxy Spica has a number of predefined

services Google, but you can add

he needed an application from an extensive library, which

replenished every day. Increasing number of

Developer enters the Open Handset Alliance-an organization

Parties which are developing hardware and software for Android.

This means that every day new ones appear all the more

advanced applications to help simplify and filling

new phone functionality. Galaxy Spica-a smartphone,

which each user can customize to their needs,

making much more convenient and comfortable your mobile life.

In addition to all the network benefits of the new OS

Galaxy Spica is also remarkable for its wide media

opportunities. Music and video players, which

work with all popular digital formats,

make this a real mobile device center

entertainment. And no need conversion

video gives the freedom to choose content and saves

plenty of time. Powerful battery 1 500 mAh, and support

Memory Card microSD (up to 32GB) provide for a long time

battery life and the ability to store large amounts

data.

Supports Microsoft ActiveSyncTM

makes it easy to synchronize e-mail between

Smartphone and PC. A user-friendly touch QWERTY-keyboard

gives the opportunity of working with e-mail,

regardless of location. Browser Chrome Light

delivers incredible sensations of mobile Internet

usability that hardly differs from

Web surfing on a standard PC. Among other things, Galaxy

Spica is equipped with a GPS-module and a compass, which

combined with the Google Maps service provide an opportunity

navigate anywhere in the world and find the necessary

addresses, streets and facilities, whether it be pizza, museum or

subway station in an unfamiliar city.

Galaxy Spica will appear on the market in Russia

November 2009 at the price of 1 4000 rubles.

Samsung Electronics Co., Ltd.-World

technological leader in the field of semiconductors,

telecommunications equipment and digital

convergence, with sales in 2007 amounted to

105 billion dollars. State of Samsung Electronics-150 thousand

people in 134 offices in 62 countries worldwide. The company consists of

two units: Digital Devices and Communications

(Digital Media & Communications) and Components (Device

Solutions). Samsung Electronics, being one of the most

fast-growing brands in the world, is a leading

producer of digital TVs, memory cards,

mobile phones and TFT-LCD monitors. In 2008

company won the Grand Prix of the contest "Brand of the Year / Effie" in the

nomination "New Name" (phone Duos), and in 2009

received three awards "Product of the Year" (LED-TV 7000

series and mini-notebook WiTuPS).
[via the::unwired]