Samsung Galaxy S5 software UI hands-on: get flat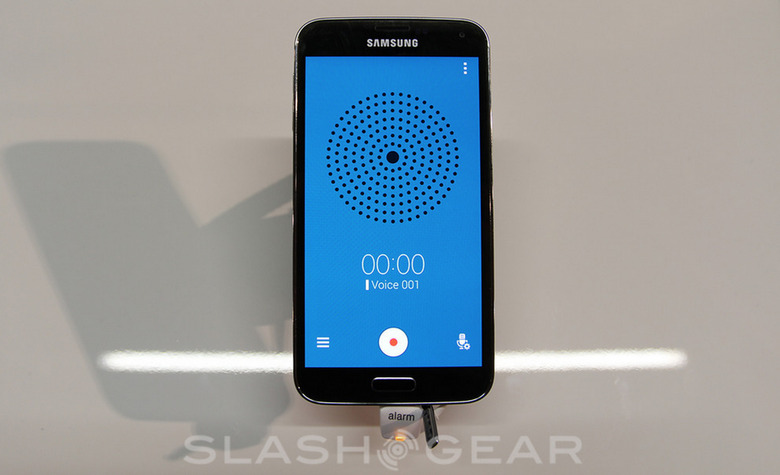 This week the Samsung Galaxy S5 was introduced to the world at Mobile World Congress 2014. There we were allowed to get up close and personal with the machine at a variety of angles: one of them was centered on the camera, while another (the one you're looking at now), took a very basic stab at experiencing the new user interface. Here we start with the settings, this bit showing us what Samsung meant when they first teased the event beck on February 11th.
The first category you'll see in Settings is "Quick Settings". Here Samsung includes links to Wi-Fi, their new Download booster, Bluetooth, Data Usage, Sound, Display, Wallpaper, Lock screen, Notification panel, "Finger Scanner", Safety Assistance, and Power saving mode. As with the rest of the Settings UI, these are all indicated with icons inside colorful circles.
ABOVE: Various Samsung-made apps and text-based settings arrangements inside the Galaxy S5.
Next is Settings is Network Connections – here you'll find Wi-Fi, Download booster, and Bluetooth again. What the repeat of these three items suggests is that Samsung has done research on which settings users use most, capturing the lot of them in the Quick Settings panel – handy, but odd that they repeat, yes?
Also in Network Connections is Tethering and Wi-fi hotspot, Flight Mode, Data Usage, Location, and More networks. Next is a section called Connect and Share where you'll find NFC, Nearby devices, Printing, and Mirroring. Sound and Display includes Sound, Display, Wallpaper, Lock screen, Multi window, Notification panel, Toolbox, and One-handed operation.
With One-handed operation we see that Samsung has acknowledged the idea that their hero product is now so large that some users will want to adjust settings to be able to successfully use the device with one hand. Long gone are the days when the hero product was also the one anyone could fit in the palm of their hand.
The Personalization set of Settings includes Easy mode, Accessibility, and Blocking mode, as well as Private mode and Finger Scanner again. There's a Motion category where Motions and Gestures as well as Air view are contained.
In User and Backup, Samsung adds Accounts, Backup and Reset, and Cloud settings. The System category shows Language and input, Date and time, and Safety Assistance. This category also shows Accessories, Battery, Power saving mode, Storage, Security, and About device.
The Applications category contains Application manager, Default applications, Call, Contacts, Email, and Gallery settings. Here you'll also find settings for Internet, Messages, S Planner, and S Voice.
ABOVE: Samsung Galaxy S5's current app drawer. It's important to note that this might not be the final collection, as this software build is not entirely complete.
Samsung's entire user interface has been flattened out, showing kind blue and green tones throughout home screens, apps drawer, and pull-down menu for notifications. Samsung also revives My Magazine, working with news sources fed in with RSS feeds to the phone's full-screen widget-filled homescreen.
Have a peek at the rest of our hands-on experiences with the Samsung Galaxy S5 as well. We're continuing to go in-depth with this machine through its release in the United States, sooner than soon!