Samsung teases Unpacked 5 event at MWC 2014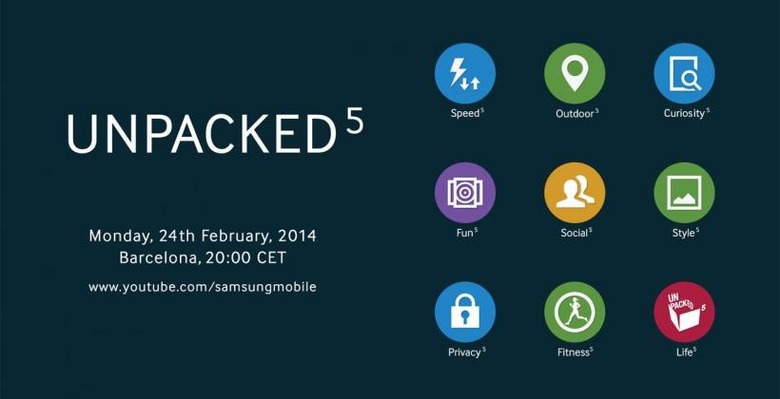 MWC 2014 is set to kick off later this month. Each year the event is held in Spain and a bunch of new devices and other items are shown off at Mobile World Congress for the first time. MWC 2014 will be no different.
We are expecting to see a number of new smartphones and tablets unveiled at the show. We will undoubtedly see new software and other items as well. Samsung will be on hand at the show and the company is teasing its Unpacked 5 event.
Unpacked 5 will be held on Monday, February 24 at 20:00 CET. Samsung is teasing the event now with little detail on what will go on. The teaser image you see here shows nine icons for different things including Speed, Outdoor, Curiosity, Fun, social, Style, Privacy, Fitness, and Life.
Odds are what Samsung is hinting at is a redesigned TouchWiz user interface. We certainly don't know that for sure, but it would be a good guess. Samsung quoted physicist Niels Bohr, "Prediction is very difficult, especially if it's about the future." The teaser might have nothing to do with TouchWiz, we will have to wait a few weeks to see.
SOURCE: Samsung Tomorrow