Samsung Galaxy J Teaser Prompts Galaxy S5 Rumors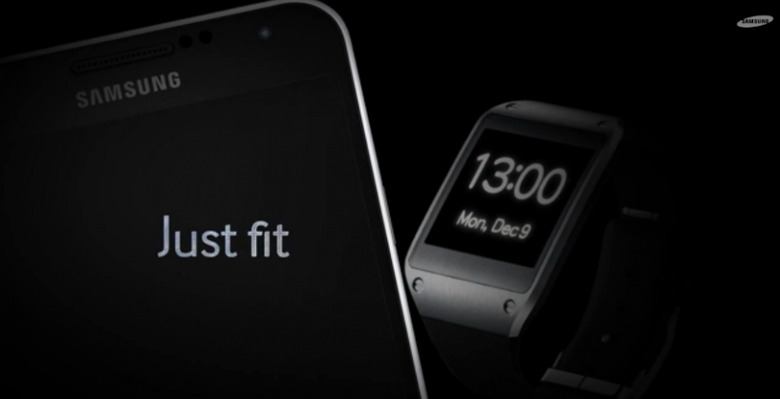 A new Samsung teaser has set the smartphone cat among the pigeons, triggering speculation of an early unveil of the Galaxy S5 though a Taiwanese device now seems more likely. Samsung Taiwan showed a Galaxy Gear smartwatch displaying "13:00, Mon, Dec 9" in a mysterious teaser video it posted yesterday. A Monday reveal would have put the Galaxy S5 well over two months ahead of the currently estimated late-February range — on or about the 2014 installment of Mobile World Congress taking place Feb. 24th-27, 2014. Instead, this is believed to be the Samsung Galaxy J; more details after the cut.
The words "Just fit, Just simple, Just elegant, Just fast" emerge across the screen over shots of a metallic Samsung phone. An LTE logo appears on the phone. A fat diamond resting on the back of the phone drives home the point that this is a high-end product. The teaser concludes with the words "Just for you, coming soon".
The rumored S5 is believed to have been finalized in September. It is said to be a member of Samsung's waterproof and dust-proof Active line, which lets you snap photos underwater. The S5 is also supposed to be metal-backed, which would jibe with what we are seeing in the teaser video.
Other known specs include a 64-bit Samsung Exynos 5430 processor and a 16MP camera. We'll be watching Samsung closely this coming week for what exactly this teaser could mean if not an S5 reveal. Stay tuned.
Update: It appears we weren't alone in jumping the gun on this one. A number of sources have suggested the phone referred to in the teaser was the S5, but it looks to be the rumored Galaxy J. Engadget's Brad Molen points out the model number SC-02F on the phone to confirm this. The Dec. 9 release date is for the Taiwan market.
SOURCE: Samsung Taiwan