Samsung Galaxy S4 LTE gets official Android 4.3 update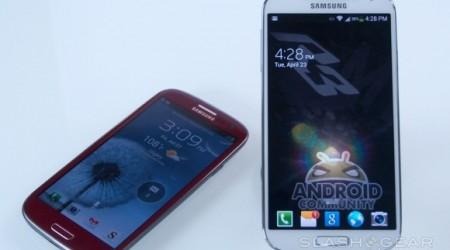 We mentioned in early September that the Samsung Galaxy S4 and S3 smartphones were tipped to get the update to Android 4.3 this month. Samsung has now officially begun to roll out the Android 4.3 update for the Galaxy S4 GT-I9505. There's no word on the update for the Galaxy S3 at this time.
The new operating system update brings with it a number of improvements and more than a few fixes for various things. Android 4.3 brings the Galaxy S4 support for OpenGL 3.0 and support for the Galaxy Gear smart watch.
The OS update also brings TRIM support reportedly making the device feel much faster. Also included in the update for the S4 also is support for ANT+. One potential downside is that the 4.3 update also brings a Samsung KNOX implementation, which reportedly prevents the flash counter from being reset voiding your warranty if you root the device.
Android 4.3 also brings improved RAM management and preloaded Samsung Wallet. Other tweaks and improvements include improved display color reproduction, and improved TouchWiz launcher, a new Samsung keyboard, enemy Samsung browser. The update also adds a reading mode able to optimize the display for reading and a new camera firmware. A number of other minor user interface tweaks tag along for the ride. This update does still need to be approved by carriers so it may be a while yet before you can download the update for your device if it's carrier branded.
SOURCE: Ssmmobile