Samsung Galaxy S20 Ultra Review: Too Much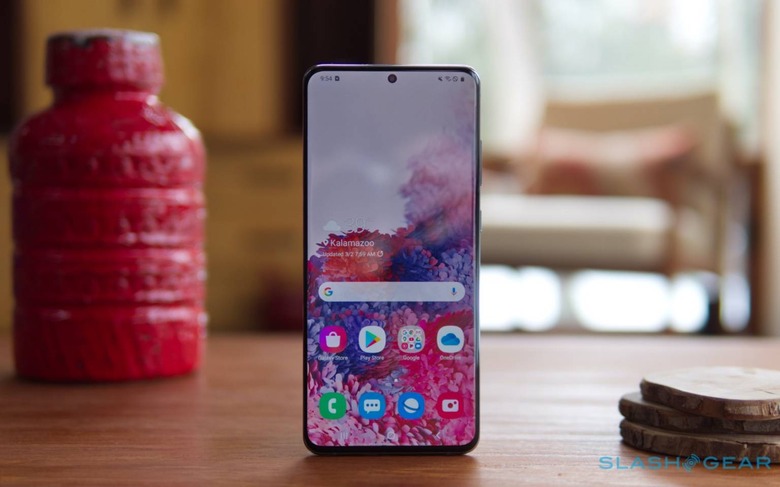 $1,400 is a huge amount of money for a phone, but the Samsung Galaxy S20 Ultra 5G gives you a lot in return – figuratively and literally. Siping the rarified air at the very top of Samsung's 2020 phone line-up, the biggest of the S20 trio has the most excessive camera, the largest screen, and the beefiest battery to go with its hefty price tag. The "Ultra" moniker says this is the best you can get; the reality is Samsung's ambition isn't quite matched by the S20 Ultra's abilities.
Hardware and design
The Galaxy S20 Ultra is a big phone. Too big, maybe. At 76 x 166.9 x 8.8 mm and 220 grams, it's longer, thicker, and heavier than the Galaxy Note 10+, which itself is hardly small. Even those with sizable hands are going to find using the S20 Ultra with just one of them a stretch, assuming they don't want to drop it.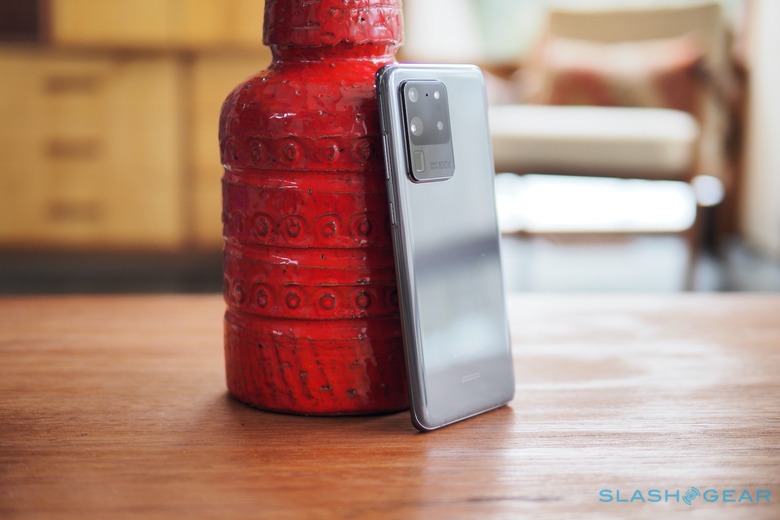 Clearly Samsung expects its Ultra buyers to be serious, sober sorts, too. While the Galaxy S20 and S20+ are both available in at least one colorful finish each, the S20 Ultra sticks with eminently sensible black and grey. It's not a bad grey, but I can't help but wish there was a blue or a red to brighten things up.
Gorilla Glass 6 sandwiches a metal frame, punctuated with a USB-C port on the bottom along with some carefully-milled speaker holes. It's hardly new territory for Samsung, but then again it didn't need to be. We're a long way from the days of the company's flagships being plasticky and cheap-feeling, and the S20 Ultra feels just as premium as an iPhone 11 Pro Max does.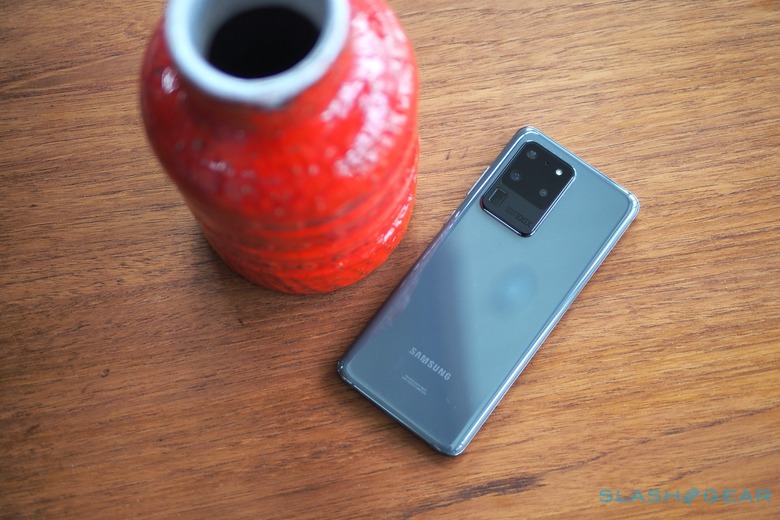 Unsurprising is the absence of either a 3.5mm headphone jack or a removable battery. So, too, we could've safely predicted the IP68 waterproofing, the Qi wireless charging, and the Wireless PowerShare – aka reverse wireless charging – for peripherals like the new Galaxy Buds+ earbuds. Samsung hasn't stinted on battery size, either, with a beefy 5,000 mAh pack squeezed inside.
Display and Performance
Samsung makes great phone displays. That's our baseline, but even then the Galaxy S20 Ultra still wows. Its 6.9-inch Dynamic AMOLED Infinity-O display isn't only the biggest Samsung has offered on a smartphone, it's also worthy of all the superlatives I can throw at it.
Colorful. Bright. Rich of contrast and crisp of detail. It's HDR10+ certified and can be cranked up to a whopping 3200 x 1440 Quad HD+ resolution. Blacks are so deep, you half expect a ghostly sea creature to come swimming out of them.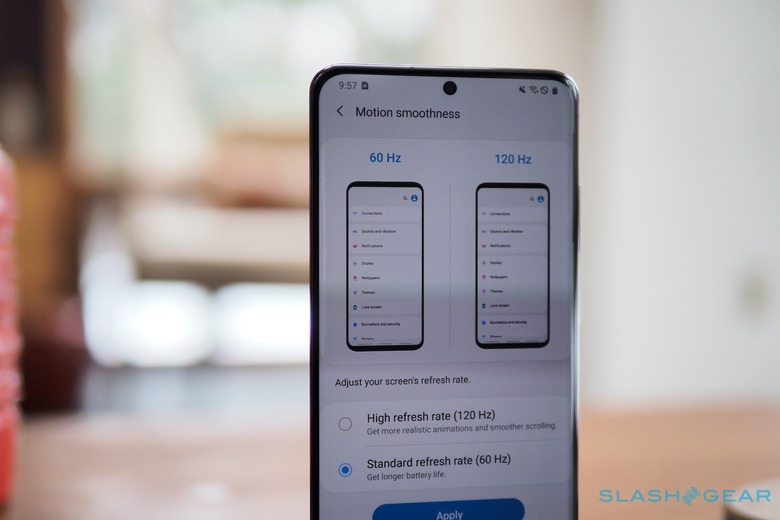 Samsung is particularly proud of its 120Hz refresh rate, and well it should be. Out of the box the S20 Ultra is set to 60Hz, for a few good reasons. Most conspicuous, you can't have maximum display resolution with 120Hz: you need to turn it down to FHD+ instead. It's not a variable-rate refresh, either – Samsung doesn't adjust the rate according to the demands of what's on-screen at any given time – so the battery takes a non-negligible hit.
Android 10 on a 120Hz panel is eel-slick, though, and once you've experienced the S20 Ultra that way it's tough to go back. My eyes can't really tell the difference between FHD+ and the phone's maximum resolution, at least not in everyday use. The smooth scrolling, lag-free zooming, and general responsiveness of the faster refresh something you definitely see, however.
Punctuating the top of the AMOLED is a small, central hole for the selfie camera. Samsung hides its in-display fingerprint sensor in the lower portion of the screen, but it can be a frustrating experience. It uses the same ultrasonic technology as its predecessor, which isn't the fastest out there, but more annoying is the relatively small area in which you have to press your finger. I can't really recommend you use facial recognition in its place, either, since even Samsung warns it's more for convenience than the sort of security you might expect from, say, Apple's Face ID.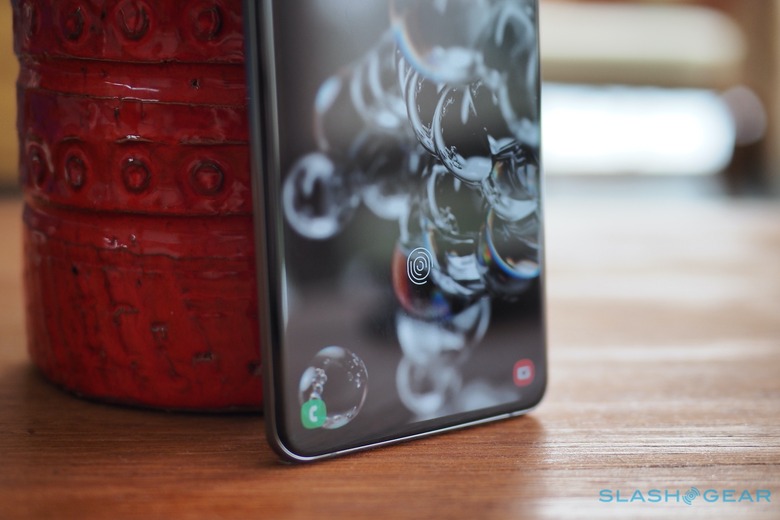 Samsung is among the first to get Qualcomm's latest Snapdragon 865 chipset, at least in certain geographies like the US. That's the version of the phone I've been testing; other countries will find their S20 Ultra powered by Samsung's own Exynos 990. It's paired with either 12GB or 16GB of RAM, plus 128GB, 256GB, or 512GB of internal storage. You get a microSD slot, too.
Clearly those are powerhouse specs, but Samsung goes one step further to really make sure its most demanding users have little to complain about. You can pin a handful of apps into the memory, so that Android 10 won't shut them down while they're in the background. I can't say my multitasking experience demanded it – we're talking serious headroom here with this chipset and memory – but I've no doubt some will appreciate it.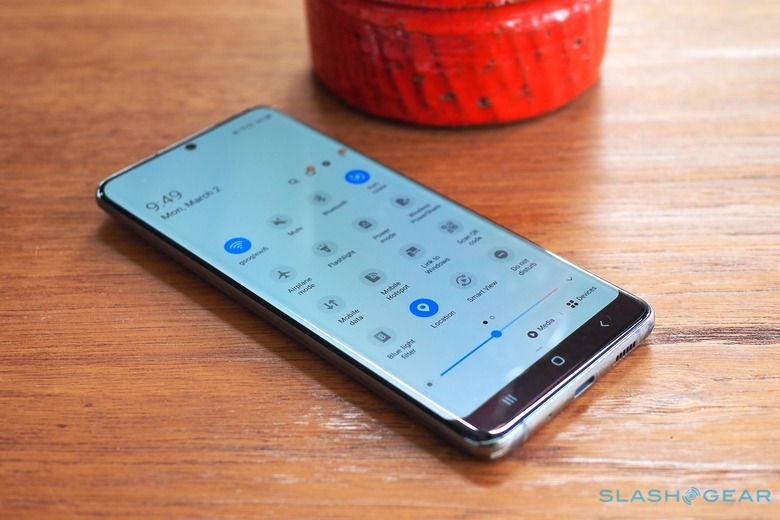 Perhaps less gratifying will be some of Samsung's customizations and additions as part of One UI 2. A lot of it works: Samsung's iconography looks just fine, its repositioned notifications and controls do a reasonable job of bringing them all within thumb-reach, and the widgets are handy. Baking Google Duo into the native dialer and contacts app will probably mean many more people actually start making video calls.
It's no clean sweep, though. The Quick Settings is crowded with options; Samsung Daily, which is accessed by a swipe to the left of the home screen, is a depressing mixture of partner content and Samsung's own heavy-handed pitches. Bixby is still, well... Bixby.
Camera
The Galaxy S20 Ultra's camera is capable of creating both beautiful images and jaw-clenching frustration. Now it's worth noting straight off that Samsung says a firmware update is coming that, among other things, will impact camera behavior. Problem is, it's not saying when that might drop, or what it will actually change. For the moment I'm reviewing the camera as-is, and if Samsung's software moves the needle I'll cover that when the update is actually available.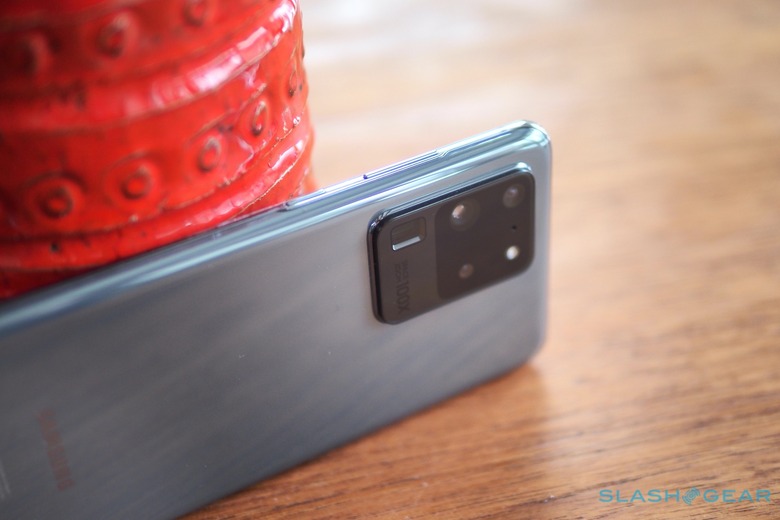 There's a lot going on in Samsung's swollen camera bulge. The main sensor is a 108-megapixel sensor with PDAF, optical image stabilization, and an f/1.8 lens. It's accompanied by a 120-degree ultra-wide camera, with a 12-megapixel sensor and f/2.2 lens. You get an LED flash and a DepthVision time-of-flight sensor too.
Underneath them is the telephoto camera. That uses a 48-megapixel sensor with PDAF and OIS, and an f/3.5 lens. Using some nifty folded optics – which run across the Galaxy S20 Ultra's body horizontally – it delivers a 4x optical zoom. Samsung then does a sensor crop to bring that to a 10x lossless zoom for 12-megapixel photos. Throw in digital zooming and some AI massaging, and the headline boast is a 100x zoom.
It's fair to say that all three of the primary cameras are complicated. Though you can take 108-megapixel stills with the main camera, for example – and indeed Samsung's camera app will prompt you to if it believes the scene is right for that – it defaults to 12-megapixels instead. That means it can use the whimsically named nona-binning to combine the data from clusters of nine pixels into a single pixel in the final frame, with the upshot being better low-light performance.
Samsung's app does its best to massage all those options and settings in the background, and for the most part it succeeds. You can absolutely just point and shoot and expect reasonable results; the S20 Ultra will automatically identify the sort of scene it's dealing with and adjust the settings accordingly.
The results are, well, very "Samsung" in how they look. Punchy colors with the saturation a smudge higher than other phones default to; a tendency toward over-sharpening. Turn on HDR mode and it gets even more aggressive, to the point where I wish there was a way to retroactively switch back to the standard image. Sometimes Samsung's processing can introduce odd fringing and unnatural tones which undermine the detail you're getting from what's otherwise a great sensor. It also likes to do weird things with skin tones.
There's a portrait mode, of course, artificially adding background blur, but I had less motivation to use it than I might on other phones. Samsung's primary camera has a comparatively narrow focal length: it means you get more natural bokeh than rivals offer. The result is depth of field that's much more pleasing to the eye, in my opinion, because it lacks that stark crispness around the edges of the subject that can give computational portrait mode shots away.

That shallow DoF, however, also highlights an area where the Galaxy S20 Ultra struggles somewhat. Autofocus can be tricky, the phone wavering a little as it tries to lock on, while I've also found it's not as happy with close-ups as other phones are with macro images.
When it comes to distant shots meanwhile, as I've said already, Samsung's big telephoto rapidly zooms into pointlessness. 100x magnification sounds great in marketing – it even has a cool "Space Zoom" brand! – but the reality is that the images it produces are basically unusable. 10-15x is really the furthest you'll want to go.
It's not the only overkill. Like other phones, Samsung has a Night mode: the app suggests you switch to it in low-light situations. It tends to prefer 5-10 second exposures, and they're very susceptible to shake if you're doing things hand-held. Ironically, the regular camera mode's own low-light mode, with its more conservative exposures, is not only easier to use but ends up getting more consistent results because of that.

Something I'm finding far more charming than I expected to is Single Take mode. It's a separate camera mode, and it basically takes almost all of the creative decisions out of your hands. Hit the button, wave the Galaxy S20 Ultra around for up to ten seconds, and it'll automatically capture video and extract photos from that too. The app nudges you to try different angles or get closer to a subject, but that's pretty much the extent of your hard work.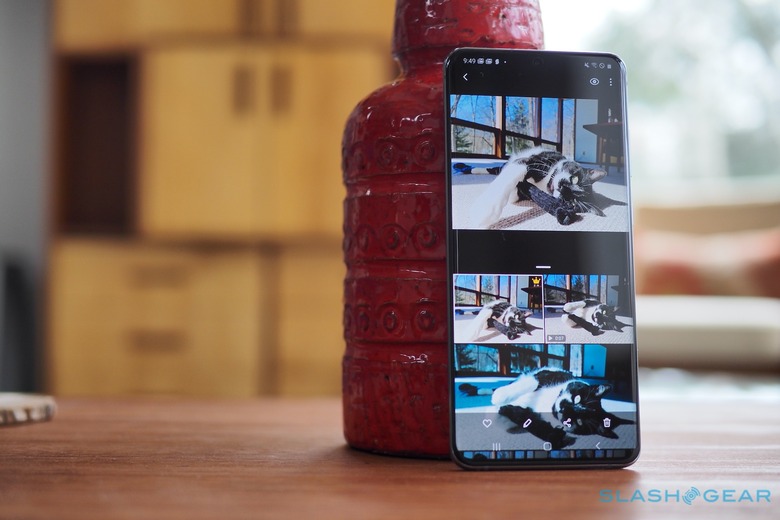 Immediately after it finishes capturing, Single Take mode generates a handful of stills and clips. You get the original video, of course, but also some combination of excerpts that have been looped or speed-changed, filtered images, and other auto-edits, based on which the phone's AI believes are the most photogenic. They're not all good, mind, but usually there's been at least one I've wanted to keep – this shot of my cat, the most beautiful creature in the world, was picked out and edited by Samsung's system. I appreciate Samsung doing it all on-device, too, rather than demanding all my images go to the cloud first.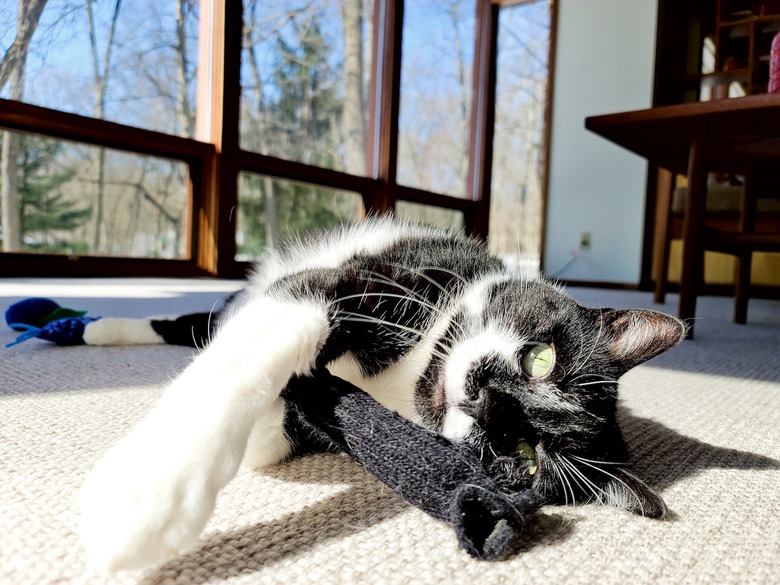 Then there's 8K video recording. It's another thing that looks great on a spec sheet, but the Galaxy S20 Ultra's 8k 24fps capture is still be ahead of its time for most users. For a start there's the sheer size of the files: Samsung caps each 8K clip at 5 minutes, but at around 600MB per minute you're going to be chewing through your storage pretty quickly. 8K videos – or UHD, or Full HD 60fps for that matter – don't support tracking autofocus or video effects, either, and if you select 8K then you can't also turn on HDR10+ mode.
I'm not saying it isn't an achievement, but I still think most people would be best served by shooting in UHD at most. At least, until 8K TVs are more prevalent. The best thing about the S20 Ultra's 8K capture is the ability to simultaneously snap a 33-megapixel still. Usually, photos taken while you're recording video are low-resolution and underwhelming, but these look fantastic.
Battery
My expectations from a 5,000 mAh battery were high. The reality is that how you configure your Galaxy S20 Ultra – and what network you use it on – will shape whether you're pleased with Samsung's battery life or not.
The 120Hz screen which looks so darn good is a real power-hog. Shooting a ton of 8K video, and making use of 5G networks (assuming you can find them) are also great ways to chew through those milliamps. Stick with 60Hz, though, and be more balanced in your use overall, and it's a very different story.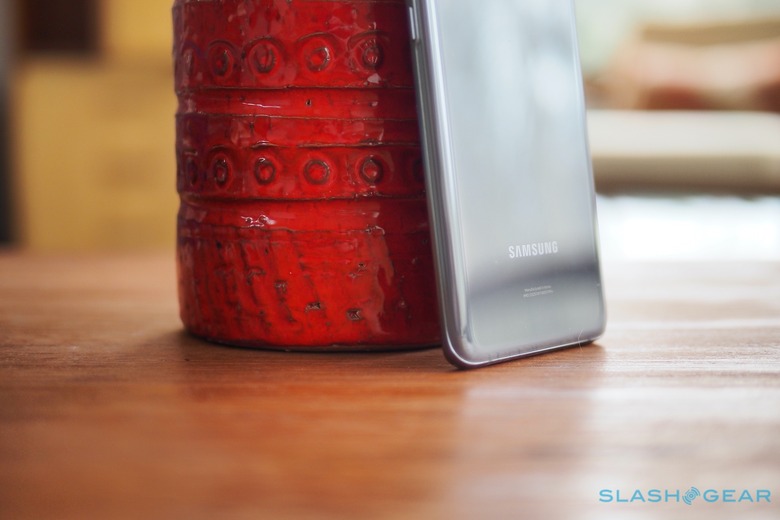 As a result, you can absolutely keep slogging along all day and go to bed with remaining charge in the double-digits. Or, you can take advantage of all those power features Samsung so generously baked in, and fly closer to the sun.
When it comes to top up, there's fast charging with up to 45W USB-C PD supported. Samsung doesn't actually include one in the box, however, though the bundled 25W charger isn't slow. Figure on about an hour to go from dead to 100-percent. Honestly, I'd save the $50 Samsung is asking for its beefier accessory and spend it on cake.
5G
While the 5G situation lower down in the S20 family is a little confusing right now, the Galaxy S20 Ultra makes no such stumbles: you get pretty much all the 5G support as you could hope for in the US. Whether you can use that support, well, that's another matter.
The S20 Ultra supports low-band, mid-band, and high-band mmWave. That means pretty much every flavor of US 5G out there – from AT&T, Sprint, T-Mobile, and Verizon – will work, though the speeds will vary dramatically. Most prevalent, but not offering a vast improvement over 4G LTE, will probably be the low-band 5G offered by T-Mobile. At the other extreme is Verizon's mmWave, which can be blisteringly-fast... assuming you can actually find it.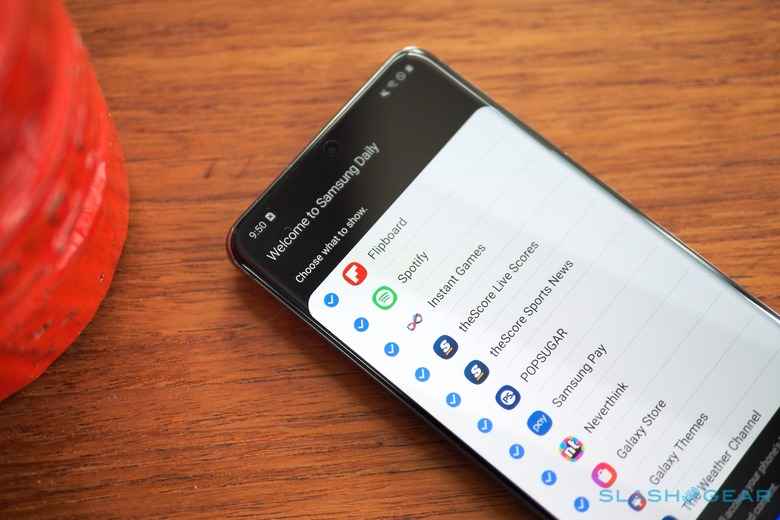 Carriers, phone-makers, and chipset vendors alike all love to remind us that 2020 will be the year of 5G. Clearly, though, there's a vast gulf between having a new device which supports 5G, and actually having service.
Look, I'm not saying that 5G isn't important, or a big deal. It's just a reality of cellphone life in the US right now that most people aren't going to have access to the fastest 5G where they are, and I suspect it'll be that way for the foreseeable future. I'm glad the S20 Ultra has 5G support, but I suspect the majority of owners will only make the most of it a fraction of the time.
Galaxy S20 Ultra 5G Verdict
Roughly half of the time spent with a new smartphone is taken up with figuring out how well its features work. The other half is occupied by telling people about it, when they ask you if the latest-and-greatest is any good.
With the Galaxy S20 Ultra, the answer to that has been "yes, but..." It's a powerhouse of a phone, beautifully constructed, with a tremendous display and no shortage of features, but it also costs $1,400. No, that's not exactly out of place in today's smartphone industry, but neither is it something I think we should be blasé about. Spending the equivalent of a decent laptop on a new phone is a huge outlay.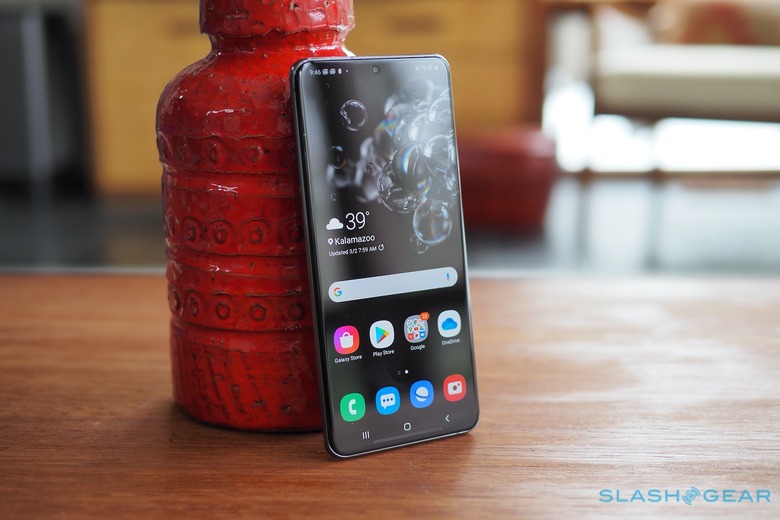 From that perspective, not everything about the Galaxy S20 Ultra quite adds up. Super Zoom is clever but anything over 30x is basically unusable. Its broad 5G support isn't matched by broad US coverage of 5G networks. Samsung still needs to demonstrate it can smooth out the camera bugs with its promised software update.
At the same time, I'm very aware that the Galaxy S20+ is easier to hold, just as fast, packs the same 5G support, has the Single Take camera mode I'm so enamored with, a fantastic display, and is $200 cheaper. It's hard not to conclude that, for most people, that's far easier to recommend (even if, frankly, $1,200 is still a lot for a phone).
The head must battle the heart, though, and the lure of having the most aggressively flag-waving of Samsung's 2020 flagships will be more than some can resist. I don't think that's necessarily a bad thing, but I do suspect waiting to see just what early wrinkles Samsung can iron out with software updates is a recipe for less frustration in the long run.