Galaxy S10 leaks just got real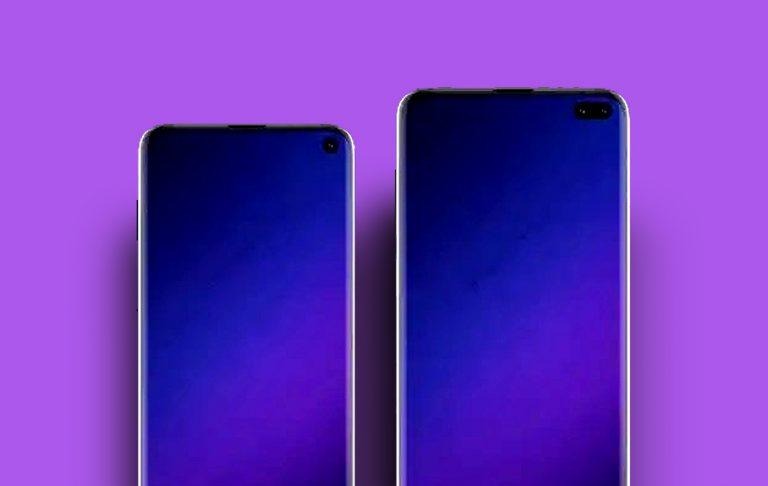 The Samsung Galaxy S10 leak released today made the whole game change – and not just because it appears to be a real photo. Today we get confirmation that the Samsung Galaxy S10 will indeed have a headphone jack. Today we get a bit more confirmation that the Galaxy S10 will still have a microSD card slot. Today we get confirmation that, no, Sandy, they won't be moving back to a plastic back just to let the phone have a removable battery.
The Samsung Galaxy S10 was shown to have a new sort of style overnight in a set of leaks that lead us to believe that yes, the phone will have a microSD card slot and a headphone jack. This smartphone will very likely have two microphone holes (one up top, one around bottom) and just one bottom-firing speaker. That's for the standard Galaxy S10, mind you.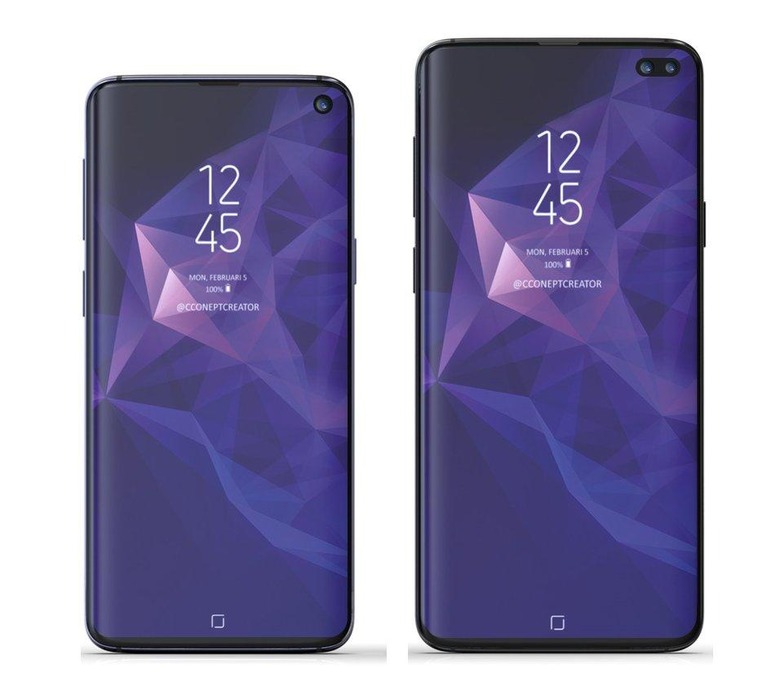 It's apparent now that Samsung will reveal at least three different Samsung Galaxy S10 models in February. The first three will have names similar to (if not exactly) those that follow: Samsung Galaxy S10 Lite, Samsung Galaxy S10, and Samsung Galaxy S10 Plus. There'll also be a Samsung Galaxy S10 5G (Beyond X) to look forward to as well.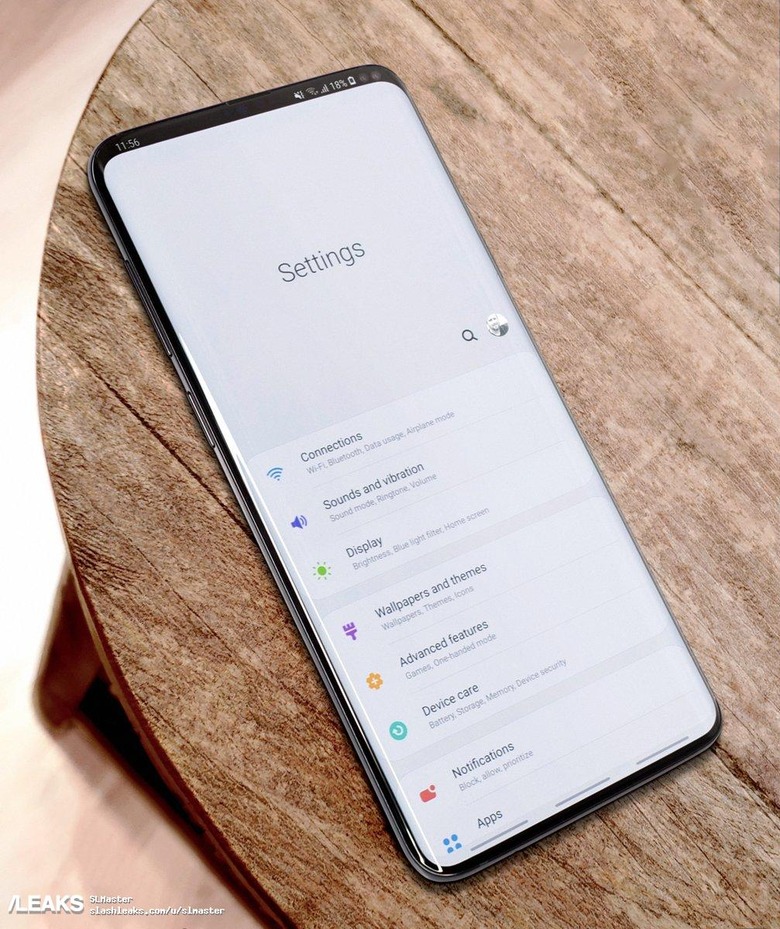 Above you'll find a rendering – not a real photo – of a Galaxy S10. This comes from SlashLeaks and isn't likely anything official – but it's a pretty good approximation of what we're expecting the Galaxy S10 to look like.
If you'll take a peek below, you'll find a flat-screened Samsung Galaxy S10 smartphone made to test camera tech. This is not the final design of the Galaxy S10, but it may give us some idea as to how the company will handle the Galaxy S10 Lite. It's been reported that the Galaxy S10 Lite will have a flat display while its brethren have the "Infinity Display" effect, much like previous Galaxy S smartphones (with the display cascading off the left and right of the device).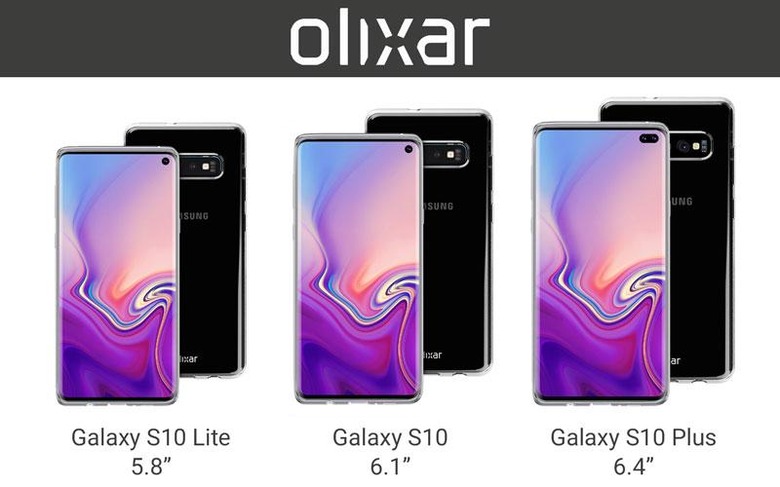 The Galaxy S10 Lite might very well appeal to those users that never really got onboard with the "Edge" panels revealed by Samsung several years ago. That curved display business, initially launched with the Samsung Galaxy Note Edge, continued forward with the Infinity panels we see today. Here in 2018 (looking forward to 2019) we're hoping a flat-screen Galaxy Note 10 sees the light of day, too.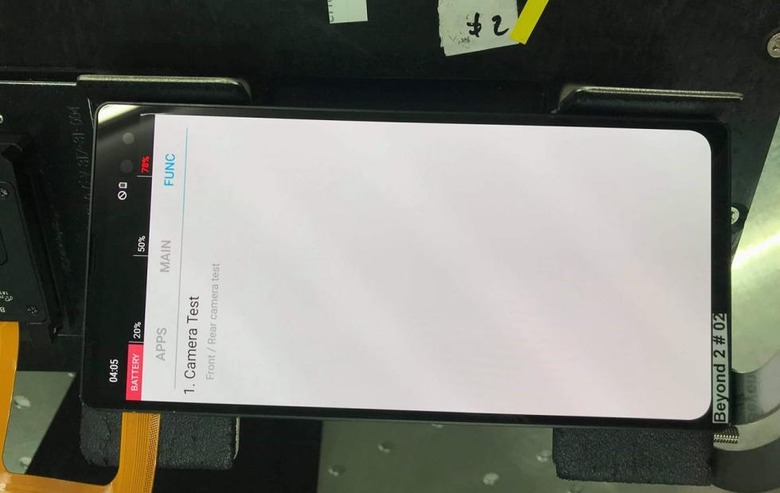 The Samsung Galaxy S10 Plus will closely replicate the differences between the Galaxy S9 and the Galaxy S9 Plus. It'll have a larger panel and quite possibly an extra set of camera lenses, too. On the back of the Galaxy S10 family we'll see anywhere between 1 and 4 camera lenses – depending on the model.
Expected Galaxy S10 Models in early 2019:
• Galaxy S10 Lite: Beyond 0, 5.8-inch display (flat) 2K resolution, SM-G970F
• Galaxy S10: Beyond 1, 6.1-inch display (in-display fingerprint scanner, 2+ cameras on back) 2K resolution, Exynos 9820, SM-G973F
• Galaxy S10 Plus: Beyond 2, 6.2-inch display (in-display fingerprint scanner, 3+ cameras on back) 2K resolution, Exynos 9820, SM-G975F
Galaxy S10 Lite looks like this might look like this.
(Sorry, I modified it a bit) pic.twitter.com/lQnZt3wWx5
— Ice universe (@UniverseIce) December 11, 2018
Above you'll see the basics involved in the Samsung Galaxy S10 and its closest associates. These three phones will likely be revealed at an event in February in Barcelona (and worldwide). It's expected that this event will take place on February 24th, 2019. If said event does take place at said time, we're expecting the Galaxy S10, Lite, and Plus to have a release date of March 6th (or thereabouts), 2019. Stick around as the steady drip leaks continue.