The cheapest Samsung Galaxy S10 model with a release date in early 2019 will have an internal storage size of 64GB. This information was leaked today alongside word that the Samsung Galaxy S10 will, indeed, be launched in at least three variants. The Samsung Galaxy S10 will therefore be coming at Apple's latest collection of smartphones hard. A Galaxy S10 per iPhone: iPhone XR, iPhone Xs, and iPhone Xs Max.
Samsung and Apple are no strangers when it comes to smartphone release strategy. They've gone so far as to take their rivalry to court – multiple times. As such, it's no surprise that Samsung is rumored to release a set of three Galaxy S10 smartphones in early 2019, one each to essentially match up with Apple's current set of three iPhones.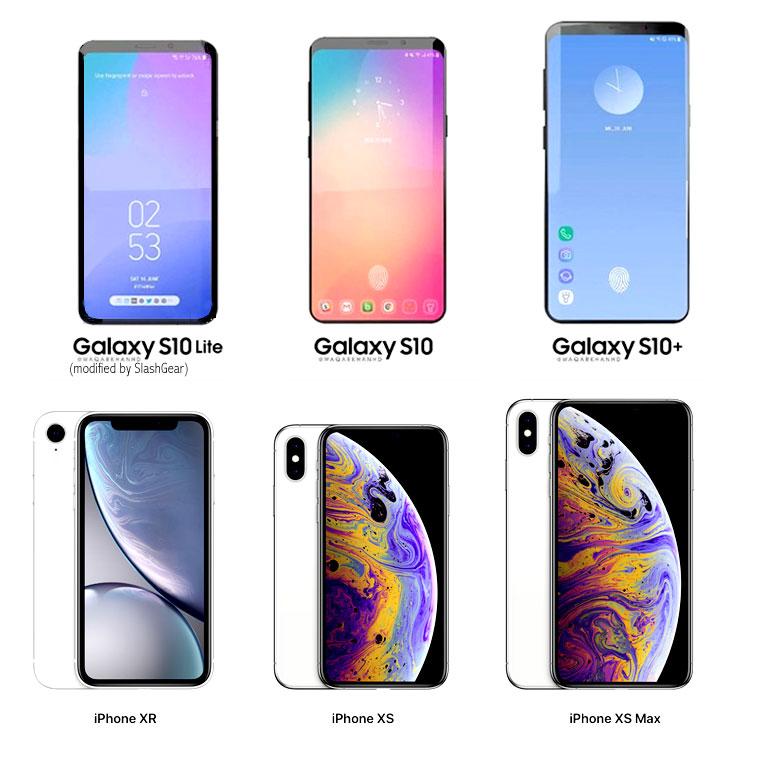 Up against the iPhone Xs Max is the Samsung Galaxy S10 Plus, aka SM-G975x. We're not 100% on the name, just yet, but the size is almost assured. This largest version of the Samsung Galaxy S10 will also certainly feature its full set of newest hardware and software features. The slightly smaller versions of the Galaxy S10 might not fare quite as well.
The middle of the three Galaxy S10 devices is the most standard Galaxy S hero smartphone – aka SM-G973x. Both the Galaxy S10 and S10 Plus will have 128GB internal storage size as their base model. Both will also likely come with 256GB variants. There's also a decent chance we'll see 512GB versions of both models, with UFS 3.0 storage.
1. 5.8-inch display, flat, side-mounted fingerprint reader, 4G modem
2. 5.8-inch display, curved edges, under-display fingerprint reader, 5G modem
3. 6.4-inch display, curved edges, under-display fingerprint reader, 5G modem
The entry level Galaxy S10 has codename SM-G970x, and will have many of the same features as its more expensive brethren. This device's base cost is rumored to be close to that of the iPhone XR, at $750. The Galaxy S10 is said to come closer to $1k, while the S10 Plus will probably come closer to $1.1k.
If these devices were released today, which would you choose? How about if you had the choice to get a Galaxy or an iPhone at the same tier, for the same price? That's what Samsung's proposing this spring, of that you can be reasonably sure. We're expecting that Samsung will reveal this full collection on February 24th, 2019 (or thereabouts) with a release date about a week later.