Galaxy S10 Plus just leaked, big time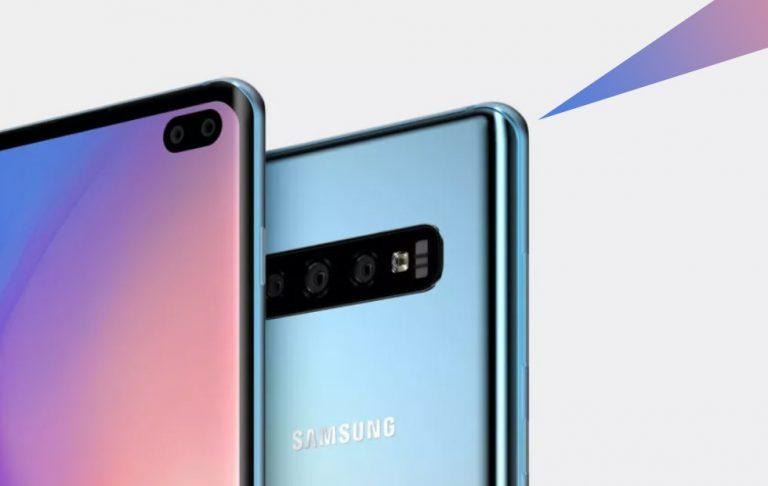 The Samsung Galaxy S10 Plus just leaked in full, with expected reveal and release date details as well as images. The images come from sources that've revealed early looks at previously-released phones that've been highly accurate – working, it seems, with official CAD drawings from official manufacturers. This set of images shows the Samsung Galaxy S10 Plus, complete with 2 cameras in an Infinity O-style (or Infinity pill-shaped style) display, and three cameras on its back.
The back of the Samsung Galaxy S10 Plus looks like it'll roll with three cameras – not unlike very recent releases from Samsung in China. You might remember the Galaxy A9 with 4x cameras on its back, or the Galaxy A7 with 3x cameras – both were revealed in early October, 2018. Have a peek at their use of gradient backsides too – that'll likely come to the Galaxy S10 as well.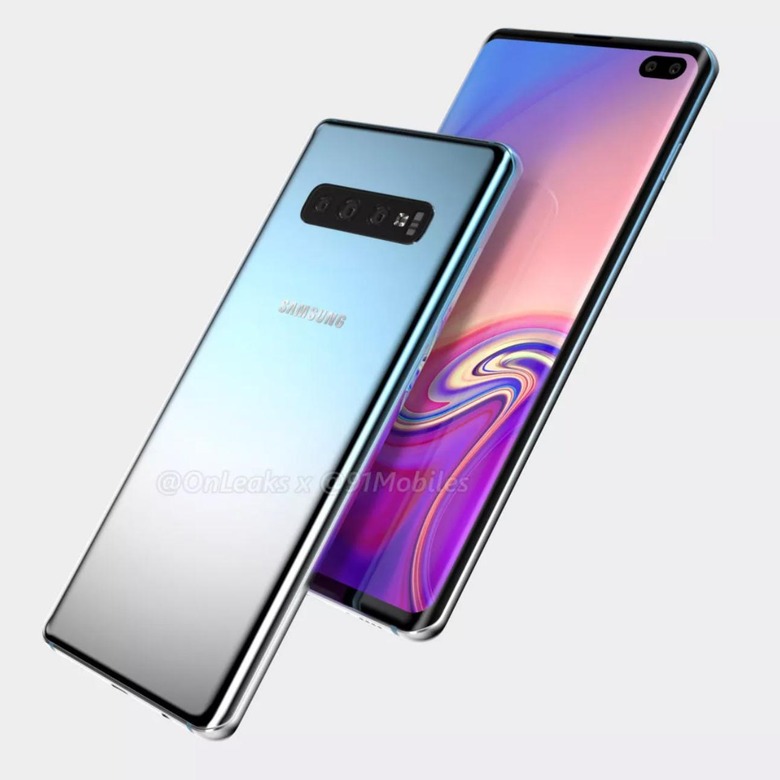 Renders revealed this week were made by OnLeaks. They were then posted to the website 91Mobiles, a site that pays OnLeaks to make these renders in order to draw people to their website to buy their products. Onleaks has a good record of access to accurate CAD drawings of smartphones, rendered into devices like you see here for easy viewing for the public.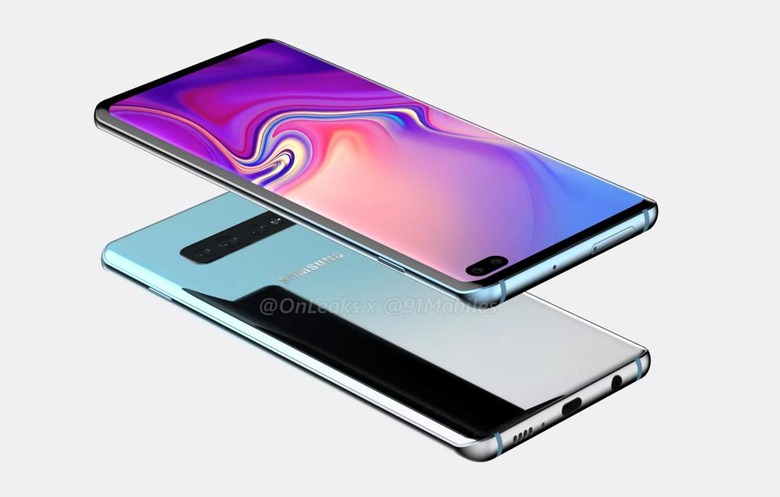 You might also want to take a peek at the newer Samsung Galaxy A8s with its three back-facing cameras and single front-facing camera popping through an Infinity O display. That's the same sort of display-cut-hole that'll be used to create the pill shape in the Galaxy S10 Plus, most likely.
Specifications for the Galaxy S10 Plus are as follows. These specs are based on rumors, anonymous tips, and some fairly obviously assumptions based on precedent. Have a peek and keep in mind: None of this is official just yet.
Samsung Galaxy S10 Plus Specs (rumored):
• Size: 157.5 x 75.0 x 7.8mm
• Fingerprint Sensor: In-display Ultrasonic
• Headphone Jack: Yes, bottom
• USB: USB-C
• Processor: Qualcomm Snapdragon 8150 (USA), Samsung Exynos 9820 (international)
• RAM: 6GB RAM+
• Display: 6.44 inch, 1440 x 2960 pixel, 511 PPI, Super AMOLED
• Cameras: 16 MP + 16 MP + 13 MP
• Front Cameras: 8 MP + 5 MP
• Battery: 3700 mAh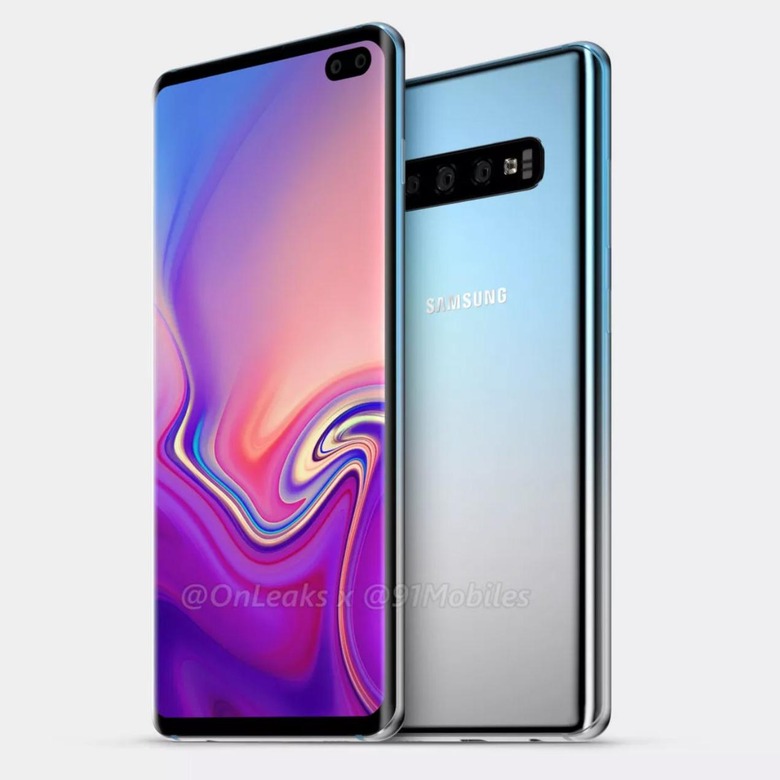 We're expecting that the Samsung Galaxy S10 will be revealed at Mobile World Congress 2019, likely on February 24th, 2019. That'll be the day before the start of the main show floor, as it's been in the past several years for Samsung devices. If that is the place where the Galaxy S10 and S10 Plus and S10 Lite are revealed, it wouldn't be a stretch to expect the Galaxy S10, S10 Lite, and S10 Plus to be released on March 6th, 2019.