Galaxy A9 Revealed With 4x Cameras, Galaxy A7 With 3x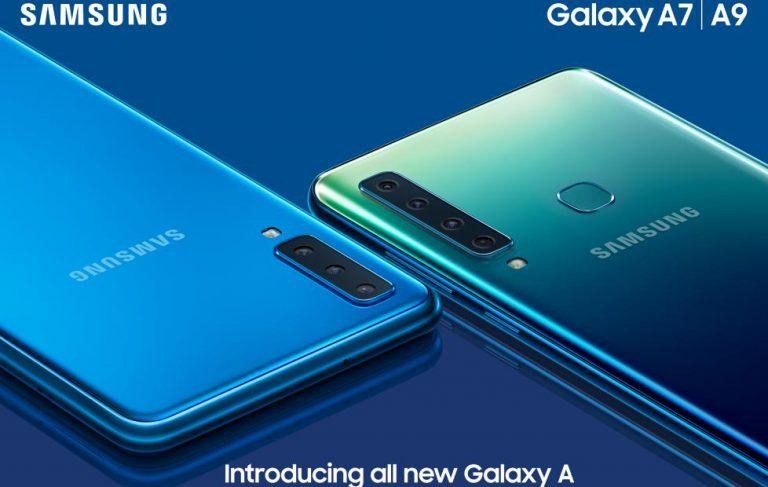 Samsung has officially announced the Galaxy A9. No Pro or Star after its name, just Galaxy A9. At this point, there was little it could say that wasn't already leaked before, even by its own crew. But a confirmation is still a confirmation and the Galaxy A9 does confirm that Samsung may have gone a bit overboard. In obviously trying to appeal to an "Instagram generation", it is throwing in everything, including the kitchen sink, to see what sticks.
But first things first, the Galaxy A9 is undoubtedly beautiful. It is part of a new generation of smartphones that is no longer content with solid colors on aluminum or glass. Except for the rather plain Caviar Black, Samsung gives the Galaxy A9 colors some cute names, like Bubblegum Pink and Lemonade Blue. The latter, especially, isn't just a name. It accurately describes the way the blue gives way to the yellow on top. If that combination of colors sounds familiar, then you might remember the 512 GB Galaxy Note 9 which sports the same two colors.
Inside, the Galaxy A9 is actually pretty good. The octa-core processor should be decent and the 6 or 8 GB RAM is more than adequate. You'd be hard-pressed to find a mid-tier smartphone that starts off with 128 GB of storage right off the bat. And the 3,800 mAh battery would put even the Galaxy S9+ to shame. The large 6.3-inch Full HD+ Super AMOLED Infinity Display might be debatable though.
So we get to the real raison d'être of the Galaxy A9: the four cameras. In no particular order, they are:
– Main Camera : 24MP AF, F1.7

– Telephoto : 2X optical zoom, 10MP AF, F2.4

– Ultra Wide : 120°, 8MP, F2.4

– Depth : 5MP, F2.2Front: 24MP, F2.0
Cameras on the A7 are as follows:
• 24 MP, f/1.7, 27mm (wide), PDAF
• 8 MP, f/2.4, 18mm (ultrawide)
• 5 MP, f/2.2, depth sensor
Samsung markets these four cameras as giving users the option to choose the camera they need for a specific shot, be it a wide panoramic view, an extreme closeup, or anything in between and beyond. Of course, you can only really choose between three because you can never use the depth camera on its own.
The question is whether that will actually empower users or confuse them even more. In an age where Camera AI is being aggressively pushed so that users won't waste time thinking which camera setting, much less which camera lens, to use, the Galaxy A9's main spiel might prove to be rather counterproductive.