Galaxy S10 leak shows fancy new screen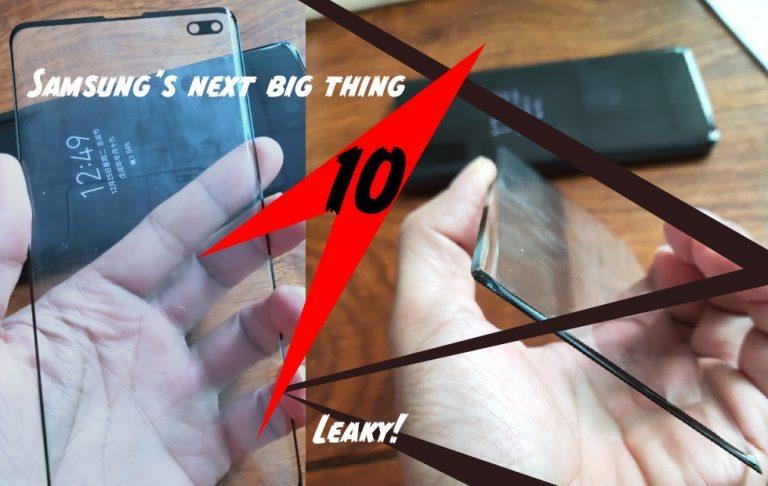 The Samsung Galaxy S10 had a bit of a leak today with a front-facing screen cover with black borders. This Samsung Galaxy S10 is the largest version, the Samsung Galaxy S10+, or Galaxy S10 Plus. This device has a front-facing pair of cameras in the upper right-hand corner of its display, and a notch – but not the sort of notch you might expect.
The notch we're seeing here isn't a full camera and sensor-toting notch. It does not have any significant size. Instead, this notch is for the earpiece speaker. That speaker sits at the top of the front of the smartphone, and is the only part of the front that needs to remain completely uncovered – like a screen cover or film.
The Galaxy S10 Plus is the only one of the known Galaxy S10 units that likely has two front-facing cameras. These cameras – in this cover – have a bit of a stylized part. Where it's not super necessary, all the black parts on this screen cover signify the parts where neither display nor camera lens are required to see through or shine through.
This device is one of three that'll likely be revealed on February 20th, 2019. At that time, Samsung is tipped to come with a special event the likes of which the world has never seen before. Because these phones are new, after all. The Galaxy S10 Lite, the Galaxy S10 Edge, and the Galaxy S10 Plus. These devices will likely all be released at the same time, somewhere around March 8th, 2019.
The Samsung Galaxy S10 5G (or whatever it'll be called), will be released later in the year – once 5G is prepared and ready for action in the USA and throughout Asia. That device might well have some other features not available on the rest of the Samsung Galaxy S10 family of phones.
For more information on this smartphone collection, take a peek at the timeline below. In these links, we've got more information than you could possibly want on a set of phones that've not yet been officially revealed by Samsung itself. These are leaks, plentiful leaks, leaks from here to 2019!