Samsung Galaxy S10 and foldable phone get a February reveal date: report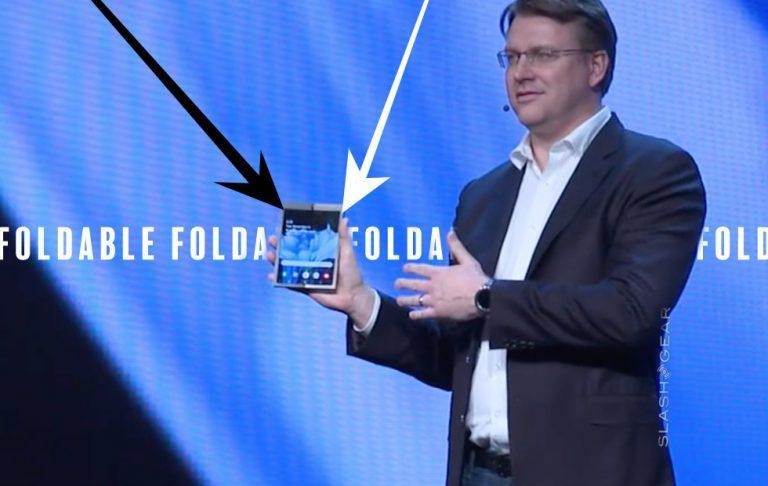 Back in November, Samsung sort of revealed its foldable smartphone, which has been in the works for quite some time. We didn't get a full reveal of the device, as Samsung went so far as showing off a prototype in the dark, presumably to prevent potential imitators from getting any ideas. Over the past couple of months, it's been relatively quiet on the foldable phone front, but that may all be changing soon.
A new report claims that Samsung will fully unveil its foldable smartphone at a February 20 event. According to this report, it'll be revealed alongside the Galaxy S10, which itself will be a big release for Samsung. Assuming this is all correct, then it sounds like Samsung's next event will definitely be one to watch.
Update: Samsung has announced it will indeed be holding an event on February 20, where we're expecting to see both the Galaxy S10 and the "Galaxy Fold" folding smartphone.
According to The Wall Street Journal, which spoke to sources familiar with the matter, Samsung is planning something big for the Galaxy S10. The company is planning to release three different Galaxy S10 models initially, mirroring Apple and its iPhone XR, XS, and XS Max. While all three of those handsets are expected to launch in March, WSJ's report also says that Samsung will make a fourth Galaxy S10 with 5G hardware and release it later in the spring.
That fourth phone could end up being a big deal for Samsung in its eternal battle with Apple. Recent reports have claimed that Apple won't release a 5G phone in 2019, so if Samsung can have a 5G phone on the shelves be the end of spring, that could it give it more than a year's head start on Apple.
As far as Samsung's foldable phone is concerned, WSJ reports that the company is looking to have it available as early as April. A release date hasn't been set in stone yet, and the same can be said for the name of the device. Some of the names Samsung is said to be considering include Galaxy F, Galaxy Fold, or simply just Fold, which seems like a pretty boring name for a phone that has a lot of anticipation behind it.
If all of this is true, then Samsung is going to have a spring season that's packed with product launches. One has to wonder if announcing five different phones in one go is a good idea, especially since Samsung's (and Apple's) smartphone sales have reportedly been slipping lately. You should obviously take these rumors with a grain of salt for now, but with that said, we don't have very long to wait before we find out how accurate this report is. Stay tuned.