Samsung Galaxy S IV shows up on Expansys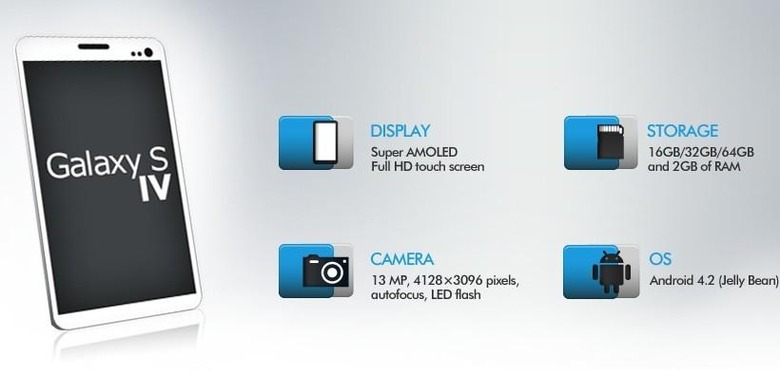 Just last night, EVLeaks dropped some renders of the Galaxy S IV on Twitter, giving us a glimpse at what the new smartphone may look like when its eventually unveiled on March 14. However, it looks like those renders actually came from the device's landing page on Expansys, an online electronics retailer. Furthermore, the tweet from EVLeaks has since been deleted. UPDATE: Expansys has since made clear that these renders come from their web designer and were not meant to be seen as actual images of the device – so cool your jets!
The landing page goes over some of the more important features of the Galaxy S IV, including that eye-tracking technology that we also heard about yesterday, called "Eye Scroll" and "Eye Pause." While we know what Eye Scroll will do, Eye Pause was more of a mystery. However, according to the listing, Eye Pause "ensures you never have to pause your videos again if you have to glance away from your phone." The Galaxy S IV will automatically pause videos if you look away from the screen.
Other than that, specifications look to be right on the money from what we've been hearing in the past. The new smartphone will come with a 5-inch 1080p AMOLED display protected with Gorilla Glass 3, as well as a quad-core Exynos 5 processor clocked at 1.7GHz, although the landing page mentions an 8-core chip with two quad-core CPUs. However, it's rumored that the US version of the device will get a Snapdragon 600 clocked at 1.5GHz, but we'll ultimately have to wait and see what Samsung decides to do.
The smartphone is also listed to have 2GB of RAM, and will come in 16GB, 32GB, and 64GB flavors, with the option of inserting a microSD card that stores up to 64GB, making the total amount of storage a possible 128GB. There will also be a 13MP rear camera capable of shooting 1080p video at 60fps, along with a 2MP front-facer capable of recording 720p video at 30fps. The device will also come packing with Android 4.2 Jelly Bean with a 2,500mAh battery to power the show. However, it's important to take these specs with a grain of salt, as Expansys notes that these details could change.