Samsung Galaxy S III vs iPhone 5: the future war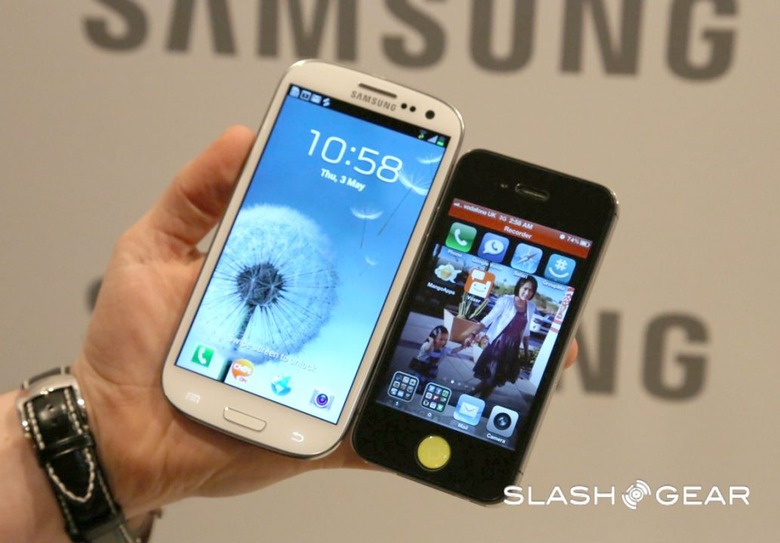 Now that we've got our claws on the Galaxy S III for real, we're another step closer to comparing it to Samsung's biggest rival for the year: the iPhone 5. In the next-generation Apple smartphone you'll find not just a step up in the selection of specification bumps you've seen today from Samsung, you'll see a whole one-ness that encapsulates the smartphone experience. You'll be wondering if that's what Samsung meant today when they said that this Galaxy S device was "Inspired by nature, designed for humans" without a doubt.
The Galaxy S III is Samsung's new hero device, complete with the newest version of Android (4.0 Ice Cream Sandwich) and a new version of their own unique user interface by the name of TouchWiz – in this case, a nature-themed iteration. Along with this device comes Samsung's many brand-ready services such as S-Beam for paring devices together wirelessly, Smart Stay – using the front-facing camera to detect when you want to make a call, and Best Shot / Best Photo – this being enhancements for the back-facing camera to help you find the best photo you've taken out of a rapid-fire series.
[vms f23a8707bb0d6001dfbe]
This device has a massive 4.8-inch Super Super AMOLED display, a plastic back with a special coating that'll stopper up some of your everyday average scratches, and Samsung's own quad-core Exynos processor inside for ultimate supremacy. Have a peek at our first benchmarks with this device as well as hands-on with the device itself. Also head to the Galaxy S III portal to get all the information on the device you could possible want to handle.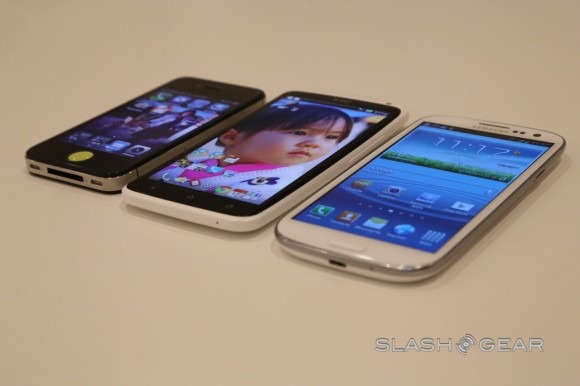 Then know this: the iPhone 5 has had so many "leaks" surrounding it that there's no real knowing of what it'll actually consist of yet. This device will likely be released by the end of the year 2012, we can safely assume that. We can safely assume that it'll have at least the same 3.5-inch display it has now at 326 ppi, this already beating up the Galaxy S III with its 306 ppi. That's the density of pixels spread across the display, with some people saying the denser the better while other say there's really a limit.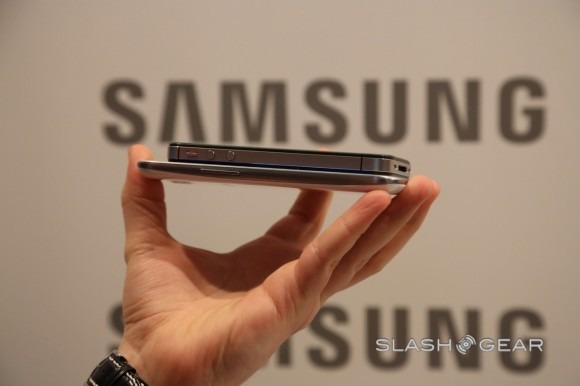 Both devices, again, will have some form of voice-command system. The Galaxy S III has S-Voice and the iPhone 4S (and very likely the iPhone 5) work with Siri. Check out our Galaxy S III S-Voice vs iPhone Siri Hands-on to see how they stack up at this very moment.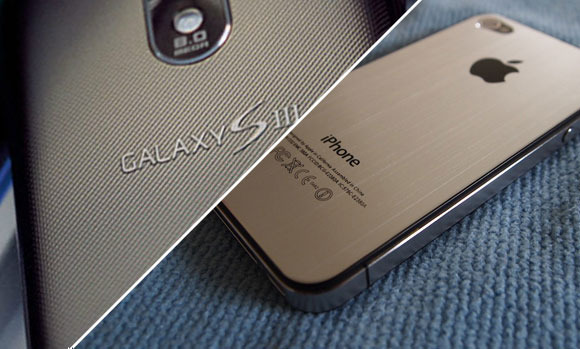 The next iPhone will probably have another dual-core processor, this assumption based solely on the performance of the Qualcomm Snapdragon S4 dual-core chipset. That chipset has been proving left and right that even though more cores bring more computing power, there's more to a successful smartphone than how much processing its cores can do. On that same note, there's also no knowing what the iPhone will contain as far as software simply because, unlike Android devices, Apple releases its own operating system and does not let the world know what's coming next until it's up on its own device.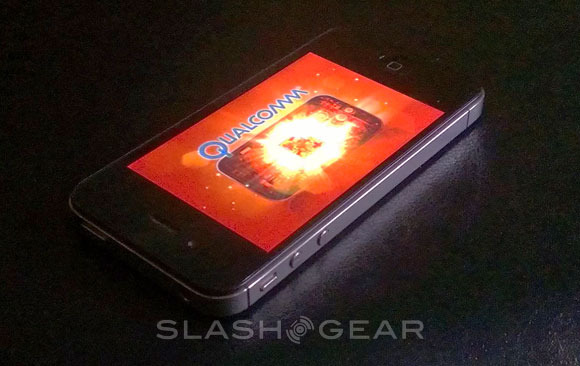 The iPhone 5 will likely draw a completely different crowd of people than the Samsung Galaxy S III. The Galaxy S family is the biggest and best selling family of Android smartphones on the planet, while the iPhone family is the best selling single phone on the planet (if of course you consider each iPhone to be essentially the same device). It's not so much the specifications you'll need to pay attention to, nor is it the complete smartphone experience – it's the feeling you get when you use the device. It's the sort of person you think you are, and how that's reflected by the phone you own.
Have a peek at the iPhone 5 timeline below to see what we've seen most recently on the leak and tip line, and keep in mind that across the whole web Galaxy S III rumors turned out to be relatively inaccurate – and Apple is the best keeper of secrets in the whole entire tech world, period.