Samsung Galaxy S III sales leap at Apple lawsuit and iPhone 5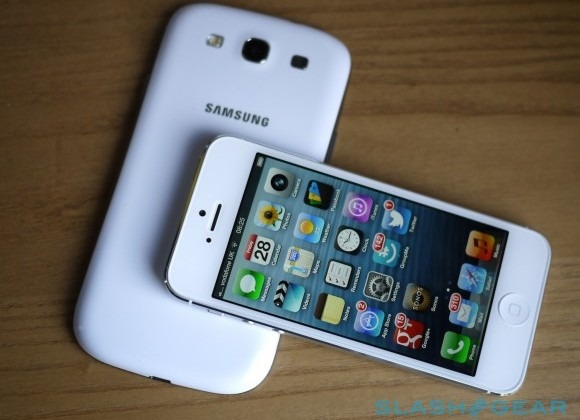 The Samsung Galaxy S III has been shown this week to have had sales leap upward over the past few weeks at two key timeframes: right around the Apple lawsuit on its manufacturer and right at the announcement of the iPhone 5. It would seem, according to Localytics, that prospective buyers of the Android-laden smartphone have been seeing reason to pick it up each time Apple makes a big move of their own. As Apple set its lawsuit in motion against Samsung and right as the iPhone 5 was revealed in full, the Galaxy S III has had large spikes of adoption with an average 9% increase in owners since August 1st.
Localytics tracks app app usage and device activations in their daily analysis of the app marketing universe. What they've shown here is that there's been only one odd week (September 4-10th) in which the Samsung Galaxy S III's sales have not increased over their previous week. Spikes in this adoption chart appear right in line with the two giant Apple-related events, with a 16% gain at the Samsung-Apple verdict and a 15% gain upon the announcement of the iPhone 5.
This group also hypothesizes that the deluge of comparison articles written about the iPhone 5 as it compares to the Galaxy S III have something to do with the purchase jumps in the second case. The suggestion is that because the week-over-week new devices added in the week coming up to the iPhone 5 reveal were the same as the previous week, this resulting in a 0% marker, that people were waiting for the device to appear. Further, that comparison articles showed the Galaxy S III to be comparable enough – or better, depending on the reader, enough for them to pick up the Android-toting device.
A possibility suggested by Localytics is that this may be the start of a mobile OS ambivalence in the general public. With less importance being placed on the operating system running the device, it's possible that one company or the other may in the future have to rely in superior hardware specifications and a convincing overall package much more than the software on the device alone. If you were choosing between the Galaxy S III and the iPhone 5, which would you pick?