Samsung Galaxy S III sales hit the 30 million mark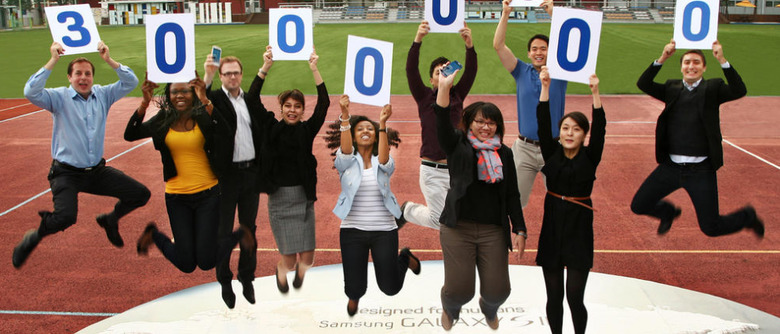 Samsung's popular Galaxy S III flagship smartphone has hit the 30 million sales mark. This number accounts for all sales worldwide, and is in line with the series' ever-growing sales number. Back in 2011, Samsung announced that the Galaxy S hit 10 million sales in seven months, and not too long after that, the Galaxy S II hit the 20 million mark.
Samsung Poland made the announcement on its Twitter and Facebook pages, both of which display a picture of what are apparently very enthusiastic employees holding number signs. Both the Facebook status and the tweet read, "We have already sold 30,000,000 Samsung SDSIII worldwide! Have you had a change to test its features?"
The Galaxy S III has a 4.8-inch Super AMOLED HD display with a 1280 x 720 resolution. Both 16GB and 32GB models are available, and there's a microSD slot that supports expansion up to 64GB. Around back you'll find an 8-megapixel camera with auto focus and flash, while on the front there's a 1.9-megapixel camera. The phone itself is made of scratch-resistant plastic. Check out our review for more info.
This announcement comes shortly after Samsung revealed that the Galaxy Note II, it's 5.5-inch phablet smartphone, sold 3 million units in a little over one month. Due to the popularity of these phones, Samsung has launched some spin offs, including the Galaxy S III Mini, which features a 4-inch AMOLED display with an 800 x 480 resolution. We reported yesterday that the upcoming Mini is slated for launch in the UK on November 8.
[via GSM Arena]