Samsung Galaxy S III press shot leaks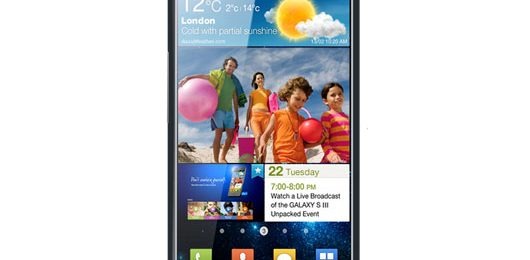 The newest in a line of Samsung Galaxy S III clues is a press photo provided by a group which claims it is the final straight-on look at the next-generation smartphone. It's coming from GSM Helpdesk and looks to have a rather familiar screenshot right up the middle, replicating much of what we remember from the Galaxy S III. This clue appears to show off a lovely falsification of several elements, yet provides a couple of clues as to what the final model might have intact, one of these being physical keys.
Have a peek here at a fair comparison between this Galaxy S III image and the Galaxy S II image we know from before the Mobile World Congress event in 2011 in Barcelona. You'll notice the same temperature, oddly enough, but a different location: London. This tied with the 22nd and a Tuesday on the widget that sits in the lower right-hand corner of this device's display makes one thing that this indeed will be the time and date of the reveal event, called "Unpacked" once again.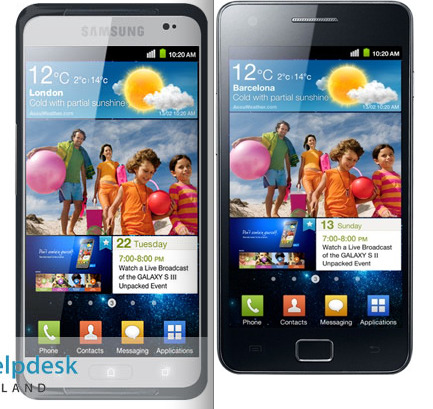 On the other hand, it is a bit odd that Samsung would choose to have exactly the same user interface as they did with a now over-a-year-old device even though their Galaxy S III line is set to almost certainly be running Android 4.0 Ice Cream Sandwich instead of what appears to be Android 2.3 Gingerbread here. This makes us think that the display portion of this image has been faked, even given its nicely applied "shiny white line" across the entire device.
What's much more possible here is that a person received all of the specifications and a basic look at the device and decided to take it upon themselves to do a rendering. The buttons below the display are the most telling, each of them lighting up like a Galaxy device normally would, the central physical button in place as it has been with each Galaxy device outside the USA up until now, and the third button being switched out for a "recent apps" icon while the back button is placed in the first position.
All of this said, we'd certainly not be disappointed if this device appeared very similar to the final product – Samsung Galaxy S III here we come!
[via CNet]