Samsung Galaxy S III Non-Pentile 720p AMOLED Tipped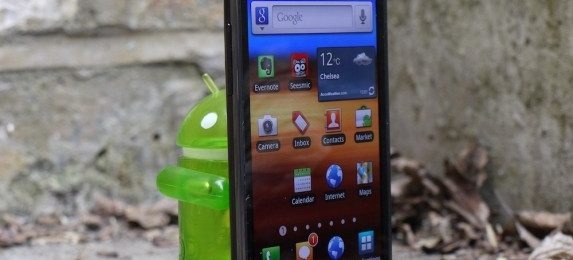 More mystery and intrigue around the hotly-anticipated Samsung Galaxy S III, as Korean news reports tip not only a 4.65-inch 720p display like the Galaxy Nexus, but a move away from the much-maligned pentile panel technology. According to DDaily, the upcoming Galaxy S III will use a Super AMOLED Plus display running at 1280 x 720 for 316ppi density – only a little short of the iPhone 4S' Retina Display – but not using the reduced pixel count that pentile forces. The rumors tally with talk that another recently rumored device, the GT-i9300, is indeed a midrange model not the Galaxy S III.
Pentile displays have prompted much confusion and frustration among smartphone buyers in recent years, with many considering the screen technology to have marred otherwise excellent devices. The system uses a system of alternating red and blue pixels in-between green pixels, the dropped pixel leading to arguments that the Galaxy Nexus and other devices can be grainy in their text reproduction and show speckling in pictures.
Avoiding that would be a major boon for the Galaxy S III, and be in keeping with its other hyperbole-prompting rumored specifications. There's been talk of a ceramic casing for the new phone, replacing the glossy and textured plastic, along with a roughly 7mm-thick body and a quadcore processor. It's also expected to feature NFC, with Samsung rumored to be using it as an Olympics 2012 mobile payments promo device.
Meanwhile, there's also apparent confirmation that a device previously tipped to be the Galaxy S III, the Samsung GT-i9300, is indeed a midrange device with an unusual screen resolution, rather than the true next-gen flagship. According to benchmarking spotted at PowerBoard, the GT-i9300 runs a 1.4GHz Exynos dual-core and Mali 400MP graphics with a 600 x 1024 screen, just as was reported over at Android Community last week.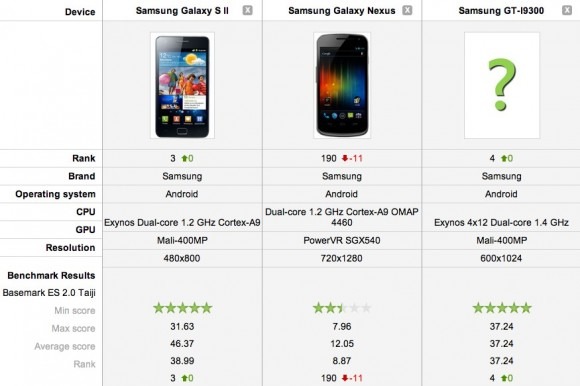 In fact, the GT-i9300 is believed to be the Samsung Galaxy M, and have a 4-inch display. The 1024 x 600 resolution is unusual, more akin to what we've seen on netbooks than phones, but would put the Galaxy M in-between the WVGA of the Galaxy S II and the 720p of the Galaxy Nexus.
Exactly when the Galaxy S III will launch is still unclear, though at least one Samsung executive has apparently said that an April launch is still in consideration.