Samsung Galaxy S III Mini could get a reveal next week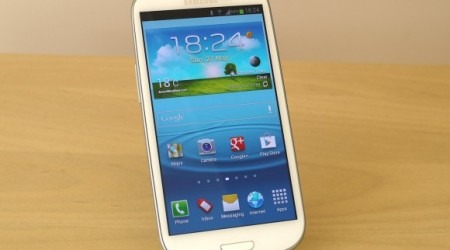 It's clear by now that the Galaxy S III is an extremely popular smartphone, so it's no wonder we've been hearing rumors of a new version of the handset – dubbed the Galaxy S III Mini – off and on for a while. Today we're hearing new rumors of such a device, although this time around there's some lovely photographic evidence to go along with it. Samsung has apparently started sending out invitations to an October 11 event in Germany, and with them, the company is teasing something tiny.
According to the folks at UnwiredView, the text on the invitation (pictured below) says something along the lines of "Something small will be really big," and, "Get ready for a little sensation." Of course, it's impossible to know for sure what Samsung is talking about in this invitation, but we can clearly see the "S" that Samsung has always used in the branding for Galaxy S devices pictured in the center. So, at the very least, we should be hearing about a new Galaxy S device at this event on October 11.
The text on the invite, however, suggest that this device's size is one of the main talking points. That's leading some to believe that the long-rumored Galaxy S III Mini will be revealed at this event, but even though the evidence is pointing toward such a reveal, we're hesitant to say that it's a sure thing. In short, take any rumors about a Galaxy S III Mini with a grain of salt until Samsung makes the announcement it's teasing in this invite.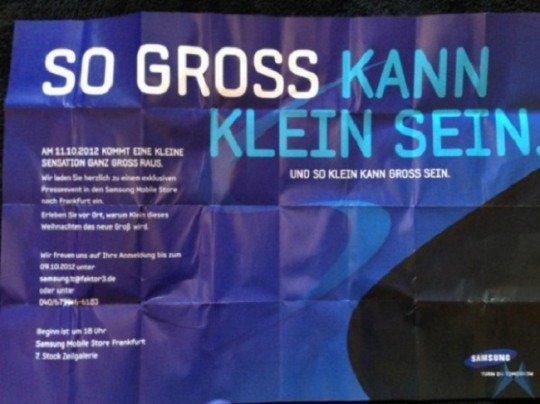 Even with all of the mystery, it would make sense for Samsung to release a Galaxy S III Mini. The Galaxy S III is a great phone, but some think that the massive 4.8-inch screen is a little on the big side. If Samsung can fix those complaints by offering a mini variant of the Galaxy S III, it would surely net a few more sales, so we're tempted to believe the hype and assume that the company is teasing the Galaxy S III Mini here. What do you think?
[via Android Community]