Samsung Galaxy S III Is T-Mobile's All-Time Best-Selling Device

T-Mobile has been working hard lately to up their game as a contending carrier — they just bought MetroPCS, and they hired a new CEO not too long ago to turn the company around. Today, the carrier announced some more news that is sure to bolster up its credibility. The Samsung Galaxy S III is T-Mobile's all-time best-selling device.
Of course, this is probably more of a shout-out to Samsung than to T-Mobile, but at least people are buying Galaxy S IIIs on T-Mobile's network. Then again, the carrier didn't disclose exactly how many Galaxy S IIIs they sold, but it could be safe to assume that they didn't sell as many as other larger carriers.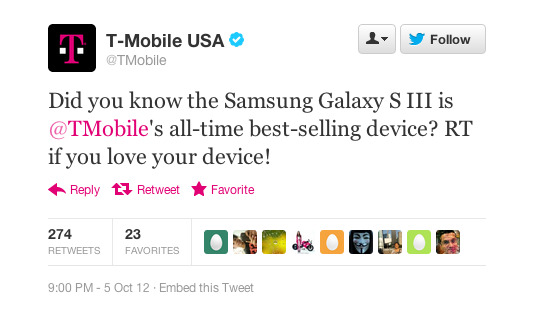 However, this means that sales of the Galaxy S III on T-Mobile eclipsed that of previous hyped-up devices like the Galaxy S II, G2, G2x, and a variety of the carrier's MyTouch devices. You might be wondering where the iPhone stands on T-Mobile's all-time best-selling list, but if you're familiar with the carrier, then you'll know they don't directly sell the iPhone, which makes them the only major carrier who doesn't offer Apple's smartphone to customers.
Then again, today's T-Mobile achievement says a lot about Samsung. They're a dominating force in the Android industry, and no doubt are they giving Apple a run for their money. The Galaxy S III has succeeded at being one of the best-selling devices period, selling 20 million units in just three months. The holiday season is still upon, so we're looking forward to how Samsung and mobile carriers are going market their lineup of devices to bring in even more sales.
[via AndroidGuys]