Samsung Galaxy S III features break the mold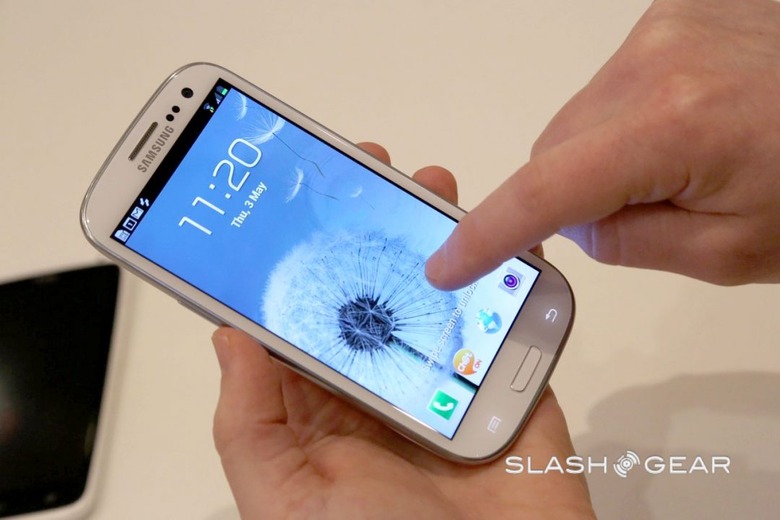 Today we're going to take a look at what makes the Galaxy S III clearly the best choice for Android users who've owned a Samsung device in the past. The next-generation hero phone presented by Samsung this week known as the Galaxy S III is not an all-out whallop on the rest of the smartphone market, it's mean to further perfect the art. This is the trend now in the smartphone world, to take what's already working and tune it up a bit to a better place – and in no better place can this be seen than in this GSIII.
Samsung has taken this device up to the next level with a pocket full of radios that you may never have known you needed before, including GLONASS, Bluetooth 4.0, and NFC, as well as LTE, HSPA+, Wi-Fi, and GPS. While each of these very well may have been in-play on other device in the past, nowhere have they all be in-play all at once. Have a look at AllShare Cast, for example, in this hands-on video to see what's going on here in the Samsung-branded media experience:
[vms 70f2e74990a07a607ebd]
Here you've got one of the world's most powerful smartphones with every top of the line wireless connection you can imagine, all along with Samsung's own advanced S-Beam branding to connect you to a variety of devices – some of which we've barely seen the likes up thus far! Have a peek at our full GSII Accessories Hands-on post to see where you'll be going very soon – S-Pebble style.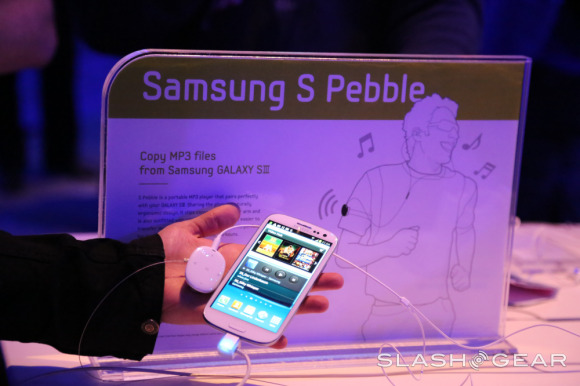 Next there's apt-X integration on the Galaxy S III for ultra high-fidelity audio over Bluetooth 4.0. We've got a whole feature on apt-X and how the Galaxy S III will be your ticket to the next level of wireless audio transmission this summer for you to take a peek at. This technology is also included in the Motorola DROID RAZR and the HTC One series as well. Hot stuff!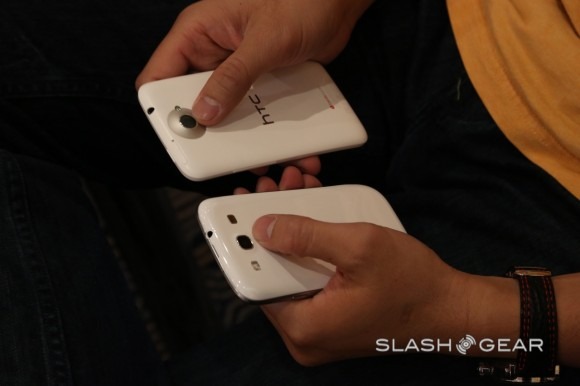 Then there's the two-punch hit, cameras and software. There will certainly be some opposition out in the wild to the software decisions Samsung has made here as the look of the user interface resembles the Android 2.3 Gingerbread world a bit more than it does the Android 4.0 vanilla environment, but here's the deal: it works. What Samsung has done is to tune their own need for certain technologies branded in their own device family to work as fabulously as it can with Android 4.0 Ice Cream Sandwich. The cameras then are, of course, as excellent and better than they were in the Galaxy S II lineup, and as you'll recall quite well, those cameras were fantastic.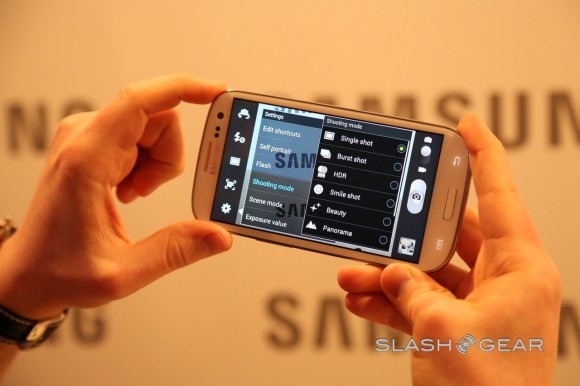 Have a look at our first hands-on with the Galaxy S III here for a full taste of both the software and the camera – lots of functions for fun and work!
[vms 10d9b7e9abed244dd2f2]
Also have a look at our timeline of hands-on and feature action from the past day and a half here at the launch of the next most powerful Android smartphone!