Samsung Galaxy S II Epic 4G Touch unveiled for Sprint, launching September 16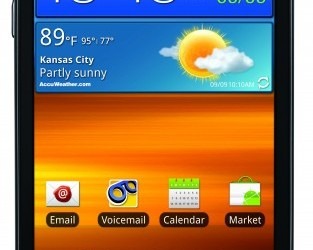 So the WiMAX version of the Samsung Galaxy S II was outed earlier by a slide on one of Samsung's product pages, but now the details are confirmed. Unlike the T-Mobile and AT&T versions, this one will tack on "Epic 4G Touch" to the original Samsung Galaxy S II moniker. It will also be the first of the three to become available, launching on September 16.
The Samsung Galaxy S II Epic 4G Touch will feature a larger screen of 4.52-inches instead of the original 4.3-inch size. It will have a Super AMOLED Plus display with a 1.2GHz dual-core processor, a 2-megapixel front-facing camera, and an 8-megapixel rear-facing camera with auto-focus, LED flash, and capable of 1080p HD video capture.
The handset will run Samsung's TouchWiz UI on top of Android 2.3 Gingerbread and will come with several apps unique to the Now Network carrier. It can also function as a 3G/4G mobile hotspot for up to eight devices. Priced at $199.99 with a 2-year contract, the handset will be available soon for pre-orders via a $50 gift card purchase.
[vms 012e2a7984afa4480a6d]
UPDATE: check out our hands-on post with the SGSIIE4GT aka Samsung Galaxy S II Epic 4G Touch hands-on video and photo collection we've got right now!